The Ambassador of the Arab Republic of Egypt in Belgrade, Amr Aljowaily met the mayor of the city of Leskovac in southeastern Serbia Mr. Goran Cvetanovic to discuss cooperation at the local level.
Aljowaily pointed out that the meeting resulted in concrete ideas, on the cultural level, including organizing for the renowned Reda folkloric group to perform at the National Theater of the city in July, the organization of a week of Egyptian films, in addition to inviting Egypt to participate as a special guest In the festival "Grills" hosted annually by the city at the end of August, attended by about half a million visitors from domestic and foreign tourism in Serbia. The Ambassador of Egypt to Serbia that the meeting also dealt with economic cooperation in the fields of textile and furniture given the comparative advantage of Egypt and the city of Leskovac in both industries.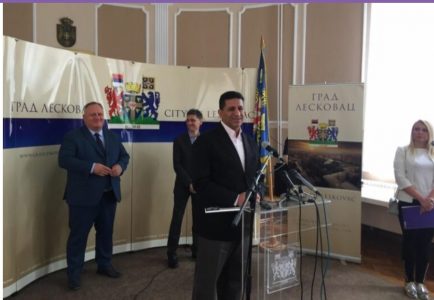 In a press conference after the meeting, Ambassador Amr Aljowaily pointed out that his visit to the city came on the sidelines of his participation in the opening of the Corridor X highway which links the South and Central European countries. He pointed out that this participation was an opportunity to present the infrastructural projects underway in Egypt, including the inauguration last week of the The Road Al Farag Bridge Egypt, the world's largest to the Serbian President H.E Aleksandar Vucic. "There is great opportunity to offer the Egyptian pavement and construction companies to Serbia, which is undertaking a remarkable series of  projects in the development of the highways network", said Aljowaily.
Aljowaily also expressed his appreciation that the visit to the city was in coordination with the Ambassador of Morocco in Belgrade, "Mohamed Amin Belhaj," which shows the close cooperation between the two countries, in the context of strengthening the Arab and African cooperation with Serbia.