Russian Ambassador to Serbia Alexander Chepurin hosted at reception on Jun 12 at the Russian Embassy on the occasion of the state holiday, the National Day of Russia.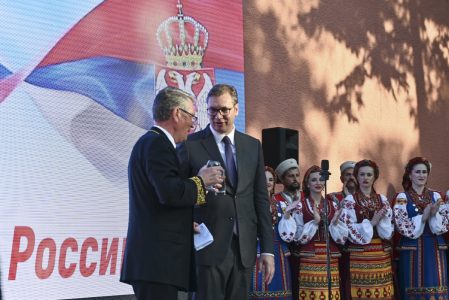 Alexander Chepurin presented the book of his essay on Serbia and Serbs in Russian. The ambassador explained that in a small book of essays, which will be published in Belgrade and Moscow after the end of his mission, he tried to express how much he loved Serbia.
He added that there are not many countries in the world that, like Russia and Serbia, would support and understand each other over the centuries and are still committed to the promotion and expansion of bilateral ties.
The ambassador said that I am convinced that the cooperation between the two countries will become even richer and more dynamic.
"Serbia can count on Russia's strong support, understanding and protection, if necessary," said Chepurin.
He stressed that it is a great honor for him to mark the Day of Russia together with Serbian friends for the seventh time.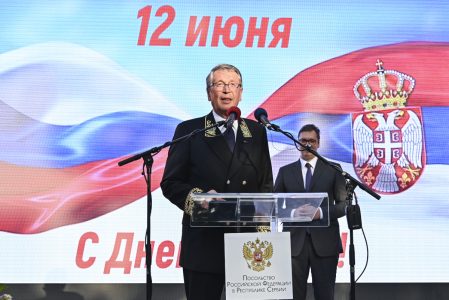 Chepurin reminded that June 12 is the day when all the Russians share the brightest, deepest feelings: active love for the Fatherland, pride, responsibility for the present and the future.
He also pointed out that this reception was special for him.
"Completing my stay in Belgrade, I am warmly thinking about many Serbs with whom I have been fortunate to socialize ex officio, and in the ordinary life. Being in Serbia for seven years as a Russian ambassador is a responsible, noble and grateful business. And instructive, "said the ambassador.
The ceremony was attended by Serbian President Aleksandar Vucic, Serbian Parliament Speaker Maja Gojkovic, Minister of Labor Aleksandar Vulin, Minister of Energy Aleksandar Antic, members of the diplomatic corps, representatives of political and public of life.