Source: The Independent
Anti-establishment candidate pledges to 'eradicate corruption'
Left-wing politician and former mayor of Mexico City Andres Manuel López Obrador has claimed a historic victory in the presidential election in Mexico. Mr López Obrador is projected to win approximately 53 per cent of the vote, which would be the largest winning margin seen for many years, as he rode a wave of public anger at poor economic growth, violence and corruption.
 The president-elect, better known as AMLO, has pledged to "eradicate corruption" and enact a "radical transformation" of the country. He led opinion polls throughout the campaign in an election marred by violence, with 130 candidates and political workers killed since September. The 64-year-old's barnstorming populist speeches drew huge crowds during the campaign.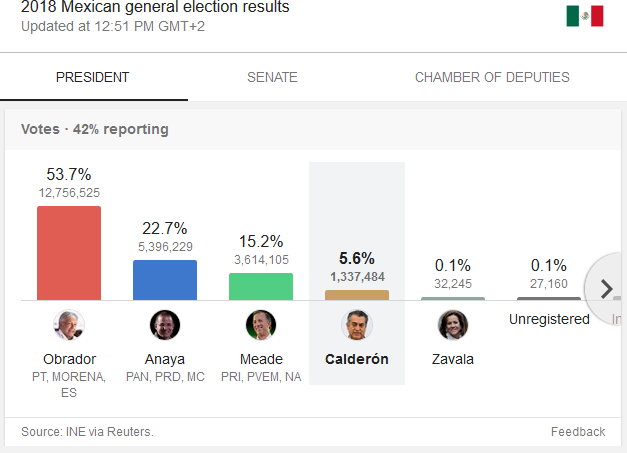 Runner-up in the 2012 and 2006 elections, Mr López Obrador – who is a friend of Jeremy Corbyn's – pitches himself as the only man capable of cleaning up a political class whose credibility has been ground down by soaring crime levels and years of sluggish economic growth.
In brief remarks at a hotel in central Mexico City, he called for reconciliation after a polarising campaign and promised profound change but with respect for the law and constitutional order.
"I confess that I have a legitimate ambition: I want to go down in history as a good president of Mexico," he said. "I desire with all my soul to raise the greatness of our country on high."
The president-in-waiting, whose term will begin on December 1, devoted much of his speech to appealing to citizens of all stripes and seeking to reassure those who have eyed his candidacy nervously.
"This new national project will seek to establish an authentic democracy and we do not intend to establish a dictatorship," he said. "The changes will be profound, but in accordance with established order." He has pledged to give scholarships or paid apprenticeships to youth, and increase support payments for the elderly. However, critics have warned his left-wing approach could turn Mexico "into Venezuela".  He has rejected these claims and added that he will not be seeking a re-election after his term in office. Mr Lopez Obrador's supporters began wild celebrations in Mexico City, cruising up and down the central Paseo de la Reforma boulevard honking horns to the tune of "Viva Mexico!" and waving Mexican flags from car windows and sunroofs. Thousands poured into the sprawling main square known as the Zocalo, where the 64-year-old former mayor of the capital had called on his backers to rally. Many danced to mariachi music.