This time around we have also asked the representatives of the authorities, diplomatic corps, international institutions, business associations, media and many others to express their views on the possible re-arrangement of power in the world, the European and regional political scene, the influences on Serbia's accession to the EU, economic development, investments in culture, and as an inevitable question this year, elections which are taking place in many countries, including Serbia. We talked to REGINA DE DOMINICIS, UNICEF Representative in Serbia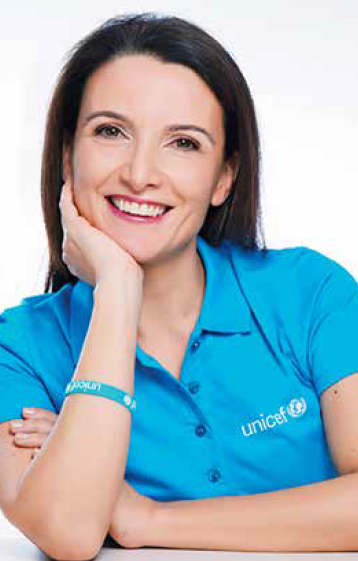 Given the fast-paced changes at the global level what are the challenges your organisation considers as the most urgent to address?
Children and young people today are facing new challenges. Climate is changing beyond recognition impacting them tremendously. The global learning crisis is contributing to deepening inequalities. Migrations due to conflicts and natural disasters affect millions of uprooted children. Violence against children is on the rise. Digitalisation is showing its dark side on children's safety and privacy, and the mental health of adolescents is becoming a global concern. However, where there are challenges, there are opportunities. UNICEF is leveraging innovations in programming to identify new solutions in health, education, protection, emergency, and to reach children with vital goods and services in more cost-effective ways. We are harnessing the power of digital technology and social media to enhance the digital competences of children, expand learning opportunities and give platforms to children and young people to demand accountability and drive change. We partner not only with governments, but increasingly more with the private sector to improve how we finance and deliver critical services and to influence business' contribution to social good.
How are these challenges relevant for your work in Serbia? How can media outlets like D&C help you in communicating your goals?
In Serbia, environmental issues have started to have a serious impact on people's life. Up to now, EIB's activities were primarily directed towards resolving the most urgent infrastructural challenges, such as rehabilitation and construction of motorways and railways, sewerage, water purification and flood protection systems, as to ensure that some of the basic transportation, ecological and sanitary requirements are provided for the citizens. After reconstructing and improving the infrastructure at all levels, we can start developing an environmental infrastructure that will mitigate the effects of climate change. We are focusing on all the Western Balkan countries, as our goal is to promote integration within the region, and the region within the EU, through better, modern transportation networks, energy and digital systems, as well as climate actions. People that live in this region share the same issues, including the environmental problems that trongly impact the quality of their lives and their countries' economies. That is why we would like a media to help communicate the importance of local and regional integrations through all the sectors, including the very important fight against climate change that is one of the number one priorities in Europe today. EIB has supported environmental projects in Western Balkan countries with EUR 420 million so far, including donations amounting to as much as EUR 13 millionThese challenges are also relevant for UNICEF's work in Serbia. We are contributing to government efforts in addressing them in partnership with other UN agencies, the EU, bilaterals, as well as the private sector, civil society and young people themselves. In some cases, we are generating evidence to increase awareness of issues that are still not sufficiently prioritised. In other cases, we feel it is the moment to accelerate and scale up solutions that have proved to be effective (e.g. early childhood interventions and parenting programmes). We feel that in some cases Serbia can export solutions that can contribute to the wellbeing of children beyond its borders. Media play a crucial role in informing about the situation of children and the state of their rights, in influencing changes in social norms, in forming opinions… With its outreach to political, diplomatic and business audiences, D&C can keep them abreast about the latest reforms, progress and issues affecting children and young people, thus encouraging those critical audiences to get more involved and contribute to prioritising, advocating for and supporting children's rights.