The demand for wireless access from users has shifted from a nice to have to a necessity. Due to this, network performance has become a business- critical requirement. Both workers and consumers have come to expect a reliable Wi-Fi connection – the absence of which can influence their decision to enter an establishment or to leave. In order to attract and retain customers and employees, companies need to offer reliable Wi-Fi and an amazing experience, or risk losing business. Additionally, due to the growing number of mobile and IoT devices, improvements to the efficiency of a wireless network have become a key factor of success.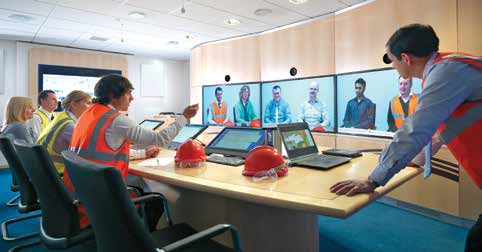 A lot has changed in recent years. The growth and diversity of clients as well as the types of applications and traffic being generated meant wireless standards needed to evolve to keep pace. Latency sensitive voice and video traffic are sharing airspace with IoT devices that are sending small data packets – which will slow down a wireless network. To solve this problem, wireless networks need to provide a more efficient way to handle this growing and diverse amount of traffic as well as bandwidth needs.
The Institute of Electrical and Electronics Engineers (IEEE) and Wi-Fi Alliance have worked together to identify areas of improvement to the current standard (802.11ac). The conclusion was to focus on performance under "typical" conditions to holistically raise the performance of the entire network. This is a departure from the previous model – where the focus was to look at advanced peak data rates under "perfect" conditions. A new standard called 802.11ax was published in early 2018 and was recently renamed Wi-Fi 6 by the Wi- Fi Alliance. One of its main focus is to enhance the efficiency of how access points handle devices simultaneously. It's no longer about comparing Wi-Fi speeds; it's more about the capacity of the network to provide the optimal throughput for all clients.
This latest standard addresses today's biggest Wi-Fi challenges: performance and the increasing density of devices and diversity of applications. To handle these challenges, 802.11ax increases throughput capacity by up to four times that of 802.11ac and backwards compatibility ensures that existing 802.11a/b/g/ac clients will be supported.
This latest standard will not only deliver higher speeds, but will enable new business services and use cases, including: IT/IoT convergence and smart building deployments, real-time application support for enterprise-grade
video collaboration and augmented or virtual reality, secure Wi-Fi within the enterprise and open networks.
One of the first 802.11ax networks in the world has been heavily beta-tested and finally implemented in our close vicinity – in the neighbouring country of Croatia. Aruba Networks, a Hewlett Packard Enterprise company, is proud to have been a part of this project in hotel Jure, which is part of Amadria Park hotel complex.
First integrations of Wi-Fi 6 standard with mobile phones are expected to happen in the fall of 2019, but with Aruba you can use the advantages of Wi-Fi 6 standard already today!