Conclusions of the webinar DIRECT TALKS From Home 6: "What will the media look like in Serbia after COVID-19"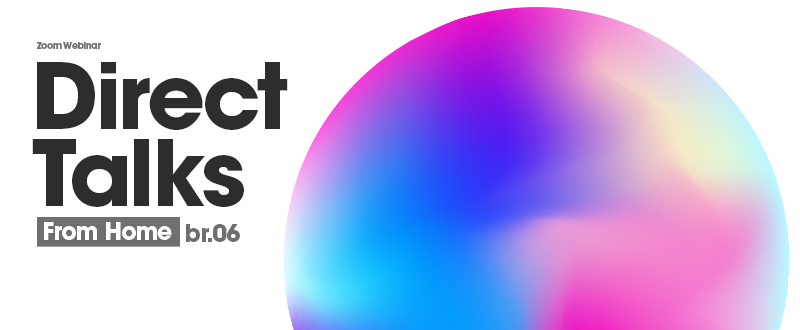 There is a huge blank space in the media that brands need to take advantage of and get closer to their consumers. Campaigns are coming back, the market stabilization is expected in May, and it is up to the media and agencies to provide brands with the right measure of content in which advertisers will want to market their message. These are the conclusions of the sixth DIRECT TALKS From Home webinar.
Participants: Predrag Roganović, COO, Adria Media Group, Jelena Tušup, Executive Editor, Nova.rs, Robert Čoban, President, Color Press Group, Jasmina Koprivica, General Manager, Internet group, Sreten Radović, Publishing Director, Ringier Axel Springer. Discussion moderated by Milica Marković, Corporate Communications Manager, DIRECT MEDIA United Solutions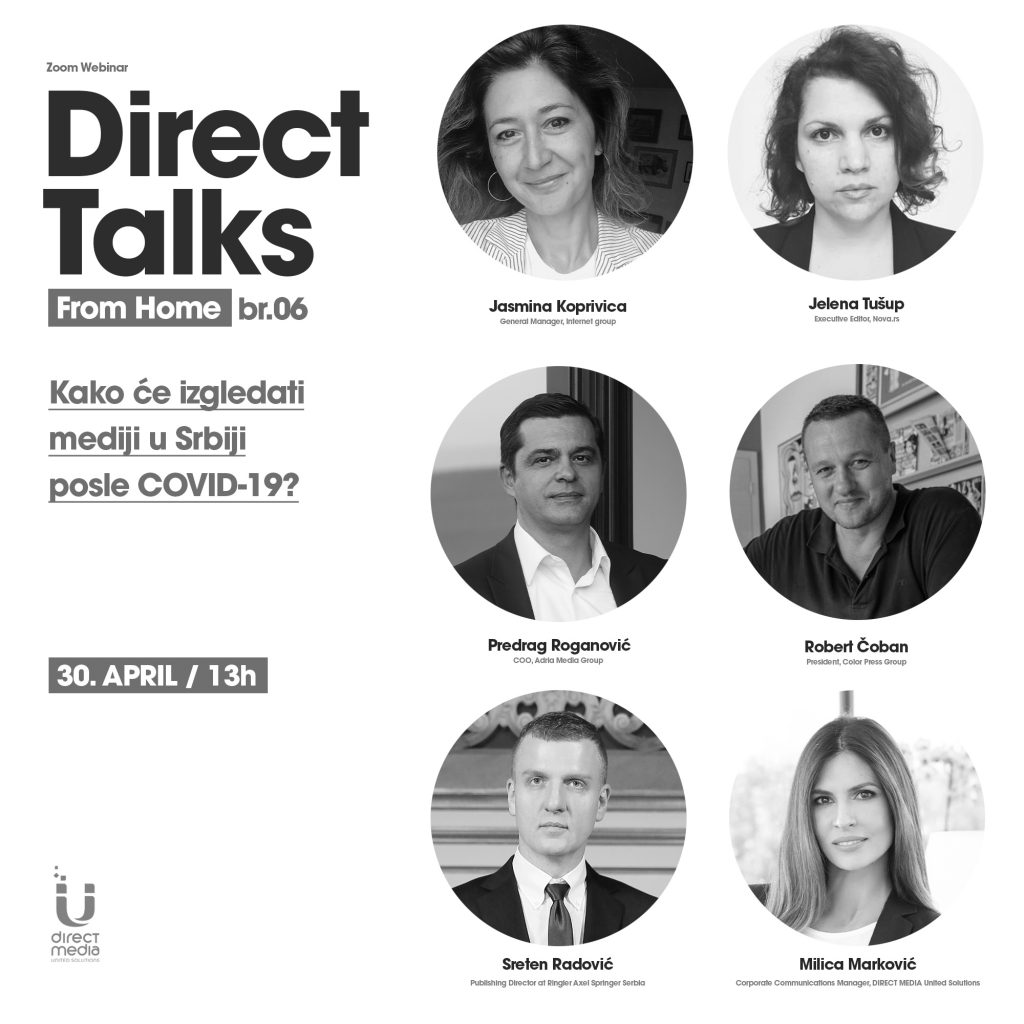 Steps forward at the coronavirus time
The youngest webinar participant, the portal Nova.rs, which began its work two weeks before the declaration of a state of emergency, can boast that it has passed the exam in crisis. According to Jelena Tušup, all 80 employees, journalists and editors are quickly technologically trained to work from home.
The editorial staff of Telegraf.rs recognized the severity of the situation with the coronavirus and, according to Jasmina Koprivica, reacted proactively by publishing a special about coronavirus on the front page as early as the first days, at the same time equipping all the texts with the multigraphs that readers love.
The Color Press Group, as a veteran of the media business, has been trained to deal with such crisis situations. "We worked during the 1990s as well as during hyperinflation, and in 1999 when the bombing began in just a few weeks we started to issue crosswords because we realized that people would want to solve them. When COVID-19 happened, we saw where it was headed and what we needed to do," Robert Čoban said. Weeks have thinned out the dynamics of the release, with the monthly editions of Beauty&Health and Diplomacy&Commerce appearing in their online editions for the first time. "We moved the events online, and at the conference we had a guest congressman from Ohio who we never would have had if we had had a normal conference. We take full advantage of the technology, combining Zoom and live stream on Youtube with all the supporting moments to give the user a better experience," Robert said.
Although the coronavirus has done a lot of bad things to the market, it has shown that Ringier Axel Springer Serbia is also mobile and that as a market we are ready to mobilize. According to Sreten Radović, many business decisions were made before the times of coronavirus, there were those that would not have happened without coronavirus, and some were accelerated by coronavirus.
Adria Media Group is launching new businesses at the most difficult time, and according to Predrag Roganović, the plans were only slightly delayed by the coronavirus.
A message to brands
"Although 2020 has been going really well in terms of advertising, we have seen with this crisis that funding sources can dry up easily. We live on commercial campaigns, we pay salaries out from that – advertisers and the media must be in solidarity and keep that connection as firm as possible," Jasmina Korpivica from Telegraf.rs said.
According to Robert Čoban, Color Press, as media sponsor of the Olympic Committee, cancelled the "Countdown to Tokyo" series of events, but on the other hand launched the Quarantine Recipes campaign. "We realized that they would have a good response as a lot of people spend time in quarantine and we were right, a lot of participants and sponsors showed up, clients responded well because they realized it was the right measure of content related to something that was topical that is positive. In one sentence, it is up to us, the media, to mislead our clients and offer them content that will be tailored to the situation and, on the other hand, optimistic and talking about the positive moments," Robert Čoban said.
"As much as this situation is restrictive is restrictive for both the media and advertisers, it still gives us the opportunity to experiment, and I would like the media to experiment more with sponsored content," Jelena Tušup of Nova.rs said.
According to Predrag Roganović of Adria Media Group, our advertisers have not used the moment and are quite late, except for some, such as online bookmakers who have made great use of it.
"There was a step ahead, but not by the complete market. Some companies have positioned themselves and used the empty space to be much more visible than they would have been at other times. One of them is a young dairy, Dr Milk, which is more than notable with its megalomaniacal campaign," Sreten Radović of Ringier Axel Springer said, noting that these are not frequent cases, but are worth mentioning.
Back to the future
"The Adria Media Group aims to never go back to the old way of functioning because most of the processes have proven to be far faster and efficient and if there is something good that happened to us in the coronavirus times, it is the digitization of everything," Predrag Roganović concluded, stating that the company will be back to work in the same way it started working in changed circumstances.
Telegraf.rs also believes that nothing should be fully restored to the situation as before. "We continue with projects, we turn to some younger audience who are interested in gaming and e-sports and are very serious about content on this topic, planning video production and organizing video tournaments. We will be working on improving the video through new formats and adapting the mobile apps whose download has jumped," Jasmina Koprivica said.
"We will continue to practice many things, such as online meetings, and in terms of business, we will turn to what we have been doing for the last couple of years with Hello Travel, promoting tourist destinations in Serbia since this year 90% of people will spend their summer vacation in Serbia and these are the spaces to be conquered," Robert Čoban said. According to him, it is clear that print media will no longer be able to exist the way they used to, exclusive content magazines are safe, while everywhere else, niches must be sought and an additional experience must be offered to the reader.
"We realized that we were working in homes that are extremely flexible and capable and not only that they can survive under something that seemed unimaginable to everyone, but also are ready to embark on a new cycle of development," Sreten Radović of Ringier Axel Springer said, stating that the company will organize the employees' return to work in stages and that the sense of return to the newsroom and workspace is important to them.
According to Jelena Tušup of Nova.rs, this portal is still in the phase of investment thanks to its parent company United Group, so it is not obliged to make a profit even though advertisers appear in order to place advertisement messages.
Watch the webinar here DIRECT TALKS From Home 06