Come and listen to world-renowned Soprano Tamara Radjenović, Baritone David Bižić and Pianist Đorđe Nešić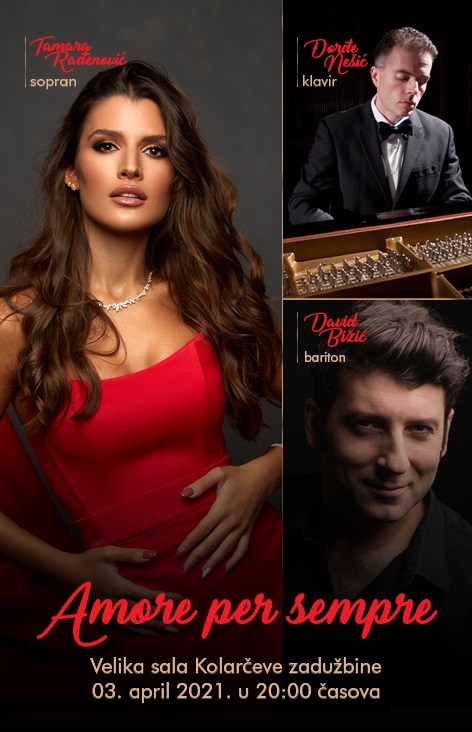 In early spring 2021, three world-renowned artists will arrive to Belgrade and have a concert in the big hall of The Ilija M. Kolarac Endowment on the 3rd of April 2021. at 8pm. The title of this concert is Amore per sempre.
On the programe of this amazing concert will be arias and duets from Mozart's Marriage of Figaro, Puccini's La Boheme, Bizet's Carmen and The Pearl Fishers as well as Spanish songs and piano pieces from Debussy and Rachmaninoff.
Tickets are on sale at the box office of Kolarac Concert Hall and can be purchased on tickets.rs
About the artists: 
Soprano Tamara Radjenović
The voice of young Soprano Tamara Radjenovic amazed the opera legend Montserrat Caballe. Tamara was only 19 years old when Primadonna Montserrat gave Tamara a unique opportunity to sing at Gala concerts in Spain. Tamara is 25 years old now and lives and works in London working hard and successfully on her world career. She graduated Voice performance at the prestigious Royal College of Music in London. So far, Tamara has performed in 13 countries e.g. Spain, Italy, USA, Austria, Germany, England, Slovenia. One of the highlights of Tamara's career are two solo concerts at the Carnegie Hall in New York in September 2018 and November 2019.
Find out more about Tamara
Baritone David Bižić
Baritone David Bižić is one of the most recognized Serbian opera singers in the world. He has performed in some of the most famous opera houses such as Metropolitan opera, Paris opera, Teatro Real Madrid, Royal Opera House London, Teatro Liceu Barcelona, Swedish Royal Opera, Wiener Staatsoper, Monte Carlo opera, Bolshoi theatre, Berlin, Geneve, Los Angeles, Bordeaux, Strasbourg. He has performed in 6 seasons at the Metropolitan opera as a soloist in more than 40 performances. The concert at Kolarac Concert Hall will be his first appereance in Serbia in last 10 years.
Find out more about David Bižić
Pianist Đorđe Nešić
The art of the Serbian-American pianist Đorđe Nešić is described as bold, emotional and "subtly virtuoso". His career includes recitals, concerts and chamber music. He strives to perform a musical repertoire that studies modern social issues and the promotion of human rights around the world. Last season, Đorđe performed at the KotorArt Festival, SANU Gallery and Carnegie Hall in New York. Previously also in Paris at the Cultural Centre of Serbia, at a concert named "Journey through the music of Serbia", at Carnegie Hall in New York and in Belgrade at City Assembly, National Museum, Artget Gallery and Serbian Academy of Science and Arts.
Find out more about Đorđe Nešić