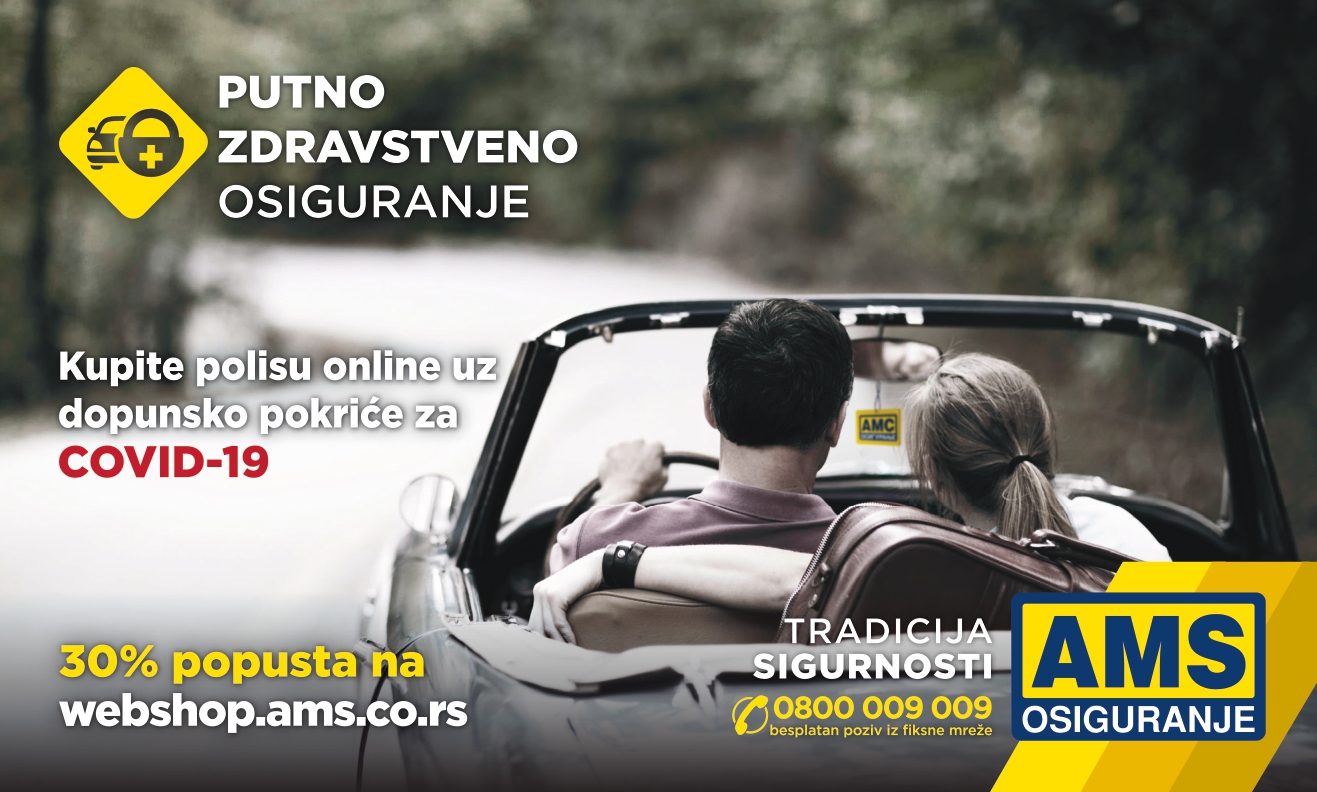 Many countries have opened their borders to tourists and the summer season has finally begun. After an extremely difficult period due to the coronavirus pandemic, all you want is to escape somewhere on vacation. However, the fear that you could be infected with this virus abroad will prevent you from relaxing and enjoying your holiday. Don't worry! AMS Osiguranje is here for you, because our Travel Health Insurance policy also covers the treatment of diseases caused by the COVID-19 virus.
We do not leave anything to chance and we always put the needs of our clients first. That is why we have broadened the range of our services and introduced additional coverage in case of COVID-19 disease, thanks to which we will bear the expensive costs of treatment abroad if you contract the COVID-19-related illness.
Before you start your trip, purchase our travel health insurance policy and make sure that, in addition to the basic coverage of medical costs abroad, if your policy stipulates so, we will also cover the medical costs that arise as a result of the confirmed COVID-19 infection, which includes required medical examinations by authorized doctors, testing in case symptoms of infection are evident with the view of getting you emergency medical care and an official diagnosis of infection with the COVID-19 virus, drugs in outpatient treatment, and hospital treatment or emergency medical evacuation to the country of residence, in accordance with the terms and conditions of your insurance policy.
Pick AMS Osiguranje because now you can quickly, safely and easily (on our website) buy our travel health insurance policy with additional coverage in case of getting infected with COVID-19, at a 30 percent lower price. Thus, the insurance premium for an individual policy, including the COVID-19 coverage, for a seven-day stay on the territory of Europe, will cost you only 1,102 dinars. The savings are great, especially if you go on a family trip because, in that case, the premium is only 2,425 dinars for the same period.
All you have to do is set aside a few minutes and from the comfort of your home, in just a few steps, purchase our travel health insurance and go on vacation worry-free. You can find detailed instructions for the online purchase of our travel health insurance policy on our website – webshop.ams.co.rs . For more information, call 0800-009-009 or you can also visit us at 16, Ruzveltova Street in Belgrade or at one of over 250 of our branches throughout Serbia.
AMS Osiguranje wishes you a happy trip and a carefree vacation.