IFC has always been active in structuring and financing infrastructure PPPs, that we see as a very good option to leverage scarce public resources, mobilize private investment, and attract good practices from the best global players.
There are three main sectors that I would highlight as priorities for us in the region: renewable energy, to support the decarbonization agenda; waste management and water treatment, pillars of the circular economy and key to preserving the health of the environment and the people; and the capital markets – financial institutions, in particular, will lead the financing of a greener, more sustainable, and the more impactful private sector overall.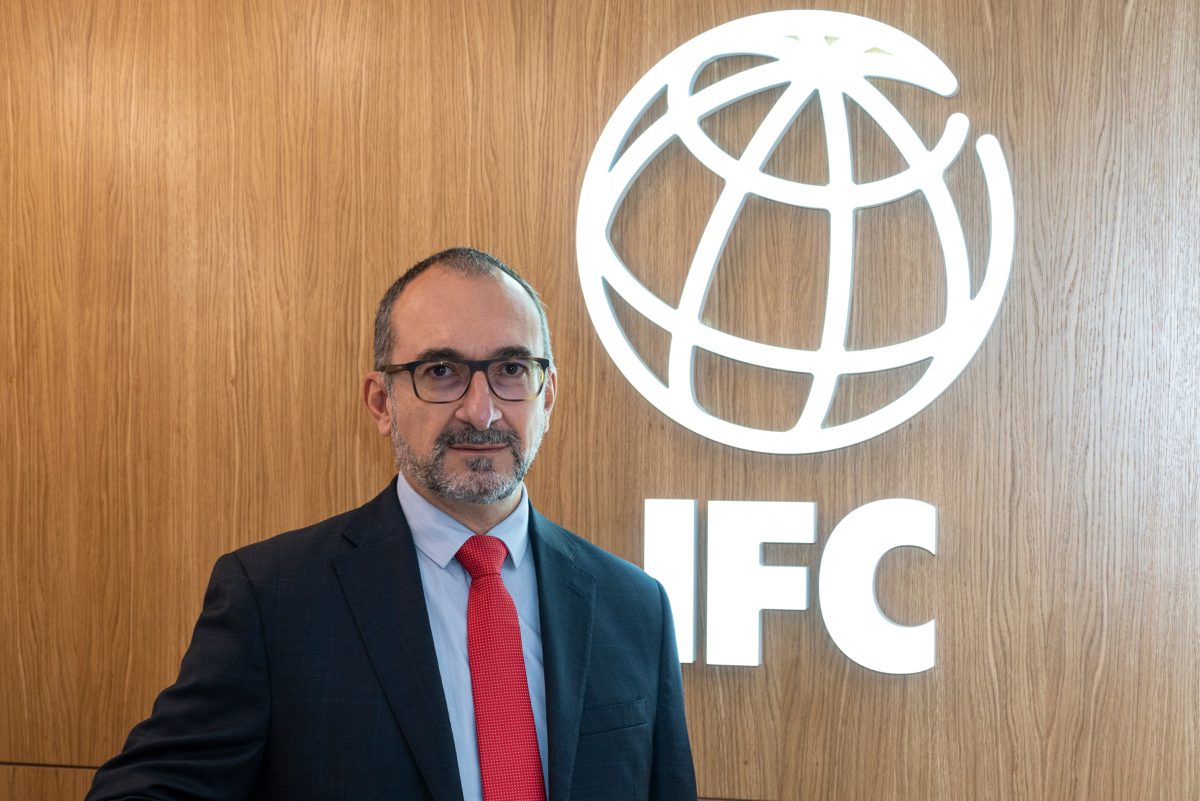 It has been more than a year that you have assumed the position of Regional Manager for the International Finance Corporation (IFC) in Central and Southeast Europe. What are your impressions of the opportunities for IFC to make an impact in this part of the world?
Indeed, I landed in Belgrade in July 2020 after spending the last 15 years in North America, first in Washington DC, then the Caribbean, and finally in Mexico for the last 6 years.
When I took this new position, I was first impressed by IFC's footprint in the region, where we have sizable offices and teams in Belgrade, Bucharest, Sarajevo, Tirana, and Pristina. And by the deep experience and local knowledge that my colleagues have accumulated over the past 20 years, making a strong impact for our private sector clients and government partners at times of political, social, and economic transition. With our unique focus on private sector development, we have helped build infrastructure, improve the business environment, attract private investment, and create opportunities and jobs in the region.
Most recent examples in Serbia include financing half of the country's current wind-energy generation capacity, financing the Nikola Tesla airport concession, structuring and financing the new landfill and Waste-to-Energy plant in Vinča, and also multiple technical assistance, lending, and policy initiatives to reduce processing times for construction permits, digitalize business processes, increase access to finance for SMEs and facilitate trade logistics across borders.
---

"We have helped build infrastructure, improve the business environment, attract private investment, and create opportunities and jobs in the region"

---
Much remains to be done, and I am also excited at the new possibilities that the region can leverage, as it enters the post-COVID era. Clearly, countries in Central and Southeast Europe are uniquely positioned to leverage three main trends that will drive the recovery: the digital economy, for which the region's young populations have solid skills that can still be developed further; the sustainability economy, for which major investments are required that will create new well-paid job opportunities; and the regionalization of various manufacturing and agribusiness value-chains, that currently seek to develop new production capabilities in Europe and its immediate surroundings.
More specifically, what are IFC strategic objectives in Central and Southeast Europe?
Our strategy is built around "the 3 C's" of Connectivity, Competitiveness, and Climate. Connectivity, because countries in the region need to create a bigger pie together, generate economies of scale, and ensure a good economic return for investors. Competitiveness, because people need better salaries and living standards — competitiveness must be the basis to attract fresh investment, rather than low-cost labor and tax incentives. And Climate, because the future is bleak in a world with depleted resources and a severe climate crisis, and because investing now in the transition to a green economy is key to creating the skills and jobs of the future. In a 2020 report titled "Ctrl-Alt-Delete: A Green Reboot for Emerging Markets," IFC explored 21 economies in developing markets, and identified an estimated $10.2 trillion in climate investment opportunities by 2030, with the potential to generate 213 million cumulative jobs and reduce greenhouse gases emissions by 4 billion tons of CO2 equivalent. These investment opportunities are in renewable energy, and also in green buildings, transportation, smart agriculture, waste and water management, industrial energy efficiency.
So, is IFC more of an investment bank, a technical assistance provider, or a policy advisor?
We at IFC acknowledge that multifaceted global development challenges such as rising inequalities, new demographic trends, environmental degradation, among others, cannot be addressed through a single lens. We implement our strategy through multiple instruments: leveraging our capital and AAA rating to finance projects and mobilize capital from others; mobilizing our knowledge and experience to provide advice to Government and firms; and leveraging our influence and thought leadership, when it comes to environmental and social sustainability, governance, impact investing, climate financing, and many others industry-specific topics. In today's world where access to capital is relatively abundant for good projects, it is this additional value — beyond mere financing — that our clients seek from IFC.
We are present in four main industry verticals: Financial Institutions and Markets, Infrastructure, Manufacturing, Agriculture and Services, and Private Equity and Technology Financing. In Central and Southeast Europe, which for us includes the Western-Balkans, Poland, Romania, Bulgaria, our investment portfolio amounts to 2.2 billion dollars invested with banks and financial institutions, microfinance, renewable energy, green building construction, transportation services, waste and water treatment, private health and education, manufacturing, agribusiness, and retail distribution.
Supported by various donor partners, we also implement targeted advisory programs across the region, for instance, our Western Balkans Manufacturing Value Chains program, our Environmental Social and Governance advisory program for firms and financial institutions, and various Investment Climate initiatives, which are key for a broader, more systemic impact, alongside a transaction-by-transaction approach.
---

"One of these complex issues is to help the region operate a "just transition" from a coal-based economy to a low-carbon economy"

---
Finally, we work "Upstream": when we identify specific barriers to creating new markets or making new investments, we work with public and private actors to address these barriers, advising on policy changes when needed, designing risk-mitigation instruments to foster investments and co-developing projects where we can play a catalytic role. A good example in the Western-Balkans would be on battery storage, where we will explore how new policies for energy transmission could foster investments in power grid regulation and facilitate the integration of new renewable capacity into the grid.
IFC is also known for its promotion of Public-Private Partnerships. How is the landscape changing for PPPs in the region?
Recent examples in the region include the financing of airport concessions in Belgrade, Zagreb, and Sofia, the Vinča Waste-to-Energy project in Belgrade, and the successful PPP Labs initiative in Albania, which increased the availability of laboratories providing quality medical analysis, at a critical time before the COVID crisis hits.
I am convinced that PPPs are even more critical now. Whether we build a port, an airport, a power plant, a dam, or a bridge, investment decisions are being made for the next 30 or 40 years. It is not an easy task for governments, at a time when both climate change and technological disruptions create enormous uncertainties for the future. Climate change, because everything we know about historic wind patterns, solar irradiation, water levels, will change in the next few years. Technology disruption, because it is affecting all segments of infrastructure: energy generation, with the rise of battery storage, hydrogen, distributed generation; transportation, with e-mobility; waste and water treatment, with the rise of the circular economy and changes in consumption patterns due to COVID; data highways, with the digital economy, the Internet of Things, cloud services, and new needs for broadband; etc.
Amid increased uncertainty, governments can take these risks and engage public resources upfront. Alternatively, they can call on the private sector to share some of these risks, build and operate new modern facilities, and charge for a service over the project lifetime. It is a great time to opt for the latter.
Looking forward, what are the priority sectors where IFC can make an impact in the region?
We are trying to tackle some of the most challenging issues for the region, jointly with other development partners. One of these complex issues is to help the region operate a "just transition" from a coal-based economy to a low-carbon economy, where no one gets left behind. This calls for multiple interventions to decarbonize the economy while offering new job opportunities for affected people and protecting the most vulnerable.
Our contribution to this effort can be wide-ranging—from working with the local financial sector and promoting financing for green investments, to investing in the circular economy, better municipal infrastructure, private health and education services, as well as attracting fresh private investment in new endeavors that will generate the jobs of the future.
---
A unique perspective
IFC is part of the World Bank Group and the leading global institution focusing only on the private sector as the main channel to achieve its development goals. This gives us a unique perspective: on one hand, we can help maximize private investment, at a time when governments need to rebuild fiscal space, continue investing in health care, education, and social protection, and still build the infrastructure that will sustain recovery over the long term. On the other hand, when faced with a difficult development challenge, we can leverage our experience and network to identify and incorporate global best practices from Asia to Latin America and from North to South. As the region enters a new phase of green, resilient, inclusive development, I truly believe that IFC can make a unique impact in the region, alongside other development partners, of course.