Instead of Kolarac Hall – YouTube , Friday, 8:00 p.m.
The Belgrade Philharmonic is opening its online season with a real attraction – a recording of our first outdoor concert at the Ušće Grounds in 2017. Instead of our regular Friday evening concert at Kolarac Hall, our audience will be able to enjoy an exclusive replay of our Music Picnic, at the same time, from 8:00 p.m. on the Belgrade Philharmonic's YouTube channel (Friday, March 27) https://youtu.be/5cngensg11A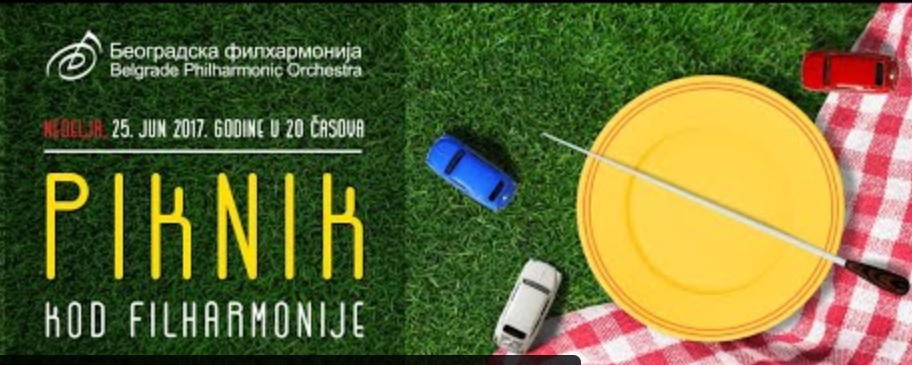 Our first outdoor concert with Chief Conductor Gabriel Feltz was a special memory for everyone. It also featured a special guest, our dear friend, the world-famous maestro, Zubin Mehta. On that occasion the Belgrade Philharmonic attracted more than 25,000 people with a repertoire selected by the audience. Namely, in the weeks leading up to the concert, the audience had been asked to vote for what they would like to listen to at the open-air concert. So, on this online occasion, everyone will recall the convincing winners:  Danzón by Márquez, Valse No.2 by Shostakovich, Sabre Dance by Khachaturian, Grlica by Hristić, Ravel's Bolero, and many other compositions, as well as encore marches with both maestros taking turns  conducting.
After announcing its weekly program, the Belgrade Philharmonic introduced a new blog entitled Musician in Lockdown, with a text by hornist Nikola Ćirić, plus a message from Chief Conductor Gabriel Feltz, and an audio recording of Gustav Mahler's masterpiece, the majestic Second Symphony, also known as the Resurrection Symphony, conducted by Maestro Feltz, which was the crowning event of the Belgrade Philharmonic's previous season at Kolarac Hall on June 14, 2019 and one of our orchestra's best ever performances, with more than 180 musicians on stage, including the Branko Krsmanovic Choir and renowned operatic sopranos Lavinia Dames and Tanja Baumgartner.
On the social network Thursday is known as a day of remembrance. The Belgrade Philharmonic's first tribute is dedicated to Zagreb. In the difficult week that this city has endured, the Belgrade Philharmonic is sending its support by commemorating its charity concert at Lisinski Hall in 2014, dedicated to the victims of the floods that devastated the entire region that year. The concert ended in a blazing display of bravura as the orchestra played an encore of Hristić's Grlica, by themselves, without a conductor.