Kovin workforce increases to supply millions of stoppers to global COVID-19 vaccine manufacturers
West Pharmaceutical Services, a global leader in innovative solutions for injectable drug administration is celebrating 40 years of successful operations in Serbia during October this year. The West Kovin production facility specializes in the manufacturing of stoppers and plungers for disposable syringes.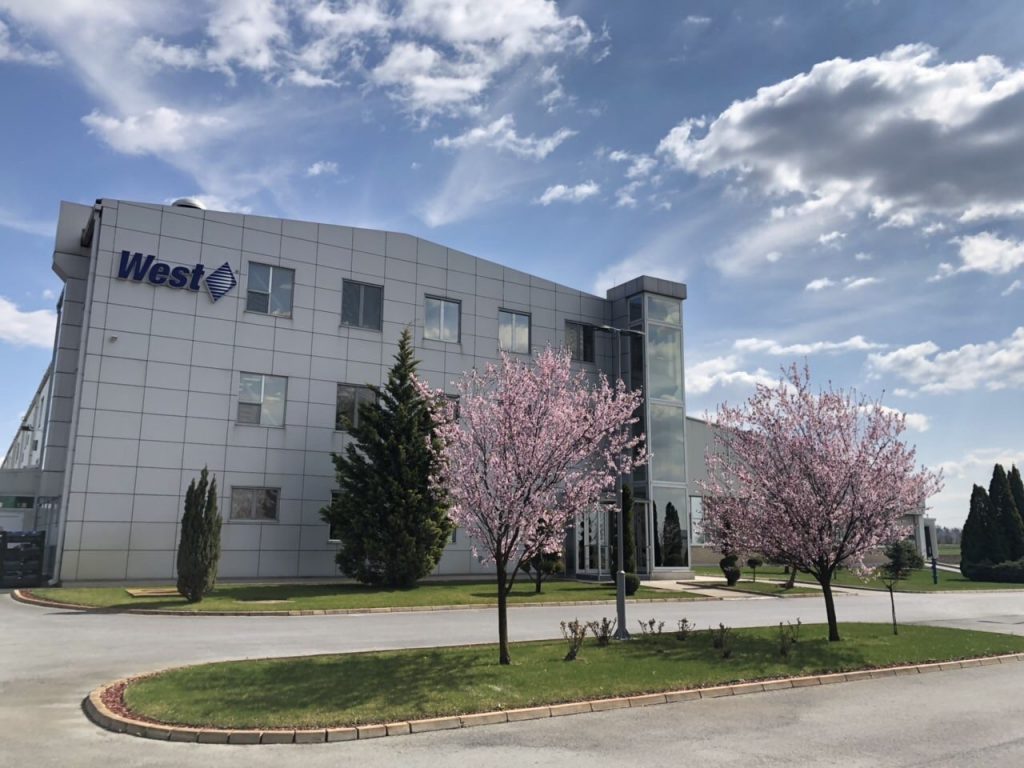 Over the past 18 months, the team has increased by over 60 people in response to a big surge in customer demand as a result of the COVID-19 pandemic. The company now employs 380 people in Serbia and is producing and exporting millions of rubber vial stoppers to over a dozen global customers that will be used to package over a billion COVID-19 vaccine doses in multi-dose vials as part of the COVID-19 vaccine programme in 2021. In addition, West is also supplying primary packaging components for therapeutics used to treat COVID-19, as well as critical components that are included in some of the diagnostic kit products that are being used to detect COVID-19.
Through these challenging times, vaccine developers have trusted West as a partner of choice to help protect their sensitive biomolecules. This is a testament to West's almost 100 years of global experience and reputation for leadership in quality.
"Today the company employs 380 people in Serbia. The Kovin facility is approximately 8,400 square meters and operates in three shifts. We are extremely proud of the  40 years of successful business in Serbia.  I would like to thank all the team members for the tremendous effort they put into every day to deliver high-quality components and services to our customers that ultimately improve patients` lives all over the world. We are part of a European network of West manufacturing sites, and we are working closely with our colleagues in Germany, France and Ireland to balance production at a European level in order to ensure we can offer the best possible response to our customers. Our team continues to grow, and we look forward to many more successful years here in Kovin." Milan Andjelkovic, Director of Operations, Kovin stated.
The company's history in Serbia dates back to 1981, starting out as a joint venture between a German company called Pharma-Gummi and a local pharmaceutical company, Galenika Holding. Up until 1992, Kovin was a small but successful facility. A long-term, phased expansion program was launched in 2004, which increased the plant's capacity to meet the increased market demand in Russia and Eastern Europe.
West without Borders is not affiliated with Doctors Without Borders®, which is a registered service mark of Bureau International de Médecins San Frontières.
---
About West
West Pharmaceutical Services, Inc. is a leading provider of innovative, high-quality injectable solutions and services. As a trusted partner to established and emerging drug developers, West helps ensure the safe, effective containment and delivery of life-saving, life-enhancing medicines for patients. With almost 10,000 team members across 50 sites worldwide, West helps support our customers by delivering over 40 billion components and devices each year.
Headquartered in Exton, Pennsylvania, and in business for nearly a century, West in its fiscal year 2020 generated over $2.15 billion in sales. West is traded on the New York Stock Exchange (NYSE: WST) and is included on the Standard & Poor's 500 indexes. For more information, visit https://www.westpharma.com/.