Renewable Energy Sources Association of Serbia will hold the first major conference dedicated to green energy on Wednesday, 15th September 2021, at the Metropol Hotel in Belgrade, entitled "RES Serbia 2021", in cooperation with the general partner European Bank for Reconstruction and Development (EBRD)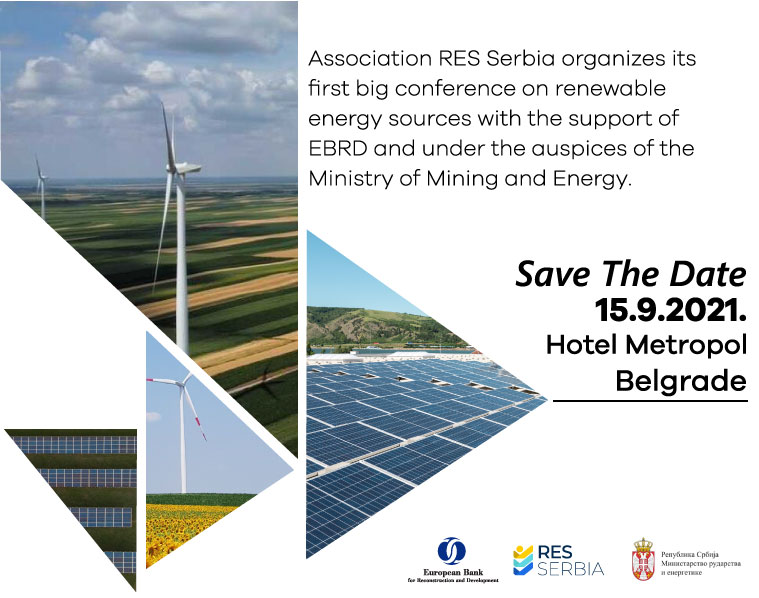 European and regional officials, representatives of state institutions of the Republic of Serbia, company leaders and energy experts will discuss energy transition, new investments in renewable energy sources, the introduction of the auction system, financing models and risks, integration of RES into the market, as well as the position women in the green energy sector.
The conference will be opened by the Deputy Prime Minister of Serbia, Prof. Dr. Zorana Mihajlović and EBRD officials, while the speakers will include Janez Kopač, Director Energy Community, Giles Dickson, CEO Wind Europe, Viktor Andonov, Energy Advisor to the Prime Minister of the Republic of Northern Macedonia, Ognjen Bjelić, Provincial Secretary for Energy, Construction and Transport and many others.
Ceremonial speech starts at 9:15 am, and the scheduled arrival for journalists is from 8:30 am to 9 am.
The conference is being held in accordance with current epidemiological measures – guests are asked to delegate only vaccinated people, those who have recently had Covid or those who are ready to do some of the tests before the conference. Wearing masks and adhering to other epidemiological measures is mandatory.
The conference program can be found at: http://www.oie.rs/