The 22nd regional "Book Night" event will be held on June 26-28 under the sponsorship of Eurobank
With promotion of education and culture as the foundation of its CSR activities, Eurobank has been supporting this regional event for years, aiming to promote reading and books among wider readership audience.
Caring about health of readers and employees, in line with the current situation and in the aim of avoiding crowds, this year's event will last three days, and book fans will have an opportunity to buy their favourite titles in Delfi bookstores and Laguna reader clubs with big discounts at 60 locations in more than 30 cities in Serbia and the region. The discounts will also include online shopping via publishing company Laguna and Delfi bookstore's websites.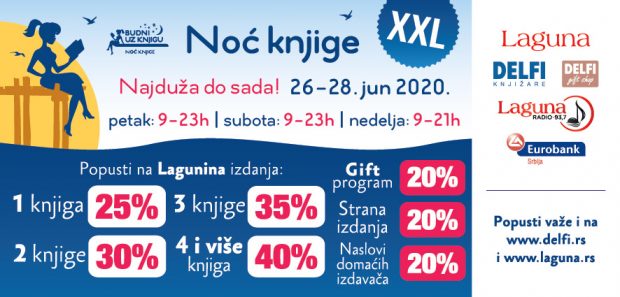 The "Book Night" event, launched in 2009, is the most popular event promoting books and reading after the Belgrade Book Fair. In addition to more than 50,000 titles, visitors will enjoy fantastic discounts, giveaways and promotions, as well as socialising with the best-known local authors, with the bookstores open from 9 am until 11 pm on Friday and Saturday and from 9 am until 9 pm on Sunday.
Supporting culture and education has been defined as one of Eurobank's most important CSR pillars and the reason why this company is the general sponsor of the "Book Night" for the 17th time in a row.