More than 120 free of charge concerts will be played during the 5-day Belgrade Beer Fest, and within its traditional campaign "Guys, who's driving home?", HEINEKEN Serbia will organize safe and free transport for thousands and thousands of beer and music fans.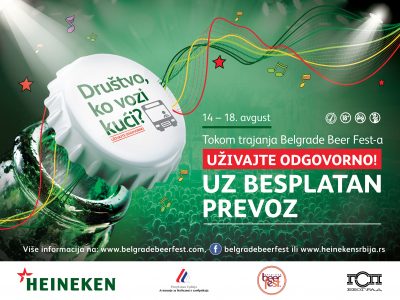 Visitors of one of the biggest summer festivals in Serbia will be transported by public city buses, from the four key points in Belgrade to Ušće, where this popular festival takes place. Bus rides without the need for validation are scheduled every half hour from the starting points, on the following dates: Wednesday, Thursday and Sunday from 8pm to 2am, and Friday and Saturday from 8pm to 4am.
Along with the free bus transport, Belgrade Beer Fest visitors will be able to have fun and educate themselves in the Safe Zone within the festival as well.
HEINEKEN Serbia has been organizing campaign "Guys, who's driving home?" for the seventh year in cooperation with the Road Traffic Safety Agency, Belgrade Beer Fest and Public City Transport Company Belgrade (GSP), to raise awareness of responsible consumption and responsible traffic behavior.