On Saturday, August 10, IKEA Belgrade celebrates its second year of operations in Serbia. Over the past 12 months, approximately 1.4 million visitors have sought inspiration and home furnishing solutions at the store in Bubanj Potok, while the website www.ikea.rs has had over 13 million visits.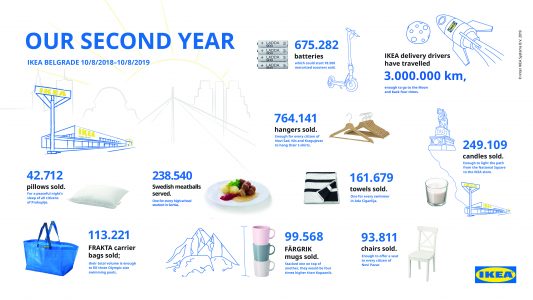 Eco-efficient LED bulbs which promote a more sustainable life at home are among the best-selling IKEA products in Serbia. In total, 181,566 pieces were sold, which saved the citizens of Serbia RSD 272,467.036 or over 41 million kWh. If all 36,100 LACK tables purchased at Belgrade's IKEA were stacked up, such construction would reach the height of 1160 Victors at Kalemegdan.
The IKEA FAMILY loyalty program in Serbia today has more than 190,000 members and this number is constantly growing.
Over the past year, IKEA opened a Delivery Center in Niš, making it possible for buyers from that part of Serbia to pick up products they have previously ordered online in the vicinity of their home.
In its second year in Serbia, IKEA has strived to contribute to a better life of the community in which it operates. For IKEA, equality is an inalienable human right and the company unreservedly respects the diversity of all its employees and visitors. Wanting to encourage men to be more involved in childcare in the early stages of childhood, we have given all IKEA dads a month of paid leave after moms return to work. At the same time, we have come together and formed, together with other large companies, the Gender Equality Alliance to improve the representation of women in leadership positions, to provide equal wages for men and women for the same work performed and equal career advancement prospects.