Two awards for the Skyline Belgrade project: for high-rise architecture and the concept of multi-purpose project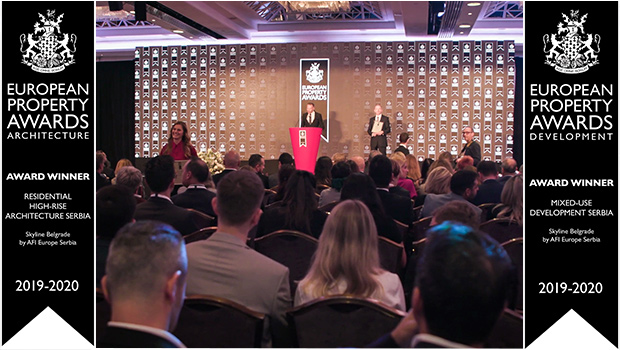 For twenty years now, International Property Awards have been held in London, an event that presents awards to professionals in the field of investment and construction projects around the world. This year, AFI Europe-Serbia won 4 awards for it's projects in Belgrade as a part of the 2019 Award Winners European Contest.
Skyline Belgrade has won two awards in the categories it has applied for – Residental High-rise Architecture and Mixed-use Development.
Airport City Belgrade, the first business park in Serbia, won awards for the best project in the category for office space architecture, as well as Office Development in Serbia.
The International Property Awards brings together companies operating in all sectors of the real estate, and awards have been allocated to all parts of the world – Africa, Asia Pacific, Arabia, Canada, the Caribbean, Central and South America, Europe, United Kingdom and United States.
The submitted projects based on a design, quality, service, innovation, originality and sustainability are evaluated by an experienced jury consisting of 80 real estate professionals, and companies selected as winners are invited to attend the event and award ceremony.
As a competition that brings together fierce competition, these awards for AFI Europe-Serbia are a proof that it is an extremely high-quality project whose future tenants can rest assured that they have invested money wisely.
As an investor, AFI Europe-Serbia has been present in the domestic market since 2005, when it began construction of the first Business Park Airport City Belgrade, also awarded in London. These awards are another recognition by international real estate experts of AFI's projects in Serbia and for their indisputable contribution to a more beautiful and modern Belgrade.
Skyline Belgrade's exclusive sales representative is CBS International, leading real estate sales consultant in Cushman & Wakefield.