Fifteen years after launching, Jana presented the platform "Deep above all" in 2018. A new visual identity and a new communication strategy were introduced, as well as a new, simplified design of Jana's bottle labels in line with the brand philosophy and the fact that Jana water comes from intact sources, in its high purity.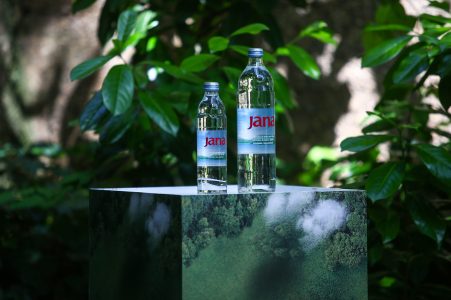 Due to the functional benefits and Janas long-lasting water passage through various geological structures, showing the perfection of natural filtration resulting in the perfect Jana purity, this year Jana came to the very top of the world competition, where for its quality was crowned with gold.
So Jana, natural mineral-neutral water, won the Gold Quality Award for the quality of the product at the Monde Selection International Competition. Monde Selection is a prestigious competition for quality in the world and its tradition dates back to 1961.
The mission of this competition is to evaluate the products according to the highest criteria evaluated by an independent jury, all with the aim of making the consumer sure that when he chooses a product that bears the mark of Monde Selection, he chooses a high-quality product rated to the highest international standards.
This gold medal is yet another world-class quality assurance for Jana. This exceptional water, which comes from a depth of 800 meters, after 7,000 years, has gone on its journey before any human contamination and is surfaced by filtration through the dolomitic rocks. Naturally protected on this journey, its first encounter with today's world is the moment of opening the bottle. Its quality has also been confirmed by the jury of the World Competition Monde Selection awarding it a prize in the competition to 516 products in the category "Beer, Water and Dishwashers".
In the competition, there are seven categories and four prize levels, 2948 products from 90 countries were tested and evaluated. The products were evaluated by 70 unbiased international experts – Michelin chefs, world-renowned enologists, university professors and nutritionists. For high-quality products, 973 companies were awarded, including Jana mineral water.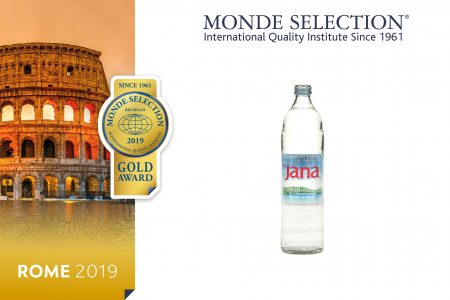 The criteria and rating parameters vary depending on the types of products being evaluated but are always within the framework of a global approach of evaluation. Monde Selection experts evaluate the taste, the smell, the visual aspect and other classical criteria, but also take into account the information given to consumers, the ingredients used, the innovations, the packaging and the credibility of the advertising claims. According to all of this, we can say that this is really a respectable acknowledgment for Jana.
The results of the competition were officially announced at the beginning of June at the annual awards ceremony in Rome, and by winning this award, Jana's natural mineral-neutral water received an international certificate of its top quality.