The Magic behind World's One and Only 7-star Hotel
There's no doubt luxury and shine attract tourists to their next destination, or even to revisit their favorite spot on the planet. Did you notice that Dubai has a lot of "world's largest" "world's most expensive", "world's tallest" records? In fact, Dubai is breaking world records so often, that the famous record book has set up an office in Dubai just to keep track of them all!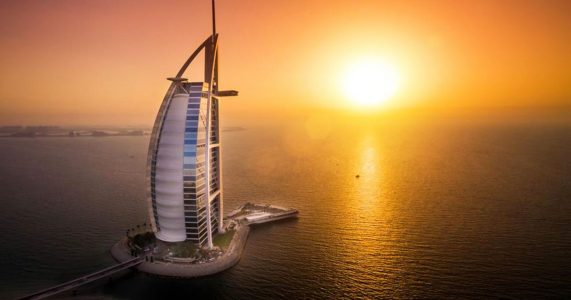 It is a difficult task to place everything that Dubai's offers in one article, as the Emirate is filled with everything luxurious and grand you can possibly think of, popping world records in the world, and attracting millions to witness the magic. Focusing on a very special place in Dubai, the Burj Al Arab Jumeirah Hotel has been a topic of discussion and admiration for years, representing the highest peaks of luxury in this Emirate paradise.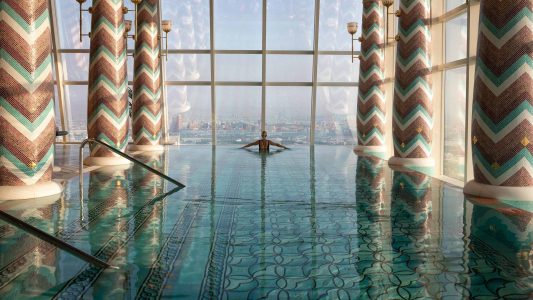 Dubai has transformed from a small fishing village and pearling center to a regional transport and tourism center for the Middle East. When speaking about tourism, one has to mention the high amount of the world's most famous hotels all located along Dubai's coast.
BURJ AL ARAB WILL FOREVER REMAIN A GLOBAL ICON OF ARABIAN LUXURY
A hotel which is placed on a wish-list of many and is the world's only 7-star hotel located in the Emirate, the one and only – Burj Al Arab. Located 280m off the shores of Dubai, Burj Al Arab was built on a man-made island. Guests ac- cess it via a bridge road that is 340m long. It just wouldn't be a 7-star hotel without an underwater restaurant, would it?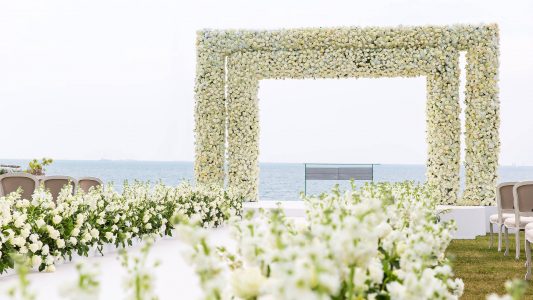 Also, it is the 4th tallest hotel in the world, but 39% of its height can not be occupied. Burj Al Arab Jumeirah-which stands at 321m-is 14m taller than the Eiffel Tower and only 60m shorter than the Empire State building. The 320-meter-high structure is covered in a complex lighting system that at night is synchronized to resemble fire and water, how beautiful!
It has only 202 bedroom suites, quite a small number for a hotel of this grandeur and size! However, they sure make up for it with their high prices. Rooms start at around $1,000 and can run up to $24,000 per night, making it one of the most expensive hotels in the world! The eiderdown duvets in the rooms are some of the most exclusive on our planet, and if that isn't enough, there are 17 types of pillows available to guests on the pillow menu.
There are 142 One Bedroom Deluxe Suites, 28 Two Bedroom Deluxe Suites, 18 Panoramic Suites, 4 Club Suites, 6 Diplomatic Suites, 2 Presidential Suites and 2 Royal Suites. The grand 780 square meters Royal Suite is fit for a sheikh, with an exquisite majlis style lounge, library and cinema room, along with two master bathrooms, each with full- size Jacuzzis and separate five-head rain showers.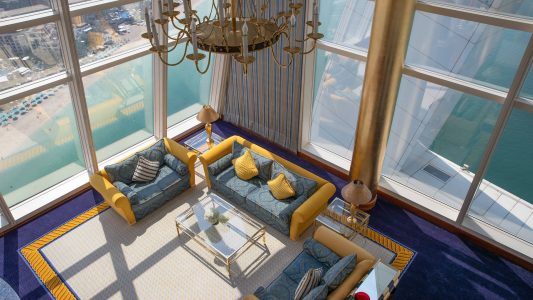 In addition to being the tallest all-suite hotel in the world, in 2008 Burj Al Arab also broke the Guinness World Record for the most expensive cocktail, valued at around $7,500. It also created the world's largest tin of caviar in 2016, which contained 17kg of Empress caviar – the world's only fully-certified organic caviar from native-raised sturgeon.
ROOMS START AT AROUND $1,000 AND CAN RUN UP TO $24,000 PER NIGHT, MAKING IT ONE OF THE MOST EXPENSIVE HOTELS IN THE WORLD!
The finest and most exclusive materials were sourced for finishing the interiors of Burj Al Arab. Amongst the fine items brought in to create the magical interiors were custom-made carpets and rugs from South Africa and India; marble from Brazil and Italy; wooden doors from Dubai and chandeliers from the UK. Every week, a team of up to six florists takes about eight hours to create the flower arrangements in the lobby, using flowers shipped from Holland, Kenya, South Africa and Thailand. The flower team always aims to include a guest's favorite flowers in the floral displays in their suite, creating bespoke arrangements ahead of their arrival.
The interiors of the hotel are gilded in 24-carat gold, approximately 1,790sqm of 24-carat gold leaf was used to embellish the hotel's interiors. Additionally, more than 24,000sqm of Statuario marble is used throughout the hotel, as it features more than 30 different types of it, in the walls and flooring. It is the same marble that was used by Italian artist Michelangelo to create many of his most famous sculptures including the statue of David.
Yet another world record, Burj Al Arab is home to the largest Swarovski crystal ceiling in the world. The ceiling in the hotel's Japanese restaurant, Junsui, is adorned with 21,000 crystals, used to represent the Milky Way. The installation is worth 1.3 million AED.
Behind the scenes of the hotel, in the kitchen, two top chefs hold five Michelin stars between them- Francky Semblat at Al Muntaha and Kim Joinié-Maurin at Skyview Bar & Restaurant. Before coming to the hotel, they earned their previous restaurants a combined total of six Michelin stars. Both joined Jumeirah in 2019 to help drive Burj Al Arab as the destination for fine dining in Dubai and to learn from the amazing diversity of cultures in the Emirate. The Burj Al Arab will forever remain a global icon of Arabian luxury, craved to be seen and experienced by tourists worldwide.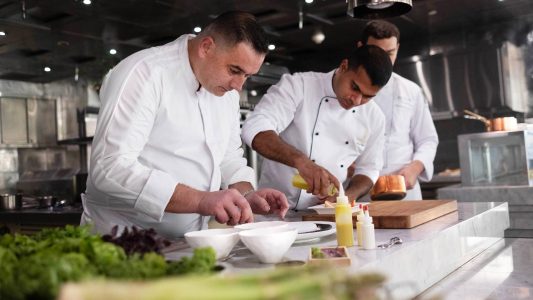 by Mina Vučić