About MPC Office portfolio development, projects and their particularities, we spoke with Mrs. Nataša Bugarinović, Head of Technical & Development at Office Division in MPC.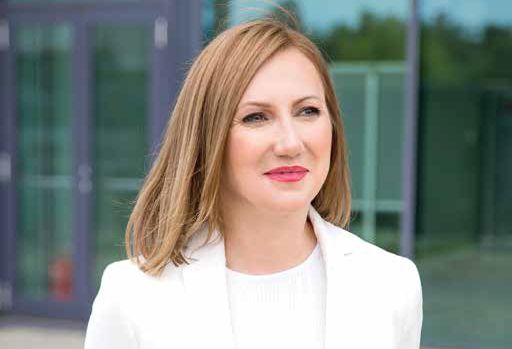 What can the market and business community expect from MPC's new office projects?
— MPC Properties has integrated its abundant experience into developing and managing real estate in the process of developing the concept for the two exceptional new office buildings – Ušće Tower Two and Navigator Business Center 2. As you can see from project titles, they are all continuation of existing buildings which will result in completion of two exceptional projects – the Ušće Complex and Navigator Business Center. Because of their quality and characteristics, our existing projects – Ušće Tower and Navigator Business Center – already top the offer of business facilities in Belgrade and Serbia. When we developed new concepts for these business facilities, we wanted to increase the standards in the domestic market and keep up with the current global standards and facilities that are currently being developed in larger business centres, namely London, Vienna and Warsaw. Also, our abundant experience in managing existing facilities has generated important guidelines for further development, since conducting surveys of tenants' satisfaction is our regular activity that helps us improve our business. MPC Holding Group has successfully implemented the ISO 9001: 2015 and ISO / IEC 27001: 2013 certification, which resulted in even better management of all our processes, including the real estate development.
What differentiates your projects in the market?
— Our company's strategy is building state-of-the-art office buildings in line with the highest global standards. We are a company that acts strategically and in the long run. In terms of quality and sustainability of our buildings, we do not compromise. We also invest more than the competition in the construction of facilities, which is why we are recognized in the market. MPC Holding's business activities do not include only real estate development but also asset and property management, hence, it is exceptionally important that the facilities that we build are sustainable, functional and in accordance with the green building principles. Navigator is the first office building in Belgrade that was awarded with the LEED BD + C in 2009 Gold certificate, as a new construction. Given that our company manages the entire life cycle of the building, I have to note that the adopted concept of green building has already given concrete results in the first phase of the Navigator project. This facility has the lowest operational costs – electricity, heating, cooling and water – in Belgrade. The top quality work environment, more fresh air and a lot of natural light are the benefits of this asset. The highest quality materials and environmentally friendly paints and materials were used in construction of Navigator. This beneficial practice is continuing and we are currently in process of green building certification for Ušće Tower Two and Navigator Business Center 2. Ušće Tower is in the process of BREEAM certification, with the aim of to obtaining the status "excellent", while the Navigator Business Center 2, is in the process of LEED certification process and the aim is obtaining the GOLD certificate.
Bearing in mind that we are talking about Class A office buildings, can you tell us more about the new construction technologies that you are going to implement?
— The Class A standard implies that the facility meets certain specifications in terms of location, office space furnishing and facility management. The Class A standard is set as an absolute minimum in our building design concept. Additionally, the green building principles, MPC know-how, facility management and innovation are key inputs in design process that distinguishes our facilities as unique in the market. In order to integrate all of the aforementioned, we, as developers, engage leading and experienced designers who provide innovative and optimal design solutions in the creative process of defining building concept. Tower Two, as well as Navigator 2, are very important projects for us. The concepts of both buildings were determined via architectural design competitions. As a result, the best design solutions and exceptional design teams were selected. In particular, in regard to designing Ušće Two Tower, Chapman Taylor was appointed for the architectural design, and Buro Happold, for the installation design. The leading engineers from Buro Happold actually made a proposal to use a new technology that is natural ventilation which will be installed for the first time in Serbia, on our Ušće Tower Two project. The Tower Two will be the first building in Serbia that "breathes". Climatic conditions in Serbia are ideal for the implementation of the natural ventilation system. This energy-efficient product is produced by Duco, a leading European manufacturer of ventilation systems, which guarantees a 'natural', healthy, comfortable and energy- efficient indoor climate. The system will provide night purging, i.e. the building will have natural ventilation during the night when the temperatures are pleasant. The system will, of course, allow fresh air in at the press of the button during the day. In this way, with minimal energy consumption, the air quality in the building will be excellent for most of the year, when the external air temperatures are pleasant. Furthermore, the building will be equipped with the systems that enable heating, cooling and ventilation and ideal working environment, both during very high and very low temperatures.
In terms of technical specification, how advanced are your new projects compared to the existing facilities and what will the tenants and their employees get if they decide to occupy Ušće Tower Two?
— First of all, the tenants will get a beautiful, inspirational and healthy working environment, as well as an elegant and functional space. A variety of facilities will be offered in each building complex, both in Ušće and Navigator, such as reputable restaurants, fitness centers, green zones for rest and relaxation, a kindergarten, cultural facilities and many others. The basic and most important resource for all tenants are their employees and it is very important that they work in a healthy environment that stimulates creativity and productivity. Although the minimum floor to ceiling height for office space of Class A is 2.80m, we decided that our two buildings should have a higher standard, where clear height in both buildings is 3.00m. This allows more light in the space, better air quality, greater comfort and functionality. Floor layouts are very flexible, and provide our tenants the opportunity to organize their business in a functional and effective manner. In addition to large surrounding green areas, both facilities have small terraces on each floor which are an excellent place for relaxation and enjoyment.