Bitef–Prologue, a specific form of announcement of 54th Bitef, which has been postponed until next year and will be realized together with 55th Festival edition, will be held in Belgrade from 12-14th September 2020. It is a three-day-long event which, in compliance with all the measures of precaution and health procedures, will be held in Bitef Theatre and on open stage set up in Mira Trailović Square. The audience will have an opportunity to enjoy theatre performances but also international panels and discussions, a contemporary circus performance, talks with theatre artists and other programmes.
The central event of Bitef–Prologue will be the performance Uncanny Valley, directed by Stefan Kaegi and co-produced by Rimini Protokoll and Münchner Kammerspiele. Uncanny Valley was conceived as one of the cornerstones of the 54th Bitef concepts, based on the notions of transhumanism and posthumanism on thematic level, and the exploration of live stage presence on the aesthetic one, that is on the dehumanisation of performer in choreographic sense, and the use of robots, drones, and avatars in theatre performances. The central character in this lecture-performance is a humanoid robot, a replica of the writer Thomas Melle who, due to bipolar disorder, suffers from stage-fright and is thus substituted by the robot. Due to the limited seating capacity of Bitef Theatre, Uncany Valley will be performed three times, but also get broadcasted via video-beam set up in Bitef City in Mira Trailović Square, and on Radio Television of Serbia 2.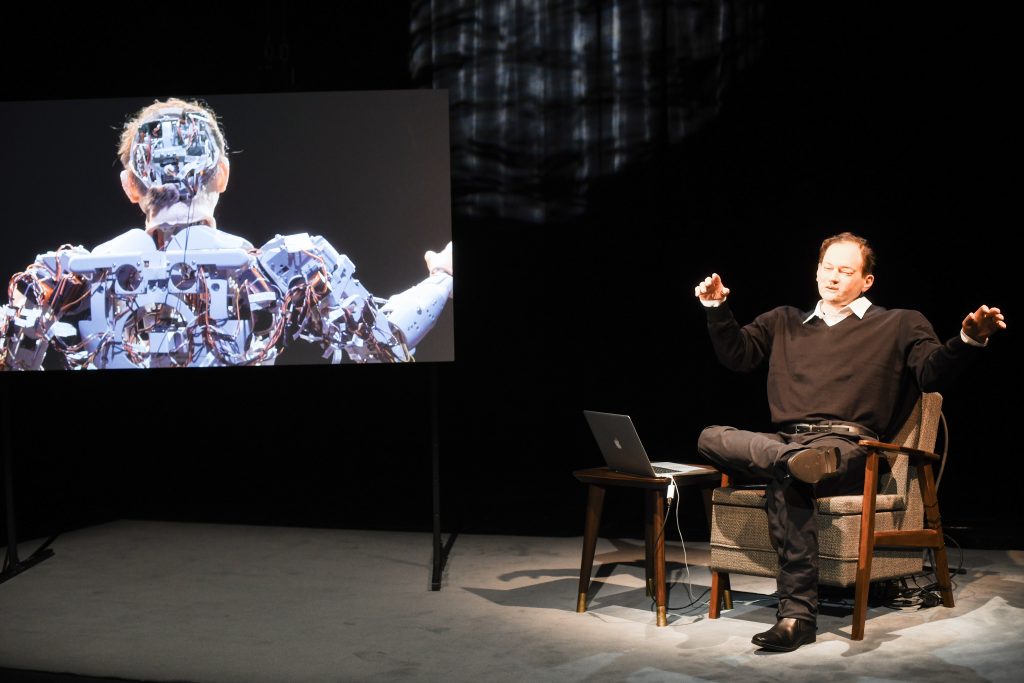 Stefan Kaegi, one of the most renowned theatre directors in the world, and Rimini Protokoll are well-known to Bitef audience. Their performance Nachlass, piece sans personnes was shown at 52nd Bitef and won Grand Prix "Mira Trailović" for the best performance, and Politika Award for the best directing. Last year, at the 53rd Bitef, Rimini Protokoll was represented with their performance Remote Belgrade.
World's leading theoretician in theatre studies, Erika Fischer-Lichte at Bitef – Why There Is No Digital but Only Live Theatre
The Bitef–Prologue rich debate and panel programme will be rounded off with the lecture by Erika Fischer-Lichte, one of the world's leading theatrologists and the professor of theatrology at Freie Universität Berlin. The talk with Erika Fischer-Lichte about why there isn't a digital but only live theatre, will be led by Bitef artistic director Ivan Medenica.
Bitef–Prologue will be broadcasted via Bitef YouTube channel. For more information, visit Bitef social networks or website https://festival.bitef.rs/
Traditionally, the festival is supported by the Secretariat for Culture of the City of Belgrade and the Ministry of Culture and Information of the Republic of Serbia, as well as the Embassy Of The Federal Republic Of Germany, Open Society Foundations, the French Institute in Belgrade. This year again, Bitef friend and sponsor is I&F Group, McCann Belgrade, the creative agency of the Festival, as well as the Festival partner Erste Bank a.d. Novi Sad, long-term Festival friend Coca-Cola Hellenic Serbia, Halo Creative team and Mezestoran Dvorište.