First Deputy Prime Minister and Foreign Minister Ivica Dačić said that bilateral relations between Serbia and Slovenia have intensified in recent years and are at the highest level since the establishment of official diplomatic relations.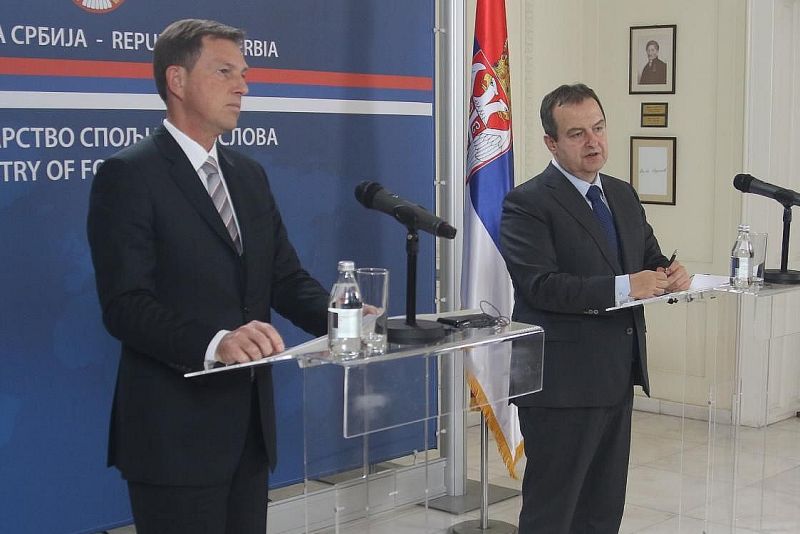 Dačić announced at a press conference after meeting with Slovene Foreign Minister Miro Cerar that the governments of the two countries will hold a joint session in mid-December.
He emphasised that economic cooperation will be one of the topics of the joint session, stating that last year's foreign trade amounted to €1.1 billion and that there is interest in further development of economic relations.
The First Deputy Prime Minister said that Serbia remains on the European path, despite the fact that there are various obstacles when it comes to the EU's views on the speed and manner of conducting negotiations, as well as the dynamics of the enlargement process.
Cerar said that the goal of his visit to Belgrade is to prepare the ground for a joint session of the governments of Serbia and Slovenia, expressing his belief that it will be in a constructive spirit, above all when it comes to economic cooperation, which is excellent.
Slovenia, more than any other EU country, is in favour of Serbia's joining the Western Balkans to the EU. We see Serbia as a significant factor, Cerar said, emphasising that Slovenia will continue to support Serbia's accession to the Union.