We have talked to Managing Director of Star Import, Štefan Vöröš just prior to the International Car Show in Belgrade.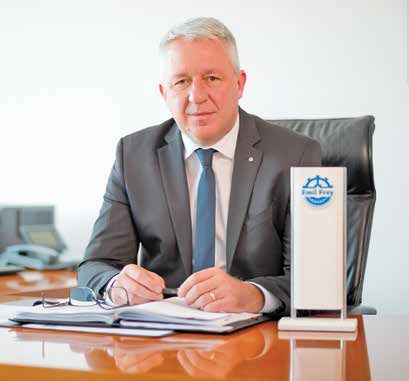 Could you give us a photo-robot of the average buyer of your cars in Serbia? Which model and equipment do they usually pick?
— By choosing the Mercedes-Benz brand, the customer chooses security as their priority. Our vehicles are well-known for their safety. The safety of vehicles and passengers is inextricably linked to digital innovations in which Mercedes-Benz is an absolute market leader. The attractive design of the Mercedes-Benz vehicles is also recognized by customers. The gamma of our vehicles is very wide and gives an ample range of possibilities for the customer to choose the model according to their needs and preferences. Our customers can be divided into two groups – one group remains traditionally loyal to sedans, first and foremost to E-Class, while the other group opts for our new models from the SUV segment, which is dominated by GLC.
How satisfied are you with the business results from 2018 and what are your expectations from 2019?
— 2018 was a successful year for Star Import. We achieved growth in all sales segments, and we can proudly say that the growth of sales of the Mercedes-Benz brand exceeded the growth of the entire automotive market. Additionally, we managed to keep the costs at a low level. The macroeconomic situation in the markets where we operate (Serbia, Montenegro, Bosnia and Herzegovina and Albania) was conducive to economic and GDP growth. We expect to continue at the same pace in 2019 too. We will traditionally exhibit at the 54th International Car Show in Belgrade, which will be held from 22nd-31st March of this year. We are confident that a number of new models that we will premiere at the Car Show will just validate our leading position in the premium segment.
You cover the markets in Serbia, Montenegro, Bosnia and Herzegovina and Albania. How similar and how different are these markets?
— In all of these markets the Mercedes-Benz brand is widely recognized and accepted which we consider a great success. The basic postulate of our business is that our approach is the same for all partner standards and conditions. The professionalism and expertise of our distribution network is something that is common to all our markets. We invest a lot in all the employees in our network. The political and economic circumstances in the markets of these countries are different, and in different ways they reflect on our business. Together with our partners, we have succeeded in having services and products that are tailor-made to the customers in every individual market.
What is your share in the luxury car segment and what trends have you noticed in that segment?
— The luxury car segment in Serbia is stable and numbers at around 2,200 cars, which is close to 8% of the total market. In 2018, this segment recorded a 12% growth. The share that the Mercedes-Benz brand has is 36% which is also an increase relative to 2017. The constant advancements in digitization, and introduction of alternative fuels is what we have noticed as dominant trends. We expect to achieve a stable growth in the years to come too.
SPECIAL OFFER FOR BUSINESS SECTOR
Business sales are very important in our company. The process of selling is not longer in focus in the modern business world because mobility has become an imperative. Instead of just buying a vehicle, today's companies are putting an emphasis on full service (servicing, winter tires, financing) and cost cutting. Star Import has recognized the great potential that this sales segment has. Therefore, in the previous period, we worked on the development and implementation of a special sales concept for business users that we named Bussines Solutions. Very attractive sales campaigns for companies, and special terms of financing with the offer that includes regular servicing and an extended warranty have given excellent results. That is why, for the upcoming 54th International Car Show, we have prepared flexible financing conditions and special campaigns for this customer segment. The most popular vehicles of the target group in this sales segment are C-Class and E-Class.