Expositur provides companies from Serbia with complete support in company inception in the Federal Republic of Germany and their performance in this market.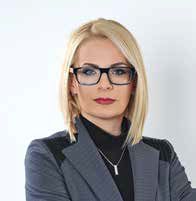 How much are companies in Serbia familiar with the possibilities and needs of the German market? What activities would you like to single out? Do some of them have a slight advantage over others?
— Construction and metalworking industry are best acquainted with these possibilities. Even during the economic sanctions, when nobody was allowed to leave the country, qualified workers from Serbia were permitted to leave for Germany to build power plants there. Today, worker profiles that are deficient have some advantage in Germany, however, all the activities and products that meet European standards have a great chance of succeeding in Germany, provided they have a developed business system in Serbia. Thus, the operations of our companies in Germany could contribute to the prevention of the permanent brain drain, since there is a possibility of a company doing the so-called internal staffing (inside the company) and send off its staff to work to Germany for a certain period of time which would meet the needs of both the workers and companies. Although all of this sounds rather easy, it requires detailed planning, patience and implementation of required procedures for putting an infrastructure in place and recognizing diplomas and certificates in Germany for which you need a consultant who knows all about that. However, when we consider everything, entering the German market can be a strategic solution for a company achieving long-term success.
Your team gathers experts from different areas who are critical to the emergence and operation of a successful company in Germany. Is this one of the motives for prospective clients to choose and trust you? Do your clients recognize their company in your work?
— Our biggest advantage is that our experts know the system, the way business is done and the mentality of both countries. The biggest problems arise from small misunderstandings. Our clients have the habit of saying that we make their life in Germany easier. I hope that in the future some of our brands, whether fashion, interior decoration, food or other, will recognize the opportunity for entering the German market and expanding their business in that direction.
Expositur is ready to provide the client with all the necessary advice and support before the company is founded in the Federal Republic of Germany in the following areas: accounting and book keeping, business, labor and migration
rights and assistance in the formation and interpretation of contracts, marketing and representation of the company within the new market with the help of online marketing.
• Advising and supporting legal and tax issues related to contracted projects
• Project-specific advice on promotion and financing options
• Establish contacts with local partners and networks
• Organization of project site visits
• Coordination of negotiations with public and private partners
• Organization of the infrastructure of the German branch of the company
• Help in personnel matters
• Communication with authorities, chambers of commerce and trade chamber in the Federal Republic of Germany
• Accounting
• Branch administration
• Balances
• Insurance
• Marketing
• Services of using a virtual office and business address in the Federal Republic of Germany.
Expositur Venizelosova 25 11000 Belgrade Serbia
Tel: +381 (0) 60 6243062 · +49 (0) 2641 8290842 · +49 (0) 1573 9442021
e-mail:info@expositur.eu
www.expositur.eu