UNIQA insurance is, in the Serbian insurance market, recognizable as a modern and innovative company with a very professional attitude towards their customers.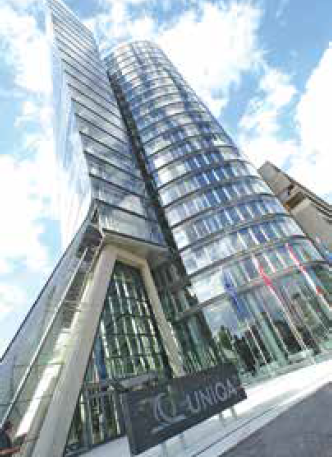 UNIQA insurance is a member of one of the leading insurance companies, the Austrian UNIQA Group, with business tradition spanning more than 200 years. Currently the UNIQA Group operates in 18 markets in Central-Eastern Europe and has 10 million customers, with whom it concluded more than 19.5 million contracts.
In regions in which UNIQA operates and directs its activities, there are about 300 million people who speak different languages, live in different cultures, but they have one and the same motive – to ensure a secure future and prosperity for themselves and generations to come.
Every day, we direct attention to the wishes and needs of the people, encouraging them to go for their dreams and to discover everything that fulfills them and makes them happy. By constantly opening up new horizons, UNIQA has gained the trust of millions of people and became a symbol of reliability, responsibility and a different, positive view of the world.
During the decade of operations in Serbia more than 60 million euros have been invested, and the company operates through 35 branches, 6 general agencies, 250 mobile offices, 400 points of sale and has nearly 600 employees characterized by superior knowledge, professionalism and commitment to clients.
UNIQA insurance currently occupies the fifth position on the Serbian market, but the first in the bank insurance and private health insurance. We are only one in the market to have introduced franchising over the partners who exclusively sell UNIQA insurance products and in this way we have combined our international expertise with local experience thus affirming private and family business in Serbia.
To enjoy life means to ensure personal and family safety. Therefore, UNIQA insurance in its offer has various products tailored to the needs of a modern man. One of the most popular types of insurance is life insurance, which is a form of savings designed so that the client is provided with the financial security for himself/herself and their loved ones.
And for those who want to protect their property, UNIQA has focused programs to safeguard the assets of companies, corporations, small and medium enterprises, as well as property of citizens, such as apartments and houses, cars. UNIQA travel insurance is a must when traveling abroad. Also, we are very proud of the leading position in the Serbian market in the field of private health insurance and all the benefits enjoyed by users of our MedUNIQA policies.
For the last ten years of its presence in Serbia, UNIQA has initated new and supported existing actions to help and support those who need it most. UNIQA supported children without parental care providing better conditions for happier growing up. Constant investment in the culture brings the citizens of Serbia closer to, at least, the part of the rich and colorful world and national cultural heritage. Cooperating with numerous sports associations UNIQA further encouraged sport spirit of Serbia. Also, cooperating with the Volleyball Federation of Serbia, UNIQA supported the most successful Serbian- world, European and Olympic champions. UNIQA crowned its investment in sport with cooperation with the Olympic Committee and was a reliable partner and support to the best athletes who brought joy to the nation winning numerous medals.
A decade of constant progress and the greatest growth in the insurance industry, superior quality in operations and commitment to servicing clients and speed in the payment of damages have resulted in numerous awards. UNIQA insurance was declared the best insurance in Serbia by the prestigious London-based magazine "World Finance". In addition, UNIQA has received the award "Regional Business Partner 2011", which is awarded to companies that have shown outstanding results of operations, guided by high professional standards and firm ethical principles. In 2016, the Center for Customers Opinion Research awarded UNIQA insurance a certificate "The company to trust 2016". Also, UNIQA is the winner of the special award "Corporate Superbrands 2015/2016" for the results achieved during 10 years of operations, as well as recognition Public National Champion for the growth strategy from the organization European Business Awards. UNIQA has been given the award Planeta biznis for dedicated investment in the community in which it operates.