We have come up with so many high-quality amenities on Zlatibor in the last few years so today, our tourist offer has something for everyone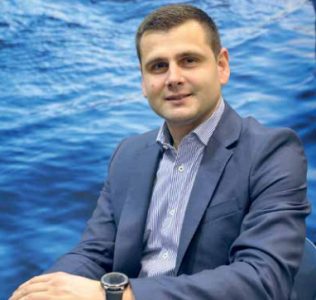 Zlatibor is one of the most visited destinations in the country and a leader in mountain tourism. Tourists have been coming to Serbia for 126 years, with the past few seasons setting new records in terms of arrivals. At the same time, the number of visitors to Zlatibor is constantly growing, and in 2018, overnight stays grew by 12% compared to 2017. We talked to the Director of the Zlatibor Tourist Board (ZTO), Vladimir Živanović about further plans for this tourist destination.
It is noticeable that tourists from China quite like coming to Serbia, with Zlatibor being one of the must-see places along the way. The fact that Chinese tourists are the biggest tourist group on Zlatibor, after the guests from the Republic of Srpska and Montenegro, really speaks in favour of your willingness to attract guests from all parts of the world with your tourist activities and offer. What are your impressions and plans regarding this, and how much have you already done to promote Zlatibor in the Chinese market and beyond?
— Zlatibor is the most visited mountain in Serbia and is recording an increasing number of tourists year-on-year. The interest from foreign tourists has been growing, and now foreign guests make up a third of the total number of visitors here. As for tourists from China, their number on Zlatibor is increasing too. They are attracted to our nature, amenities, food and attractions. In order to promote Zlatibor in China, we have already made several promotional films in the Chinese language, which are available online. We also hosted Chinese TV crews who filmed this destination and later broadcasted it to the big Chinese audience. Our plan is to take Chinese tourists more seriously in the coming year. We also plan to open pages on their social media so that we can directly communicate with them, in their language.
It is a well-known fact that Zlatibor, besides its natural beauties, has an excellent geographical location and climate, and is one of the very few mountains that offers numerous opportunities for tourists throughout the year for both active and peaceful family vacations. What activities do you have available here and which one of them appeal the most to the Chinese tourists?
— We have come up with so many high-quality amenities and activities on Zlatibor in the last few years so today, our tourist offer has something for everyone – from the dinosaur park which is the biggest amusement park in the Balkans to several adventure parks, the Tornik Centre which is open both in summer and winter (and has a sightseeing cable car, a rollercoaster, a tubing track, mountain bike tracks, etc.), many diverse hiking and biking trails, the attractive Stopić Cave, great outdoor swimming pools, impressive excursion sites, vistas, youth facilities, sports fields, and a rich cultural and entertainment pro-gramme. All these attractions also benefit Chinese tourist. Their ever-growing number on Zlatibor is a proof that they have heard about our good reputation. We usually have individual guests from China who, in addition to relaxing and having fun here, want to get to know our food, customs, culture, as well as the attractions located around Zlatibor.
Each year you have something new to offer. Zlatibor will soon have the biggest cable car in the world. How are the works progressing and how much will this whole project contribute to an increase in the number of visits and enhanced enjoyment of the natural beauty of Zlatibor?
— The Zlatibor Gold Cable Car is currently the most important tourism project in our country. The municipality of Čajetina has spent €13 million on purchasing the latest French cable car equipment. This nine-kilometre-long cable car (the longest single-cable car in the world) will soon connect the tourist centre of Zlatibor with the attractive Tornik centre. The cable car will provide the most beautiful panoramic view and our tourists will be able to fully enjoy the beauty of the "golden mountain". The construction is nearly done and many pillars have been erected. The plan is for the cable car to become operational by the end of this year. This will mark a new phase in tourism on Zlatibor, and this attraction will transform this mountain one of the important European tourist destinations.
What are your further plans and what are you going to focus on the most in preparing for the new season?
— We always have plans. Zlatibor experiences a surge of tourists when it offers something new. In the beginning of this season, we opened a new building that houses the Cultural Centre, which is an ideal space for various cultural events. An international sports film festival, featuring films from all over the world, has already been held there. We also have premises for art exhibitions, gatherings, theatrical performances, cinema screenings, book lovers, etc. Zlatibor also has new sports grounds, promenades and children playgrounds. Major environmental and waste management projects have been announced and there is also a plan to build a water park here. The crowning achievement is definitely the cable car which is supposed to become operational this year. Then comes the winter season, which I hope, will be successful, and with it probably yet another new attraction on Zlatibor.