On the final ceremony held on September 6th, 2019 at the Hotel Excelsior in Venice, on the 76th Venice International Film Festival, Award UNIMED 2019 (Unione delle Università del Mediterraneo) conferred to the movie "Ema" by Pablo Larraín, for its artistic value and its ability to depict the current themes of integration and multiculturalism. Pablo Larrain also won ARCA Cinema Giovani Award – The Best Film of Venezia 76.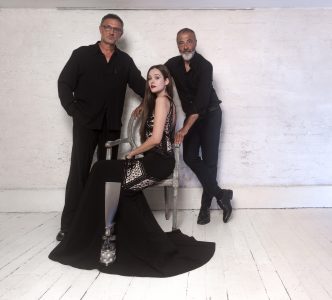 UNIMED 2019 Award is represented in a form of a sculpture, which was created by the artists named Michele Iodice (Italy) and Aleksandar Gligorijevic (Serbia) with the collaboration with the young curator Natasa Radojevic from the Drina Gallery and PDG Arte Communications.
The sculpture "A work for a work" is made up of different parts of a plane, separated elements, which represent a symbol of the spiritual need of cross-cultural exchange and connection, based on a humanistic approach. The sculpture aims to combine the main nature of the UNIMED Award 2019 which is cultural diversity and freedom of artistic expression, reviving the symbols of human and cultural link enriched with "pictorial elements". Throughout teamwork this work is characterized by realization, conception, belonging, definition of shapes, purity, and beauty, passion and knowledge but especially participation to a worthy initiative.
Creative director and the author of this project is Nataša Radojević, a founder of cultural platform Logic Art Space, who also took position as the Art Director and Partner of the Drina Gallery from Belgrade (Serbia). She focuses her work on strengthening cultural relations between Southeast Europe and Italy, as well as other European countries. During the occasion of the 58th International Art Exhibition in Venice she was elected as a speaker on CEI Venice Forum for Contemporary Art Curators together with five other young curators from Europe.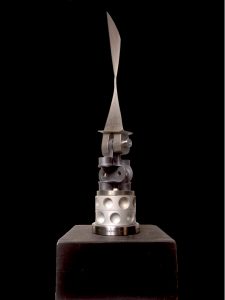 The UNIMED Award was created in memory of professor Franco Rizzi, former Secretary-General and founder of UNIMED, for his life-long commitment to cooperation among Euro-Mediterranean Universities; and it is awarded to the movie which best represents the values of cultural diversity, promotes freedom of artistic expression and encourages cultural exchanges.
Prof. Francisco Matte Bon UNIMED President, and Prof. Antonio Falduto, in charge of the initiative, participated in the ceremony together with artist Michele Iodice and curator Natasa Radojevic, who assigned the prize.
ABOUT ARTISTS:
Aleksandar Gligorijevic was born in Belgrade in 1962. He obtained his degree at Santa Monica College Sculpture Department in 1991, and since then he has shown his masterpieces on numerous solo exhibitions in the USA, Switzerland, and Serbia.
Michele Iodice was born in Naples in 1956. He is an artist and a functionary at the Certosa and Museum of San Martino in Naples. He is the author of numerous installations, in situ interventions, designed exhibitions, decorations: he experiences the space as a place that should be reinterpreted and transformed, not as a container that accepts dislocated objects created elsewhere. He designed sets for theaters, festivals, ceremonies, and he uses inventive solutions in the field of applied design by minimizing large works and small objects, conceptual and decorative elements.