Wienerberger has been operating in Serbia for a number of years, and this year, the company expects to achieve even better results. The company currently employs 300 people. We are talking to Wienerberger's Financial Director, Zlatomir Milošev about future plans and investments.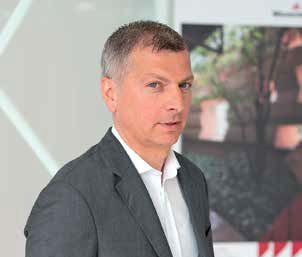 What results did Wienerberger Serbia achieve in 2018, and what were the results at the Group level? What are your expectations for this year?
– On Serbian market, results of 2018 were better compared to year before, but, considering the situation in Kosovo and the higher gas prices, the overall business result was below 2017. The expectations for this year are definitely for us to further development of results through implementing the Group's strategy. At the Group level, Wienerberger delivered an excellent performance in 2018. We generated a 6% increase in revenues to a new record high of EUR 3.3 billion. EBITDA rose significantly by 15% year on year to EUR 469.3 million. This strong growth is attributed to the persistent and sustainable implementation of our corporate strategy: first of all, through the improvement of our market position and organic growth generated by innovative products and services.
How much have you invested so far in Serbia? Are you planning new investments in Serbia?
— Wienerberger is committed to constantly investing in new equipment, which amounts to about one million euros annually. Plans for new investments are mainly related to automation and digitization in production in line with industry 4.0. requirements.
How many employees do you have Serbia and are you planning on hiring more workers?
— We have just over 300 workers in Serbia. The age structure of our staff is such that, in the future, we are going to work on employing more young people who will be able to support the strategic initiatives concerning automation and digitization, both in production and in overall operations.
What kind of relations do you have with your suppliers? Could you tell us more about the Wienerberger CBME Supplier Code of Conduct?
— Our suppliers are our partners and we have been cooperating for many years with the majority of them. Given that the pressure to reduce costs is increasing, we are committed to market research and to the search for new supply sources. Wienerberger CBME is committed to high standards of integrity and sustainability and fosters a policy of zero tolerance when it comes to unethical business behaviours, such as bribery and corruption. We expect all of our suppliers to comply with similar standards and to keep their business in line with business ethics.