Enjoy exclusive benefits with UniCredit Bank's Mastercard World Elite card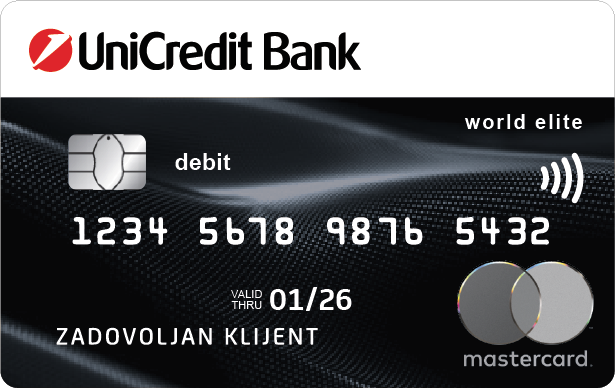 UniCredit Bank expanded its offer with the premium Mastercard World Elite debit card, within the Prestige account package. This exclusive card was created with the aim to offer its users special experiences, as well as new, additional benefits.
The key benefit offered by this card is the Mastercard Concierge service, which includes support from a team of personal assistants, available 24/7. Holders of Mastercard World Elite cards can use the assistance of Concierge agents to request a variety of services and have their various demands and needs met, including: hotel reservations, airline fares, exclusive restaurants, rent-a-car, as well as tickets for various events, organizing surprises, shopping or delivery of gifts.
"Universality, continuous innovations and carefully listening to the individual needs of our users have been our bank's key focus for years. By listening to the needs of one part of our clients, we have decided to offer them the Mastercard World Elite card, which provides an unprecedented and personalized experience. We are very proud of the fact that UniCredit Bank Serbia is the first bank in our market to offer its clients this type of premium Mastercard debit card," said Rastko Nicić, Head of Retail and Small Enterprises.
As one of the new benefits, and in order to allow all users to feel as safe as possible in the circumstances of the pandemic, this service also offers family travel insurance, which is valid in all countries of the world and covers a period of 90 days a year, with an insured amount of up to EUR 15,000. In addition to that, the Concierge service also provides information about current restrictions due to the COVID-19 pandemic, so the Mastercard World Elite cards make it easier for users to plan and organize travelling.
"Mastercard World Elite debit card is a premium product which upgrades simplicity, security and speed of cashless payments with an assortment of unique privileges, available both in everyday situations and on trips. With access to priceless experiences on the Priceless.com platform and free entry into over 1,000 business lounges at airports around the world, this card offers a special level of personalized Mastercard Concierge service, which provides support and saves time, in a manner that is fully in line with the lifestyles of the users of this premium card," said Jelena Ristić, Country Manager Serbia, Montenegro, Bosnia and Herzegovina at Mastercard.
The Mastercard LoungeKey service, which is also included in this card's offer, provides users who travel frequently with an unlimited number of free entries into more than 1,000 business lounges at airports around the world. In this way, they can access the services offered by those lounges, regardless of their choice of airline and the class of their flight ticket. An additional benefit of this service is that users can access business clubs even without their card, they only need to show the QR code on their phone at the entrance, using the Lounge Key mobile app.
With the new Mastercard World Elite debit card, until 30 June 2022, users can also have free access to two new innovative digital services – PressReader, a digital kiosk which gives users access to numerous prestigious international magazines, and Digital Bodyguard, an application for security information and warnings in real time.