Key results in 2016:
Passenger numbers grow 3 per cent to 2.62 million
Cargo uplift increases 31 per cent to 4,913 tonnes
Totals ASKs rise 11 per cent to 4.06 billion
Seat load factor increases to 72.4 percentage points
Five new routes including Belgrade-New York (JFK)
Fleet capacity increased with first wide-body Airbus A330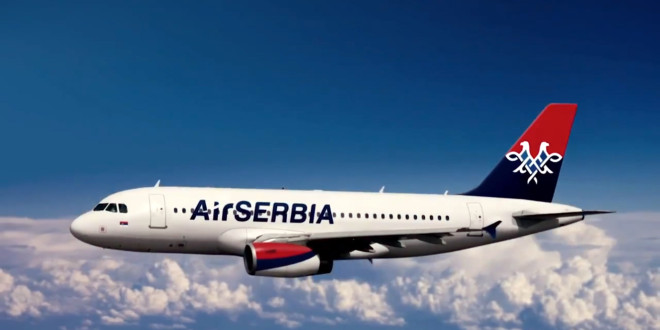 Air Serbia has recorded a third year of operational growth in 2016, driven by the launch of new routes, including New York, and the introduction of a new wide-body aircraft.
The Belgrade-based airline carried 2.62 million passengers during the year, up 3 per cent over 2015, making a strong contribution to the growth of trade and tourism in Serbia.
During the course of 2016, Air Serbia operated 33,171 scheduled and charter services, including 1,213 in the summer months under Aviolet, its charter brand.
Air Serbia's cargo operation experienced considerable double-digit growth in this time, with 4,913 tonnes of freight and mail uplifted in 2016, representing an annual increase of 31 per cent.
Network capacity, measured in available seat kilometres (ASKs), grew 11 per cent year-on year, from 3.65 to 4.06 billion.
The average passenger load factor at Air Serbia, a measure of seat capacity utilization, increased to 72.4 percentage points in 2016, compared to 70.7 the year before.
On-time performance (OTP) at Air Serbia's hub at Nikola Tesla Airport was 87.3 percent (up from 86 per cent the year before), while the overall OTP for the whole Air Serbia network came in at 84 percent (up from 83.6 per cent).
Siniša Mali, Chairman of the Supervisory Board of Air Serbia and Mayor of Belgrade, said: "2016 was a year for the history books at Air Serbia. The airline achieved major fleet and network milestones and managed to deliver sustainable growth in a tough business environment. The development of Air Serbia is intertwined with the development of Serbia, and was integral to the economic growth recorded last year, the likes of which have never been seen before."
Dane Kondić, Chief Executive Officer of Air Serbia, said: 'Air Serbia continued to grow its passenger and cargo operations in 2016, bringing more choice and convenience to travelers across Serbia and Southeast Europe.
"The launch of New York, our biggest operational undertaking to date, really showcased the full benefits of our membership in Etihad Airways Partners in terms of fleet development, training and so forth.
"In 2017 we will continue to focus on the long-term sustainable growth of Air Serbia to ensure we continue to hit on the commercial objective set out by our two shareholders, the Government of the Republic of Serbia and Etihad Airways."
The growth of Air Serbia's network capacity was fueled by the launch of services to New York in the US, St Petersburg in Russia, Kiev in Ukraine, Hamburg in Germany and Ohrid in Macedonia, which widened the airline's network reach to 44 destinations.
At the same time, the Air Serbia fleet grew to 21 aircraft as the airline took delivery of its first wide-body aircraft, a 254-seat Airbus A330, deploying it on the transatlantic service to John. F Kennedy International Airport in New York.
During the year, Air Serbia signed new codeshare agreements with four additional airlines, bringing its total number of codeshare partnerships to 19 airlines and expanding its connectivity to 127 cities. Existing codeshare deals with Etihad Airways and airberlin were also significantly strengthened in 2016.
The airline continued to introduce service innovations in 2016, with the launch of Elevate Play, a free service streaming TV shows, films and music over a wireless connection inflight, and the Sky Au Pairs service, where special cabin crew assist families with children travelling between Belgrade and New York.