Performance compared to H1 2016:
Passenger numbers up 3 per cent to 1.12 million

Available Seat Kilometres grow 16 per cent to 1.93 billion

Load factor rises three percentage points to 70.5 per cent

Cargo grows 54.6 per cent with 2,988 tonnes uplifted
 
Air Serbia, the national airline of the Republic of Serbia, today reported strong operational performance in the first half (H1) of 2017, with year-on-year growth across all key operating metrics.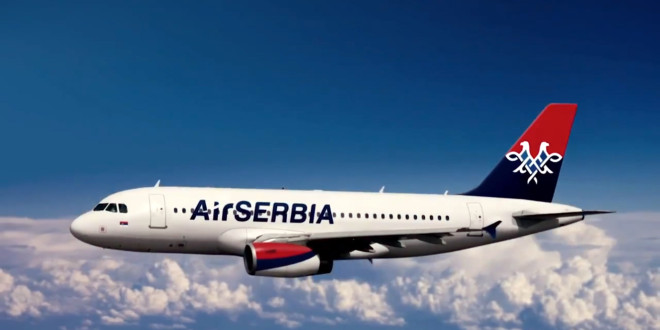 The airline carried 1.12 million passengers during the first six months of 2017, representing an increase of 3 per cent compared to the same period last year (1.08 million).
Available Seat Kilometres, reflecting the passenger carrying capacity of the network, grew by 16 per cent year-on-year, to 1.93 billion (compared to 1.67 billion).
Air Serbia achieved an average load factor of 70.5 per cent in H1, showing a solid increase of three percentage points against 2016, with particularly strong seat occupancy in the second quarter of 73.3 per cent.
The airline's cargo operations recorded significant double-digit growth of 54.6 per cent, with 2,988 tonnes of mail and freight uplifted in the first half of 2017, compared to 1,932 the year before.
On-time performance (OTP) at Air Serbia's hub at Nikola Tesla Airport came in at a high 88.78 per cent.
 Dane Kondić, Chief Executive Officer of Air Serbia, said: "Our operational performance in H1 has been strong across the board, with passenger numbers and cargo volumes both rising since last year.
"We continued to introduce new products and services during this time by reconfiguring our narrow-body Airbus fleet with new seats and upgrading our sales, boarding and check-in systems to Sabre.
 "These developments are designed to strengthen the business in what continues to be a very tough and competitive operating environment.
 "We recently celebrated our 90th anniversary as the national flag carrier and are proud that we are continuing to grow and solidify our position as the airline of choice in Southeast Europe."
 Air Serbia's move to the Sabre platform in H1 2017 was the latest step in a long list of technological innovations aimed at further improving the guest experience, including the introduction of Wi-Fly, an inflight internet connectivity service on the airline's narrow-body Airbus fleet.
 In addition, guests travelling on an Air Serbia flight operated on Airbus A319 or A320 aircraft can make use of the free Elevate Play service, which allows guests to stream movies, the latest TV shows and chart-topping music albums to their personal electronic devices at no extra charge.
 Key operational highlights of H1 2017:
Air Serbia receives 2017 Airline Market Leader Award from Air Transport World

Sales, check-in and boarding systems upgraded to Sabre, representing biggest ever IT upgrade at the airline

Ten Airbus A319 and A320 aircraft retrofitted with award-winning Recaro seats

Belgrade – Venice route launched in June with four weekly rotations to the Italian city

First flight operated with an all-female flight and cabin crew in the history of the Serbian flag carrier in May

New ancillary services introduced including seat selection, mobile boarding passes and annual Premium Lounge passes

Airline celebrates 90th anniversary since being established in 1927

Air Serbia marks one year of transatlantic flights to New York

New codeshare partnership established with AtlasGlobal