Business contacts and already established cooperation between the companies of the two countries impose a comprehensive presentation of our IT sector's capacity in this Middle Eastern country.
We have talked with Aleksandar Nikolić, Director of the Representative Office of the Chamber of Commerce and Industry of Serbia in Israel, about the economic cooperation between the two countries, progress, successes and plans.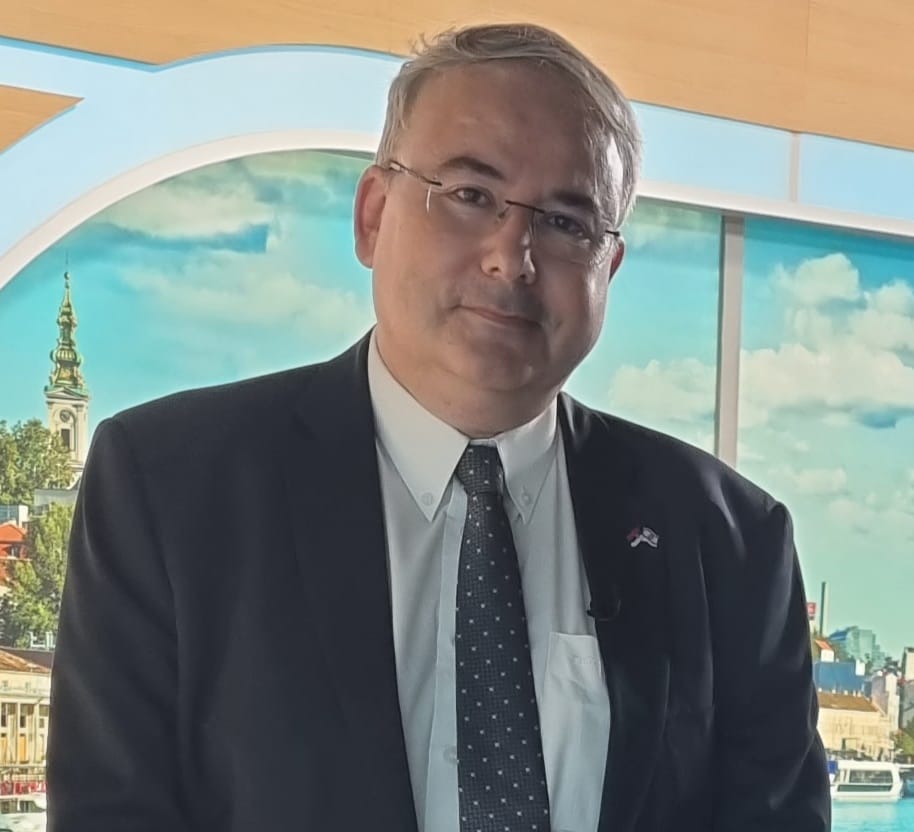 You have said that economic cooperation with Israel is unique. How so?
This Mediterranean Levant country is neither a neighbour of Serbia, nor is it among the most populous countries in the wider geographical environment. Also, Israel is not a completely unknown market to us and is experiencing exponential momentum. Economic cooperation with Israel is a concept that, determined by Serbia's national priorities, presupposes evolving into a factor and a partner in excellence. Following the Chamber of Commerce and Industry of Serbia (CCIS) opening its Representative Office in Israel, our country has joined the most advanced countries, which are systematically working in Israel on connecting innovative and high-tech companies, as well as master the mechanisms of know-how transfer from academic and scientific institutions. Israel has been widely identified as a start-up nation. This supports the assumptions of Serbia further evolving into a regional eco-system hub, something that the Prime Minister's Office has been working hard on, starting with the BIO4 campus project. It is especially important to thoroughly present the Serbian IT sector in Israel through continuous analysis and updating of data.
You have been working regularly on connecting Israeli and Serbian companies. Also, there are ongoing activities on relocating three of their companies from Ukraine to Serbia. How does the Ukrainian crisis affect cooperation?
The companies from the two countries are connected horizontally, in all economic sectors. The business world reacts the fastest to new situations, especially to disruptions. When it comes to the need for Israeli employers and purchasers to adapt, this primarily refers to software providers and food producers. Branches of Israeli IT companies in Ukraine, which employed not only a highly qualified workforce but also that with considerable experience who were given very competitive salaries, found themselves overnight looking for an alternative. We are currently connecting these Israeli companies with our labour market, where the CCIS has identified complementarity and focuses its activities on.
The CCIS is one of the actors that represent the Serbian IT sector in Israel. How important is that for the Serbian economy?
Business contacts and already established cooperation between the companies of the two countries impose a comprehensive presentation of our IT sector's capacity in this Middle Eastern country. By doing so, Serbia ensures an additional offer, while being free from manipulatively directed demand from Israel. Additionally, there is professional development and multi-lateral integration with global leaders in the field.
---

What is Beersheba to Tel Aviv and Jerusalem, Niš is to Belgrade and Novi Sad.

---
IT is not only one of the fastest-growing sectors of our economy, but it is also not burdened by various types of regulations that limit us in international trade. The CCIS is an inherently adequate platform for data review, analysis and focused supply. The systemic connection between the CCIS and Israeli organizations and associations in the IT sector enables timely logistical and operational inclusion in events that facilitate presentations.
Great cooperation opportunities lie with Israeli accelerators with a special focus on our science and technology parks. Tech7 from Beersheba in Israel has connected with the Science and Technology Park (STP) in Niš. Do you expect the continuation of that kind of cooperation?
In 2021, investments in Israeli startups amounted to a fascinating $17.8 billion. There is no doubt that this would not be possible without a sustainable accelerator system. Experts from Israel, such as Dr. Shuki Gleitman, have already participated in the creation of our STPs, and now efforts are being made to continuously master the two phases of accelerator support and startup monitoring – that is the initial phase, in which the business initiative has to prove its purposefulness, and especially the next one, in which the business initiative should demonstrate its potential profitability. The analogousness of the regional centres in the less developed part of the country provides space for learning from successful projects. Correspondingly, what is Beersheba to Tel Aviv and Jerusalem, Niš is to Belgrade and Novi Sad.
Renewable energy sources and Israeli investments in solar panels in Serbia are also topics of talks with potential investors. When can concrete progress in the negotiations be expected?
References to already built projects are affirmative, and these projects are of different sizes. The thing they have in common is maximized cost-effectiveness and adaptability to local needs. Israel's expertise in solar panels comes not only from the country's innovative approach and orientation towards green energy but is also conditioned by its geographical climate, which a multitude of sunny days and scarce natural resources. As three such companies are ready for imminent entry into our market, the issue of progress is not up to them, even though they still need to complete their financial documentation. We should certainly not forget the pace of the annulment of the electricity price to the detriment of renewable sources in the coming period. The project implemented by the Israeli company Enlight in Serbia in another form of renewable energy sources is also worth mentioning. I am, of course, referring to the wind farm in Kovačica. I am extremely glad to be able to highlight the quality of cooperation with the Embassy of Israel in Belgrade.
In cooperation with the Serbian National Library, the Chamber of Commerce and Industry of Serbia is planning to stage an exhibition about Nikola Tesla in Israel and introduce the local public to Tesla's Serbian origins. When will the exhibition open?
The initiative originated from our Embassy in Tel Aviv, and it coincides with the celebration of the 30th anniversary of the renewal of diplomatic relations between our two countries. With the branding of electric cars in recent years, Tesla's name is more resonant in Israel, but his Serbian origin is still insufficiently known. As the Nikola Tesla Museum already has optional exhibitions, the focus is on choosing the ideal exhibition space, like a museum of science, as well as financial projections.
---

I do not doubt that Serbia will develop into an ecosystem partner.

---
The CCIS will use this platform to conduct activities on representing the Serbian IT sector, i.e. ecosystems, for which there is already interest from institutions with which it regularly cooperates. This will be the most meaningful promotional activity for our country in a startup nation, such as Israel. The exhibition could open in the last quarter of the current year or the first quarter of next year.
Based on your experience in Israel so far, could you predict which economic branches will see the best cooperation between our two countries in the future?
I have no doubt that Serbia will develop into an ecosystem partner. The titles are inspiring, such as BINA Institute (Bar Ilan's Institute for Nanotechnology and Advanced Materials) and Eltel Medical. Also, cooperation in agriculture is a natural choice.
Export of frozen, but also fresh fruits and vegetables, cheeses (joint interest with leading Israeli supermarket chains), as well as further penetration into the Israeli infrastructure market with
fittings made of PE, PP and PVC, rubber products, machine components and the arms industry will grow. I am grateful to my colleagues from the Israeli Federation of Chambers of Commerce who have been submitting the necessary and timely analyzed data, as well as the possibility of having presentations. The resumption of direct flights between Ben-Gurion and Nikola Tesla airports on April 8 by the Israeli airliner Arkia creates prerequisites for the return of Israeli tourists to Belgrade in substantial numbers. The challenge here will be to prolong overnight stays and turn them into visits to Serbian tourist attractions, such as those in the southwestern part of the country – Uvac, Zlatibor and Tara. Last but not least, there is a thorough consideration of creating a favourable atmosphere for the signing of a free trade agreement.