The Ambassador of the Arab Republic of Egypt to Serbia, Amr Aljowaily, spoke at the University of Belgrade at a lecture entitled "The Role of Egypt in International Relations in the Context of the Challenges of the 21st Century" organized by the Center for International Public Policy, attended by graduate students from different disciplines.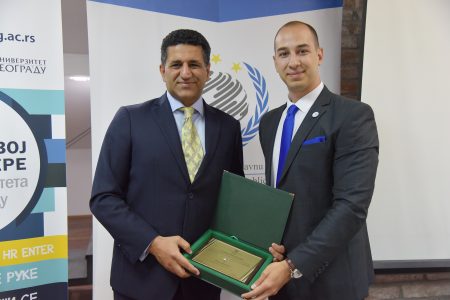 Aljowaily reviewed the most important changes in international relations in the last two decades of the 21st century, including the dynamics of interaction of the major powers, the ramifications of the ICT revolution, the globalization of terrorist networks, their impact on the stability of countries, including on promoting subnational identities in the Middle East.
The Ambassador of Egypt in Belgrade highlighted the continued regional and international role based on the cumulative identity of Egypt within its immediate foreign policy constituencies, anchoring national state institutions, promoting counter-terrorism policy from a holistic perspective that takes into account the intellectual dimensions, adopting comprehensive approaches to the peaceful settlement of international disputes, ranging from peacekeeping to sustainable peace-building, harnessing the capabilities of multilateral organizations globally and regionally. Aljowaily also stressed Egypt's keenness to pursue balanced relations with all major countries and its approach to sustainable development diplomacy resting on the mega projects being developed at the national level.