The Italian way is a win-win strategy – we produce seat covers in Serbia from Italian fabric developed and made in Poirino, Italy
AUNDE is the largest supplier of textiles and covers for FIAT cars which operates under the AUNDE Group and is 100% owned by AUNDE Italia Group, a member of the AUNDE Group. We spoke with Annino De Venezia, the General Manager of AUNDE SRB, about the company's results after 6 years of doing business in Serbia, challenges during the pandemic, as well as the company's plans.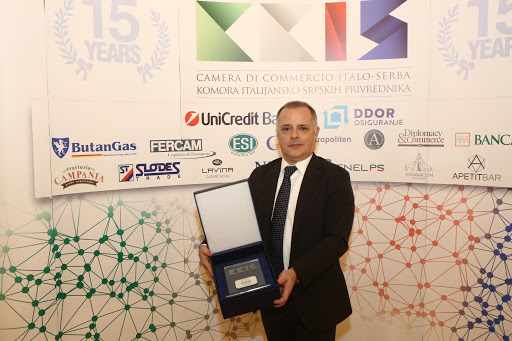 When you first came to Serbia in 2015, you started with 200 workers and a factory that spanned 5.000 m2. How much have you expanded your capacities and how many new jobs have you created so far?
I am proud to say that we have doubled the manufacturing area in 2017 and hired 550 new workers. Today, we have about 750. It is also worth noting that 74% of our staff are women, while 50% of the top and middle managers are also women. In about seven years, more than 100 children were born in Jagodina and their mums are our employees. This is a relevant social aspect I would like to single out. A stable salary improves the quality of life. This is possible thanks to the strong support from our Italian HQ who obtains important projects for our plant in Serbia. The Italian way is a win-win strategy – we produce seat covers in Serbia with Italian fabric developed and made in Poirino (TO), Italy.
What motivated you to come to Serbia and what do you think of our country's business environment? What improvements can be made?
AUNDE is Stellantis' partner. We arrived in Serbia because of the 500L seat covers production. Currently, we produce additional products too, other than Stellantis' ones. In general, the business environment here is positive.
---

"I am proud to say that we have doubled the manufacturing area in 2017 and hired 550 new workers"

---
The Serbian government gave us all the required support. Unfortunately, some negative aspects still exist in Serbia – the abuse of sick leave is one of the main problems faced by a lot of companies. Another important topic concerns public transport. It has to be improved where possible and introduced where it doesn't exist. In the last few years, the overall condition of the main highways has improved, apart from the 2-lane-limit.
Last year was challenging for everyone because of the coronavirus pandemic. How much did the pandemic affect your operations and what did the smart working concept you launched during the pandemic entail?
The year 2020 will stick in my mind because of two important things – my daughter was born and the pandemic. We stopped our production for one month and worked with 50% capacity in other months. I would like to point out that the Serbian Government reacted well and provided support to all companies that deserved it. We have been one of the first companies that followed the strict recommendations of the Serbian Government and installed plexiglass barriers on all our machines, and distributed masks and gloves to our workers, hospitals, the Red Cross and other companies that needed them. AUNDE SRB launched smart working procedures where possible at the onset of the pandemic.
Last year, you received an award in the category 'Contribution to the Implementation of Dual Education System category' from Confindustria Serbia. How important are recognitions to you and how much do they direct further business?
We have placed a lot of trust in the dual education system. Moreover, AUNDE SRB feels the social responsibility and wishes to contribute to the development of the skills of the students so that one day, they could join us in our company, as they do almost every year.
What are your goals and plans for the next period?
AUNDE SRB is a stable and concrete manufacturing reality in Serbia with 24 million euro of turnover in 2019. We wish to continue investing once the pandemic subsides considering that it has badly affected the entire manufacturing segment worldwide.