The natural aroma of strawberries, citrus and classic flavor of herbs … The answer to this puzzle for 2019 is Beefeater Pink, a new and brave expression of the Beefeater Gin, the most awarded giant brand in the world.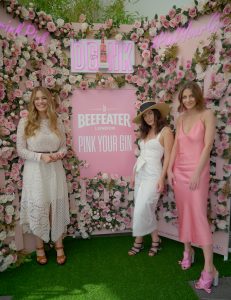 At the "Pink Your Gin" party at the restaurant Sakura (Beton Hall), friends and fans of this brand enjoyed the gin, in a gentle note, PINK & TONIK cocktail, which is specially designed to open the summer season on the Belgrade asphalt.
Each drop of Beefeater products is in the heart of London, at the Kennington Distillery. Made by James Burrough in the 19th century, legendary Beefeater recipes today are unchanged and kept by Beefeater's Master Distiller, who is also the most experienced Master Distiller in the world – Mr. Desmond Paine.
Beefeater in its offer has Beefeater Dri, the best-selling premium giant in the world thanks to its fresh, clean and balanced taste; Beefeater 24, Super Gum, obtained from the infusion of Japanese and Chinese tea, is dedicated to the contemporary cocktail culture.