In a year in which a large number of companies faced serious challenges, Mlekoprodukt has managed to remain an example of quality and responsible business
A large family of employees, from production to distribution, has used the advantages of digital communications to ensure uninterrupted functioning and constant availability of products, even when personal contacts have been reduced, to ensure that products always reach consumers.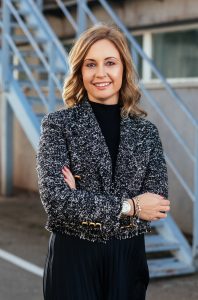 What was the biggest challenge for your company after the outbreak of the COVID-19 virus? 
Our team of employees, business partners and our loyal consumers always come first. We view them as one big family, where everyone knows that they will never be left in the lurch. We have firmly decided to be a point of support and we have succeeded in that. We sent a clear message to everyone in our surroundings that even in difficult times, they can count on our company. We simply did not dare to stop and allow any of the "family members" to feel unsafe, especially our consumers, because everything we do, we do for them.
---
"At Mlekoprodukt, we believe that success is not only measured by good business results, but also by the level of responsibility towards the society in which we operate and of which we are a part"
---
 The first challenges during the epidemic related to ensuring the unhindered purchase of milk from dairy farmers, because we cannot leave our subcontractors alone and without support. Our employees are real heroes as they performed all of their work tasks continuously. Together with our team, we have quickly switched to digital communication via social networks and our company platforms, as well as through announcements and bulletin boards. It was imperative to reduce live contacts, as well as to keep employees informed of the latest decisions and protocols.
Were you involved in helping the community during the pandemic and in what way?
At Mlekoprodukt, we believe that success is not only measured by good business results, but also by the level of responsibility towards the society in which we operate and of which we are a part. Our environment deserves to be taken care of. We support everything that promotes true values and that directly contributes to local well-being and development. In this regard, in the fight against the COVID-19 pandemic, with our health workers and the city of Zrenjanin in mind, and we donated a device that boosts sampling process, as well as expedites the processing time for corona tests to the Institute of Public Health from Zrenjanin, guided by the idea that we are all stronger together in the fight against this very dangerous virus.
The Biser Nutri Academy is one of your ongoing projects. What is the main motive behind this project and how did the coronavirus pandemic affect its implementation?
The Biser Nutri Academy is just one segment in which we apply the principle of socially responsible business, and on which the entire business philosophy of Mlekoprodukt and the Savencia Fromage & Dairy is based. We started this project aware of the fact that, according to the latest research, every fifth adult and every twentieth child in Serbia are overweight, which leads to the conclusion that improper nutrition of children has become a serious social problem. Our global strategic social responsibility initiative called Oxygene is currently being implemented in more than 120 countries, and one part of it is raising awareness and educating children, parents and school staff about the importance of proper nutrition in a child's development. Mlekoprodukt contributes to the resolution of this problem. At the first online conference of the Biser Nutri Academy, parents and other conference participants had the opportunity to get better acquainted with the principles of healthy nutrition of children and how to choose, organize and prepare healthy meals for their little ones. We talked about this topic both from expert and layman's point of view, intending to send the right message in an interesting way. The reactions of the participants were great which shows us that we are on the right path. Therefore, Mlekoprodukt will continue with the Biser Nutri Academy which activities are mainly aimed at children who are our future.