This time around we have also asked the representatives of the authorities, diplomatic corps, international institutions, business associations, media and many others to express their views on the possible re-arrangement of power in the world, the European and regional political scene, the influences on Serbia's accession to the EU, economic development, investments in culture, and as an inevitable question this year, elections which are taking place in many countries, including Serbia. We talked to the Minister of State Administration and Local Self-Government.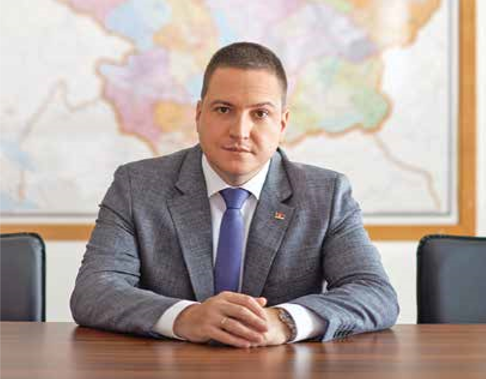 We are witnessing numerous political and social turbulence that can cause political and social order to be modified not only globally but also in Serbia. To what extent can these developments slow or halt the EU integration process?
The EU integration is an irreversible process that is important for our country with the view of adopting standards and building institutions that resemble those in the EU, as well as to bring our democratic values to life in the right way, but also to change the mentality that "we are not yet ready to fight against certain prejudices and stereotypes". The ongoing reforms in the EU should further motivate and encourage us to work even harder to meet our defined goals in order to become part of the EU family. For instance, the Ministry of State Administration and Local Self-Government has been coordinating the implementation of the public administration reform that aims to create a government that is tailored to the needs of all citizens, namely to be more helpful, professional and modern. That road is paved with a revised regulatory framework which we have managed to create thanks to numerous results. There is no going back now. We can only provide better services to our citizens from now on.
Parliamentary elections will take place soon, with a part of the opposition announcing an election boycott. Is such an approach a mitigating or aggravating circumstance for the governing structure?
Great concessions have been made and almost all of the opposition's demands regarding electoral conditions have been accepted. As the line minister, I can say, in all responsibility, that the Single Electoral Roll (SER) has never been more up-to-date, and is getting more up-to-date with every passing day. As a ministry, we do our job very responsibly and we have been carrying out the "fine-tuning" of SER because we want to get as close as possible to the electoral roll that is fully updated. We are doing our best to make the SER the most orderly database here, and I can confidently say that the SER cannot, in any way, be the cause of any kind of electoral manipulation. I also think that the election boycott is a cowardly act that will serve as an alibi to a small part of the opposition for their own failures. The opposition's haste and reckless moves, as well as the attempt to change the governing coalition, which enjoys the predominant support of the citizens of Serbia, in an extra-institutional manner, has put them in a noway-out situation of their own choosing.