A new office building and a green oasis in the city centre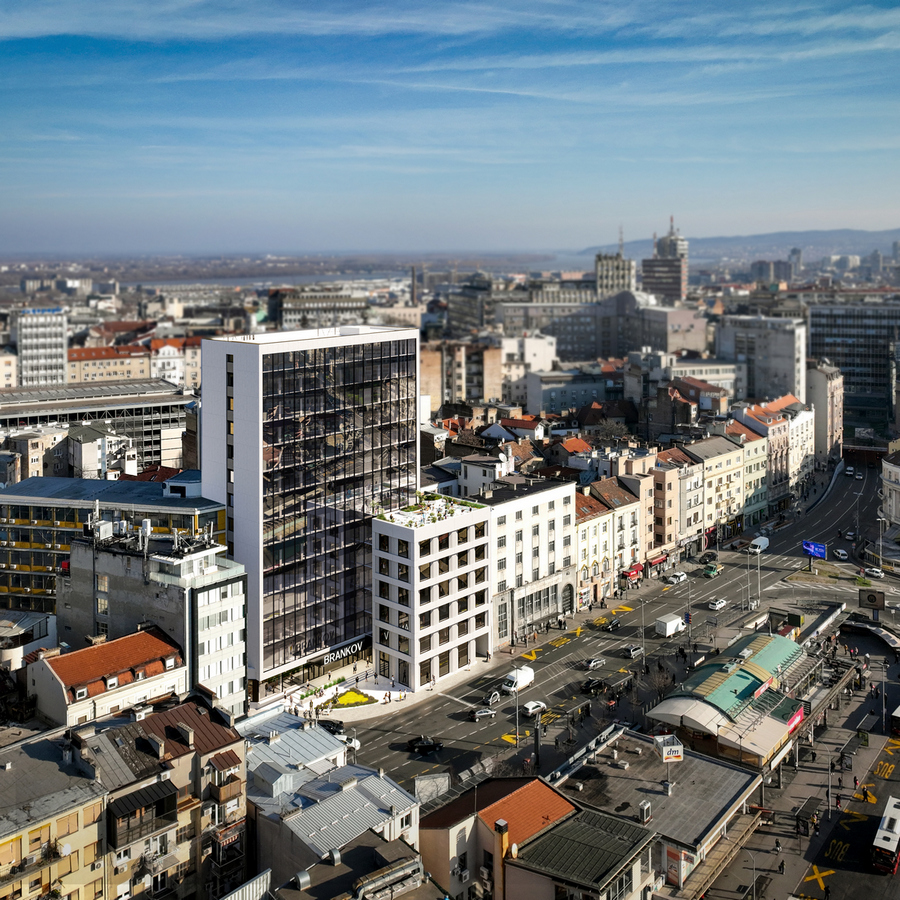 The construction of a new, modern business centre called BRANKOV Business Center, which will be a great addition to one of the most important locations in the very centre of Belgrade, the corner of Brankova and Carica Milica streets, has begun.
BRANKOV Business Center spans 10,500 square metres, of which about 8,000 will be for rent. The building has 15 floors, a modernly equipped entrance hall featuring natural, sustainable materials following global trends, as well as a green terrace for tenants on the 6th floor with a great view of the capital. The investment is estimated at around 20 million euros.
While adhering to the sustainable development concept, the new state-of-the-art office building in the city centre will be built in line with the green construction principles and the EDGE (Excellence in Design for Greater Efficiencies) global standards, with a focus on a healthy work environment, as well as on optimizing energy consumption, which minimizes costs for tenants. The building is designed with an emphasis on natural light and especially on the green roof garden with a beautiful panoramic view, which is perfect for relaxation as a part of the workspace.
Tenants can choose office space spanning from 250 to 650 square metres (NLA) per floor. The building has a high level of flexibility and is designed with a tailor-made approach, which allows tenants to arrange their part of the space in accordance with their own needs and requirements. The new business centre will include everything that is an inseparable part of modern business, and it will also provide a comprehensive and top-quality retail offer.
BRANKOV Business Center represents an important investment for the SF1 Group, which is the exclusive distributor for the PANDORA and Nespresso brands, while the project management is entrusted to the MPC Properties Company, a regional leader in the development and management of modern shopping destinations and business centres.
---
 While adhering to the sustainable development concept, the new state-of-the-art office building in the city centre will be built in line with the green construction principles

---
"Our business philosophy is to choose to represent premium brands, look for the best locations for their placement and make smart business collaborations. We want the BRANKOV Business Center to provide its tenants with exactly that quality and for them to recognize it as a place where they want to write their business story. We decided to form a strategic partnership with MPC Properties because they are a leader in the domestic real estate market and we know that they will contribute to making our investment sustainable in the long run", said Dušica Pajić, Director of the BRANKOV Business Center.
"BRANKOV Business Center responds to the requirements of both the market and tenants for a facility that can meet all the challenges and needs of modern business. The construction is carried out in line with the highest environmental, technical and construction standards, so our tenants can enjoy a modern office space and secure support for their business. This project is just another validation that Belgrade is becoming an increasingly attractive business destination, and we are sure that BRANKOV Business Center will stand out with its location", Nataša Bugarinović, Head of New Sustainable Development at MPC Properties, said.
MPC Properties' portfolio includes the UŠĆE Shopping Centre, UŠĆE Tower One and Two business centres, Navigator Business Complex, BEO Shopping Centre, Delta City, Mercator Centre Belgrade, TLD Belgrade, as well as many other retail and office premises.