The Chinese Agriculture Minister, Han Changfu, and his Serbian counterpart, Branislav Nedimovic have signed a Memorandum of Understanding in Belgrade stipulating the cooperation between the two countries in agriculture, especially investing in the fruit and meat processing segment.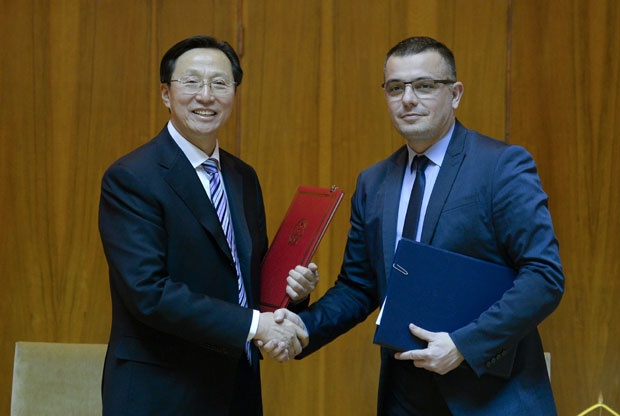 Changfu came to Serbia to instigate the activities on the implementation of the Statement on Strategic Partnership signed by the Chinese President, Xi Jinping and Serbian PM, Aleksandar Vucic in June last year.
"We are going to cooperate on investments in agriculture and technological development, and encourage our companies to come and invest in Serbia", the Chinese Agriculture Minister said.
Changfu also noted that the Chinese people were great consumers of plums following Nedimovic's statement that Serbia could export its entire annual plum production to China. Furthermore, the Chinese minister has announced a Chinese business delegation visiting Serbian fruit and meat processing companies.
"We only have one more thing to do and that is to complete the procedure for certification for export of beef and lamb from our three abattoirs to China. We are also going to discuss exporting milk powder", Nedmovic added. The Serbian Minister went on to say that he would propose to Chinese investors to get involved in the construction of an industrial park near the Pupin Bridge on the Danube.aid Nedimović.
He announced that the Chinese investors offer to build an industrial park near Pupin's bridge on the Danube.
Let us remind that during the stay of the Chinese delegation in Serbia, the Ministers of Agriculture of the two countries visited the municipality of Topola, Oplenac tour, and then the factory for processing of fruits and vegetables GMP Enterprises in Jarmenovci and Winery Aleksandrovic Vinca. Nedimović Minister said that the Chinese market is a big chance for agricultural products from Serbia.