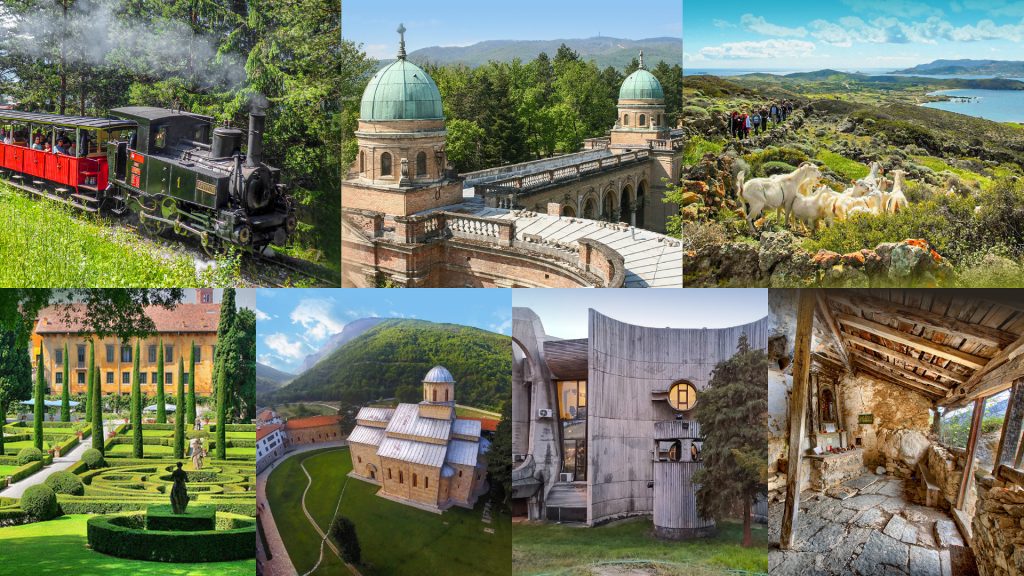 The Hague / Brussels / Luxembourg, 8 April 2021
Europa Nostra – the European voice of civil society committed to cultural and natural heritage – together with its partner, the European Investment Bank Institute, this morning announced the List of 7 Most Endangered monuments and heritage sites in Europe for 2021:
The announcement of the 7 Most Endangered sites 2021 was made at an online event co-hosted by high level representatives from Europa Nostra and the European Investment Bank Institute, with the participation of Mariya Gabriel, European Commissioner for Innovation, Research, Culture, Education and Youth. Nominators and representatives of the 7 selected sites contributed to the online event, which attracted people from across Europe and beyond.
Speaking at the online event, Guy Clausse, Executive Vice-President of Europa Nostra, emphasised: "The aim of our 7 Most Endangered List 2021 is to ring the alarm bell about the serious threats which these sites are facing. From an outstanding medieval monastery to a remarkable Renaissance garden, from industrial and modern constructions to iconic cultural landscapes: these sites are important testimonies of our shared past, memory and identity. At a time when our continent is experiencing an unprecedented crisis, Europa Nostra wishes to express its solidarity and lend its support to local communities across Europe who are determined to save these endangered heritage treasures. Through our wide pan-European network of members and partners, we will mobilise diverse expertise and resources to help save these heritage sites, which should be recognised as powerful vectors of sustainable development as well as vital tools for peace and dialogue between various communities. Together, we can do it!"
Francisco de Paula Coelho, Dean of the European Investment Bank Institute, stated: "Once again, the EIB Institute is standing side by side with Europa Nostra, our long time partner in safeguarding European cultural heritage sites in danger. Europeans take pride in cultural heritage. It brings them together. For the EU Bank it is only natural to help strengthen this link through our support and commitment to the now yearly 7 Most Endangered Programme".
Reacting to the announcement of the 7 Most Endangered sites 2021, Mariya Gabriel, European Commissioner for Innovation, Research, Culture, Education and Youth, said: "Europe's cultural heritage is our past, present and future. It is part of our identity and brings people from across our continent together around shared values and experiences. It is precious and deserves our utmost attention and protection. Through the 7 Most Endangered Programme, we put the spotlight on European heritage in peril, raising awareness and paving the way for a viable future for the selected sites."
The 7 Most Endangered sites for 2021 were selected by the Board of Europa Nostra from the 12 sites shortlisted by a panel of international experts. The selection was made on the basis of the outstanding heritage significance and cultural value of each of the sites as well as on the basis of the serious danger that they are facing. The level of engagement of local communities and the commitment of public and private stakeholders to saving these sites were considered as crucial added values. Another selection criterion was the potential of these sites to act as a catalyst for sustainable socio-economic development as well as a tool for promoting peace and dialogue within their localities and wider regions.
The selected 7 Most Endangered heritage sites are eligible for an EIB Heritage Grant of up to €10,000 per site. The EIB Heritage Grant can be allocated to the eligible selected 7 Most Endangered sites to assist in implementing an agreed activity that will contribute to saving the threatened site.
Teams of experts representing Europa Nostra and the European Investment Bank Institute, together with the organisations that nominated the sites and other partners, will assess each case by collecting information and by meeting with key stakeholders. These multidisciplinary teams will provide expert advice, identify possible sources of funding and help mobilise wide support to save these heritage landmarks. At the end of the assessment process, they will formulate and communicate a set of recommendations for future action.
The 7 Most Endangered Programme  is run by Europa Nostra in partnership with the European Investment Bank Institute. It also has the support of the Creative Europe programme of the European Union. Launched in 2013, this programme forms part of a civil society campaign to save Europe's endangered heritage. It raises awareness, prepares independent assessments and proposes recommendations for action. It also provides a symbolic grant of €10,000 per listed site. The listing of an endangered site often serves as a catalyst and incentive for the mobilisation of necessary public or private support, including funding.
Dečani Monastery, KOSOVO *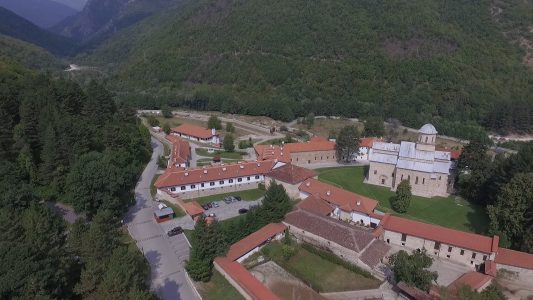 Built in the first half of the 14th century, this Serbian Orthodox Church Monastery, with harmoniously combined elements of Eastern and Western artistic expressions, its encyclopedic ensemble of frescoes in Serb-Byzantine style, and its Romanesque-Gothic architecture and sculptural decoration, is among the most distinguished heritage ensembles of its time. The monastic complex is surrounded by a dense forest that forms part of an unspoiled cultural landscape which is inseparable from its priceless cultural heritage. Continuously inhabited for almost seven centuries, the Dečani Monastery is a functioning monastery with daily liturgical services and an active monastic community that takes care of the daily maintenance of the monastery and its surroundings and safeguards the intangible heritage of monastic life. Besides being an important place of worship, it is a place open to pilgrims as well as visitors of all faiths.
The Dečani Monastery was inscribed on the World Heritage List as a single site in 2004. In 2006, this status was extended to three other Serbian Orthodox Church monasteries and churches in Kosovo – Gračanica Monastery, the Patriarchate of Peć and the Church of the Virgin of Ljeviš in Prizren – under the denomination "Medieval Monuments in Kosovo". Since 2006, all four sites have been inscribed on the UNESCO List of World Heritage in Danger.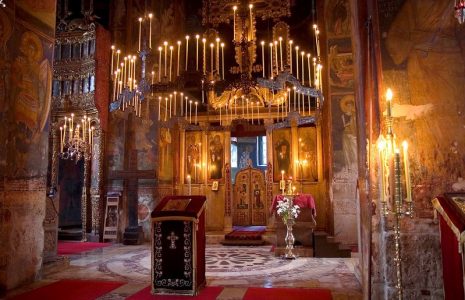 Ever since June 1999, the Dečani Monastery has been continuously guarded by the NATO-led KFOR peacekeeping troops. Besides security concerns, the monastery with its special protective zone are facing ongoing risks of unsuitable local development – in breach of the rule of law – which would undermine the values of a UNESCO World Heritage Site. Especially worrying is the plan for an international road – connecting the municipalities of Deçan/Dečani in Kosovo and Plav in Montenegro – that would cross the special protected zone and pass next to the monastery gates. In Summer 2020, road works have been suspended and agreement was reached, under the aegis of the international community, to build a by-pass for this road. The overall situation requires to be closely monitored to ensure the full respect of the rule of law, and especially of the 2008 law on special protected zones which does not allow for such a road. In this context, it is also important that the 2016 ruling of the Constitutional Court of Kosovo – confirming that the property of 24 hectares of surrounding land belongs to the Dečani Monastery – is duly enforced by responsible authorities and this without any further delay.
Future for Religious Heritage, the European network for historic places of worship, which is a member of the European Heritage Alliance, nominated the Dečani Monastery to the 7 Most Endangered Programme 2021.
The Board of Europa Nostra, on the basis of the opinion expressed by the Advisory Panel of the 7 Most Endangered Programme, stated: "This is the only monument in Europe under such robust international military protection for a continuous period of 20 years. Yet, it constitutes a monument of outstanding historical and cultural importance for Europe and the world, as confirmed by its World Heritage status. As part of the EU enlargement strategy for the Western Balkans, it is urgent and imperative to ensure a holistic protection by all parties concerned of this endangered World Heritage Site through full respect of the rule of law and other key European values. Adequate protection and accurate interpretation, communication and education related to the multi-cultural and multi-religious heritage in Kosovo are a prerequisite for reconciliation and dialogue leading to lasting peace and prosperity in the wider region."
[1] * This designation is without prejudice to positions on status, and is in line with UNSCR 1244/1999 and the ICJ Opinion on the Kosovo declaration of independence.