For the seven consecutive years, Color Media Communications is organizing "Digital", a regional conference on trends in telecommunications and media
This year – online #Digital2020 powered by Huawei will be held on September 10th and 11th (Thursday and Friday)  will gather the most important names from these areas.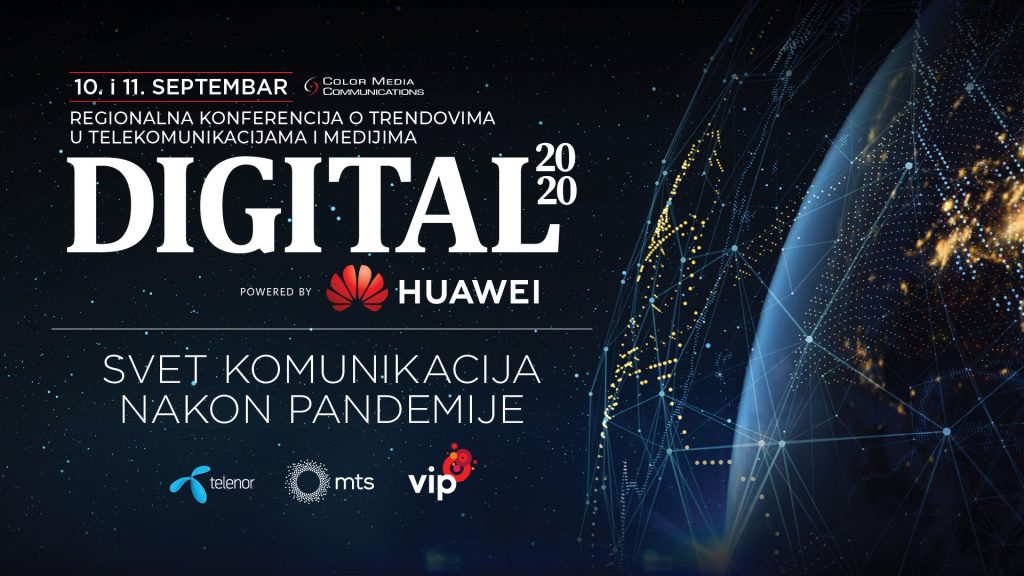 The largest part of the conference program will be dedicated to how the world of marketing, media, telecommunications and digital will look like in all aspects after the pandemic.
#Digital is the conference attended by the CEOs of Telecom companies in the region and it is the only gathering of the first people of the leading operators: MTS, VIP, Telenor, Deutsche Telekom, Orion, Mtl Bulgaria.
The first six conferences were opened by a large number of ministers, ambassadors and other high-ranking officials.
The first conference was opened by Maja Gojković, President of the Assembly of Serbia, and the second by Ivan Tasovac, Minister of Culture and Information. Digital 2016 was opened by Denis Keefe, British Ambassador to Belgrade, and Kyle Scott, US Ambassador to Belgrade. Digital 2017 and 2018 were opened by Vladan Vukosavljevic, Minister of Culture and Information in the Government of the Republic of Serbia, Branko Ruzić, Minister of Administration and Local Self-Government in the Government of the Republic of Serbia, Alona Fischer-Kam, Ambassador of Israel in Belgrade, Narinder Chohan, Ambassador of India to Serbia. Kati Chaba, Canadian Ambassador to Serbia.
Last year's conference was opened by Labor Minister Zoran Djordjevic, US Ambassador to Belgrade Kyle Scott, who gave a farewell presentation before leaving Serbia, as well as Mateja Norcic Stamcar, Deputy Head of the EU Delegation in Belgrade.
Some of last year's participants are: Predrag Culibrk, CEO of Telekom Srbia, Marek Slacik, PPF group, Dejan Turk, CEO of VIP, Ranko Jelaca, Telekom Slovenije, Slobodan Djinović, Orion, Michael Moriarty, AMCNI, Yiftah Curiel, Israeli Ministry of Foreign Affairs, Kenechi Belusevic, Discovery CEEMCA, Dejan Cirjakovic, Državni posao, Branislav Antovic, RTS, Gregory Dorcel, Marc Dorcel group, Severine Garuso, Thema, Dragan Varagic, digital expert, Manja Grcic, Antena Grupa, Vladimir Lucic, Telekom, Olja Beckovic, "Utisak of the Week ", Solen Lagranze, Ginx TV, Dusan Kovacevic, Exit Festival, Milomir Maric, Happy TV, Dragana Djermanovic, internet strategist, Jasmina Stojanov, Nova Communications, Olivera Zekic, REM, Jelena Trivan, Film Center, Drako Buldioski, New Media MK , Marija Matic, Direct Media, Predrag Kurcubic, IPSOS, Branimir Brkljac, Mokrin House, Milan Antonijevic, Open Society Fund; Tanja Tatomirovic, Microsoft, Srdja Popovic, CANVAS, Nenad Milosavljevic, njuz.net, Marko Mudrinic, Netokracija and many others.
---
All those interested will be able to follow the conference via a live stream on the YouTube channel Color Media Communications.
---