A small ceremony held at the Croatian Embassy
On 1st February, in cooperation with the Croatian Business Club in Belgrade, Croatian Ambassador to Serbia, H.E. Hidajet Biščević, journalist Duška Jovanić and several other artists and public figures from Serbia, the reputable monthly in the English language, Diplomacy&Commerce successfully completed the humanitarian campaign involving the sale paintings and photographs titled "Artists from Serbia for Glina, Petrinja and Sisak – painters and photographers for the people affected by the earthquake in Croatia."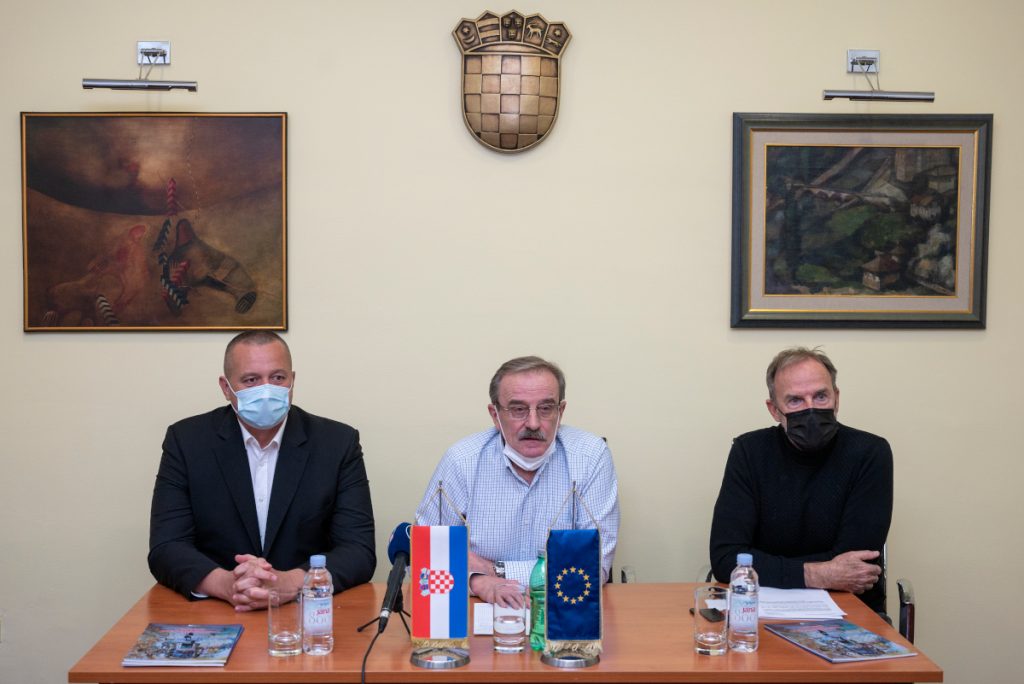 The following artists – painters and photographers – donated their artwork: Cile Marinković, Biljana Cincarević, Janoš Mesaroš, Jelena Blečić, Dragan Stojkov, Milutin Obradović, Nenad Kojić, Sead Zejnelagić, Milena Zevu, Milena Lasić, Siniša Kadić, Sever Zolak, Miša Obradović, Marko Krunić, Nebojša Babić, Brian Rašić, Mario Leone Bralić, Joškin Šiljan, Vanja Rebić, Milan Marković, Theodora Aretaki, Teodora Bradić, Vuk Vučković, Mila Gvardiol, Tadija Janičić, Aleksandar Spasić, Andjela Verkić, Sandra Janjatović, Renata Bujić, Kolja Božović and Croatian Ambassador to Serbia, H.E. Hidajet Biščević.
A total of 39 works of art were offered for sale for humanitarian purposes, of which 26 pieces from 21 artists were sold. During the campaign that lasted from 8th January to 1st February 2021, and took place on the official website of Diplomacy& Commerce magazine, over 800,000 dinars was raised. All the proceeds will be donated to the people affected by the terrible earthquakes in Croatia.
Robert Čoban, President of Color Press Group, the initiator of this humanitarian campaign, said the following once the campaign was over: "When a series of earthquakes hit Croatia, we thought about the best way to help. We decided to start a humanitarian sale of paintings and artistic photographs from artists in Serbia and in that way, show how much we care "for the neighbour's grass to be as green as ours", as one election slogan used to say. We had managed to animate two groups of people that our magazine brings together – artists and business people. The first donated their artwork and the second bought it and then donated the entire amount to the people affected by the earthquake in Croatia. We think that the media's role in such situations is to do what we did, that is to invite the public to get as many people involved and help."
Croatian Ambassador to Serbia, H.E. Hidajet Biščević, also joined the campaign by donating the paintings that he painted which were subsequently sold during the campaign. He said the following once the campaign was completed:" "I am extremely glad that this humanitarian campaign has had such a good response and drew a lot of attention from the media attention. Considering that we live in challenging and difficult circumstances, the reaction of the Serbian public was astonishing, and the readiness of a large number of Serbian artists to respond and contribute to this campaign validates that the kind of humanity and solidarity that we really need and that we have to build patiently particularly in regard to the overall relations between our two countries."
Today, a small event was held at the Embassy of the Republic of Croatia, in line with all recommended epidemiological measures, at which artists presented their paintings and photographs to their buyers.  Singer and actor Frano Lasić was the event's host.