When you have an equal approach to everyone when every guest knows what to expect and when the rules are clearly set, then you cannot fall into the trap of being accused of siding with someone
She started her career as a journalist while still being a medical student, not even presuming that journalism will be her career later on. Today, after more than two decades in the media, Minja Miletić, Executive Programme Director and a Member of Euronews Serbia's Programme Council, speaks about working on a new TV station, her challenges and the overall media situation in Serbia.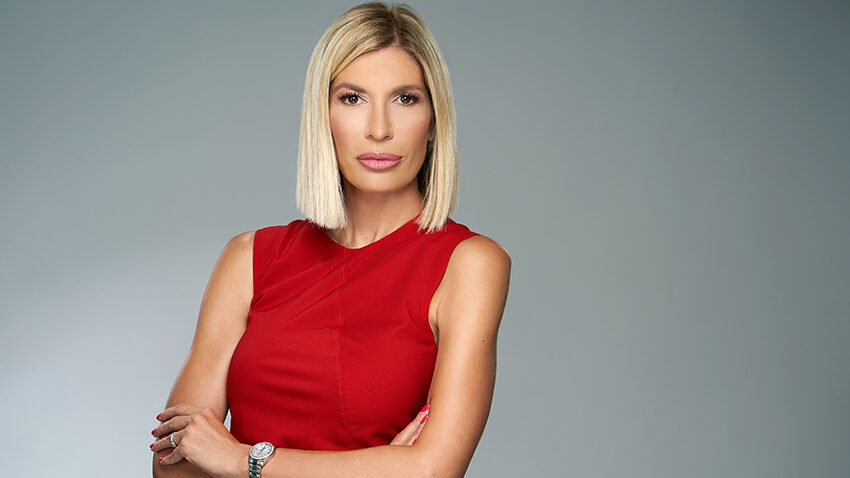 After over twenty years of TV work, today you are both the Executive Director and a member of the Programme Council at Euronews. How difficult is it to create and broadcast a TV programme?
It is a privilege to work for a network like Euronews, especially for such a pioneering project that is their expansion into the Balkans. It is in Euronews' nature to bring a more analytical approach to informative journalism to new markets with the main focus being news related to the whole of Europe. In this way, viewers have a complete picture of political and social events that are causally consequential and that spill over and affect different countries. Euronews is the first media outlet to bring events from Serbia closer to the European citizens and to perceive Serbia as a country with significant events worth analyzing and reporting on. This makes this network special, thus working for it is also special. We are proud of the fact that Euronews Serbia produces twice as many programmes as planned, for the Euronews central programme, which is great recognition for all my colleagues who create and broadcast TV content in a quality, dedicated and reliable manner. That is a fact that makes me especially happy.
You started your career on the Serbian Broadcasting Corporation (RTS) and Studio B and continued it on YU Info Channel, the Politika TV and Košava, followed by FOX, Pink, N1 and now Euronews. What do you think of journalism in Serbia today, after having such a vast working experience in different media outlets and with different editorial policies?
I remember the moment when, as a student of the Medical Faculty in Belgrade, I started volunteering on the then Channel 3 of the Serbian Broadcasting Corporation. At that time, I thought that I could fit that part-time job in with my studies and that I would learn better and clearer diction. I never imagined that even after graduation, journalism and later being an editor would be my real and only calling. The media and television, in general, have changed a lot during all this time, just as our way of life has changed, but the essence has remained the same. The desire and need for information are still present, perhaps even more pronounced today than before. Due to a large number of media outlets, but also social networks, where each of us is a mini media house and content creator, it is much more challenging to draw the attention of viewers.
---

"We are proud of the fact that Euronews Serbia produces twice as many programmes as planned"

---
This can be particularly challenging if a certain programme is not a slave to basic instincts, i.e. is not too easy to watch and breezy, but requires viewers' contemplation and analysis which will help them to shape their point of view and become active members of the court of public opinion. I am fascinated by the cultural and social preoccupation with mobile phones which we use to take care of every segment of our lives. When we apply this to the media, it looks something like this – thirty years ago my parents waited to watch the main news headlines to get the information they want; today they do the same thing only in a different way – news anchors are replaced by mobile phone notifications and endless scrolling. The need to know something will not change. What will continue to change is the way we obtain information, and there is no accurate and timely information without accurate and timely journalism.
Last year, you said that interviewing the President of Serbia, Aleksandar Vučić was a challenge for you considering that eight years passed since you interviewed him before that. Two months ago, in your show on Euronews, you managed to achieve that. How challenging is journalism today?
This interview took place during the election campaign, which is a good moment because that's the time when almost everyone wants to talk but is also obligated to talk. It was also a time when you are limited in journalistic terms in terms of having to discuss only those topics that are closely related to the election process. Speaking with the President of the Republic is a special challenge, because it goes beyond daily topics, discussions about political coalitions and everything that accompanies the usual activities of politicians before elections take place. We all need a conversation about Serbia, history, reconciliation, compromises, economy, Europe, the world, and the new world order and what it will all look like in 2027. It is a conversation about Serbia as a country that we, as a nation, began to build at the beginning of the 19th century, how far we have come during these two centuries and where we are heading. It is a conversation about a time and a piece of history that began in 2014. I did not have such a conversation with Aleksandar Vučić earlier, and in the meantime, the number of topics only increased because he won another presidential term.
In a polarized society, such as ours, and with a polarized media spectrum, how do you manage to balance out the views expressed by the guests of your show?
Journalists have to ask questions, investigate, seek explanations, and pose questions that are in people's best interests. When you have an equal approach to everyone, when every guest knows what to expect and when the rules are clearly set, then you cannot fall into the trap of being accused of siding with someone. This is not easy because it has become a standard that every question that is not predictable and simple is, as a rule, interpreted as hostile.
---

"Fake news is a special challenge, but I do not see this phenomenon exclusively as a journalistic problem"

---
Conspiracy theories are created on a daily basis and so are explanations that follow them – who works for whom, why was this person asked that question and others were not and so on. It's politicians' fault for being picky about which media they appear on and which not, but also other media are to blame because they cross the line between private and professional life, discuss family and children and drag them into politics. In these cases, I can understand when someone refuses to give statements for a particular TV station.
With all the changes in technology, citizen journalism, YouTube channels and shows, where is journalism heading in general and where in Serbia?
I am not a fatalist by nature and I believe that the advancement of technology can only bring new quality to the work of the media, journalistic independence and freedom of expression. Of course, there are advantages, but also disadvantages. Just look at the number of fake bomb threats. That's not the reason to give up technology and claim that it is easier for us to live like in the Middle Ages. I'm sure some people still think that way. The only important thing is to use the benefits in the right way. Innovation significantly increases the number of media sources and each of us is left to judge for ourselves whom we trust. Fake news is a special challenge, but I do not see this phenomenon exclusively as a journalistic problem. It is ubiquitous in our lives and it is just a question of how to get used to it and react to it. We choose who we trust, but we must also do our best to become difficult targets for fake news by fostering a research spirit and curiosity. The responsibility is largely on ourselves. It is always easier to blame someone else.
As a doctor of medicine, how difficult was it for you to follow various media reports during the pandemic, and to have awkward conversations about vaccination and the virus itself with your interlocutors in the studio?
The pandemic has exposed many things, and it's a topic that has particularly affected me, precisely because health and medicine were my university majors. Overall, our vaccination rollout was great, if we take into account everything we have encountered and the anti-vaccination campaign. I am also aware of the consequences of such a statement and that is why I want to explain it in more detail.
For decades now, there have been individuals, groups and quasi-movements in Serbia who have been fighting against every type of vaccine, and when doctors and people who present themselves as the scientific elite take part, no wonder there have been so many questions about the COVID-19 vaccine. Since have been waging a war against vaccination as such for decades, it doesn't come as a surprise that vaccines are a topic you talk about over coffee. Every individual had an opinion about them and it was mostly derogatory.
Everyone had the right to ask about the vaccine's ingredients as if they had personally checked the ingredients of every medication they had taken during their life. Those who do not read the declaration on food suddenly started to be very loud. People who don't even read food labels have all of a sudden become very vocal, while experts who are entitled to give their opinion on the vaccine were branded as pharmaceutical conspirators by certain population segments. Even today, I cannot believe that there are people who continue to speak ill of the vaccine after the coronavirus took the lives of over 6 million people and infected 500 million. It seems that even that cannot change their mind which is why I would reiterate the above-mentioned personal responsibility. Think so you can exist!
You are now working on a new TV station and have new positions. What are your next challenges?
I've been working in front of cameras for over 20 years and this work still inspires me in a way that I can look both the viewers and my interlocutors directly in the eye and ask straightforward questions. I also believe that the time is coming when I will fully utilize this experience in working behind the camera – this will be my new challenge and my new test. I want to do a lot within the Euronews media network which is the reason why I remain focused on it.