My plan very much is to grow our membership and make sure that we have something to offer for every company in Britain or Serbia that wants to do business or can see those opportunities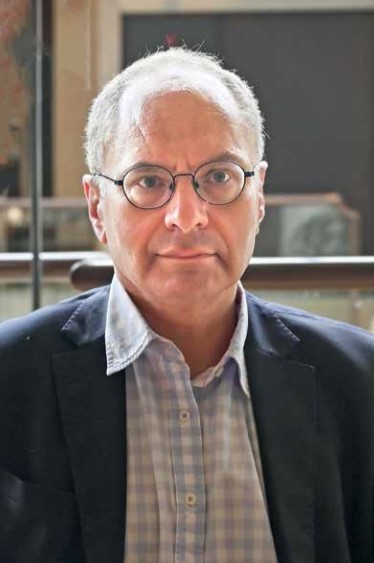 The new Chairman of the British-Serbian Chamber of Commerce, David Landsman visited Serbia in early September. In an interview for Diplomacy&Commerce, Dr Landsman talks about his vision of Serbia, the opportunities for cooperation and further plans.
Can you tell us more about your visit to Serbia?
— We've had a very full programme. The reason we chose these dates was because of the 24 hours of excellence programme in which the British-Serbian Chamber was a partner. But we've also taken the opportunity while we're here to meet with a lot of people from the Prime Minister to the State Secretary at the Infrastructure Ministry, the Innovation Fund, as well and some British companies and Cambridge Judge Business School. We met with Innovation Fund to promote the relationship between innovation fund and the work they're doing with Serbian entrepreneurs and the University of Cambridge in the area of entrepreneurship. So altogether we're trying to do a lot of different things. We also met with the representatives of the USAID-funded programme for Serbian food producers because those producers came last week to London to the specialty trade fair. It is very important to remember that we are a  two-way chamber, so we are helping Serbian companies to go to the UK, as well as British companies come to Serbia. We believe there's great scope in working through the excellent USAID programme to help producers establish long-term markets in the UK. We also talked about the possibility of education for food producers in Serbia, which is also something we're going to explore. Furthermore, we had a very good meeting with the Prime Minister who offered us her full support and commitment to improving the economic relationship between the two countries. We talked about the infrastructure opportunities with the State Secretary. And of course, we met our British companies; famous names like Jaguar, Land Rover, Grant's Whiskey, all the big names, as well as the wonderful fashion houses at Beli Dvor. I'm very encouraged because everybody – from the Prime Minister downwards, if you like – has shown interest and commitment. We also talked with the Prime Minister about Brexit and the need to ensure that whatever happens in the UK, and we don't know that at the moment, we can facilitate and improve the relationship between Serbia and the UK, and where there are legal agreements required for that, there is a will to pursue those. For me, it was a very encouraging start. We will pick up some opportunities from this.
You were in Serbia in the 1990s. How did our country look to you then and how today?
— Of course, the world's changed hugely in the last 20 years. When I was here, in Belgrade, it was a very difficult time for Serbia and also a very difficult time for the relationship between Serbia and Great Britain. Nevertheless, I made a lot of very good friends here back then, and I'm also in touch with them today despite the political situation at the time. I think I became a friend of Serbia. The country has changed a great deal, and for the better. The potential for a close relationship between Serbia and Great Britain is incomparably better than it was then.
You were recently appointed Chairman of the British-Serbian Chamber of Commerce. What are your plans?
— I think the role of chambers of commerce has changed over the years. There is so much information available. What chambers of commerce can do, when there is so much information and so many opportunities, is to help create the space for particular opportunities;
for highlighting the opportunities in Serbia to British business and vice versa. Of course, the chamber will still continue providing information but it's through our networks and through our membership that we can make a difference and raise the profile of one country in other country. So my plan, very much, is to grow our membership, make sure that we have something to offer for every company in Britain or Serbia that wants to do business or can see those opportunities. Whether they're big companies, huge, famous names or a startup, the opportunity exists both ways. We want to grow our membership and make sure we have something really concrete to offer for each company because, in the end, we can talk about Britain and about Serbia as countries, but the business comes from individual companies and finding opportunities and that's where we can help at the practical level. We also work in a network with all regional deals. We look at the whole region.
What are the reasons for your members doing business in Serbia? What attracts them?
— I think the numbers speak for themselves in the sense that Serbia is the number one country for attracting foreign direct investments relative to its size. The statistics show that there the ease of doing business has improved. I think that there are opportunities here in an expanding economy. People want quality British products. And we have British products on offer – from cars and beverages to education and fashion. I think there are huge opportunities for British companies in the areas of infrastructure development. Serbia has very ambitious infrastructure plans for railway, European corridors, and so on, that are ready. Because these are part of European corridors and they are financed, in many cases, through those programmes or international ones, there is a big opportunity there. There is also confidence that these are serious programmes and that they will be sustainable and supported. There are plenty of opportunities for British expertise, technical expertise and whatever is needed to support those areas. That's why I think British companies are increasingly looking into parts of Europe where there is still plenty of room for growth and a broadly positive perspective.
You said that the opportunity lies in food industry. Do you have Serbian products in Britain now?
— I think what we have seen with the food is there is a unique combination of the natural, healthy products that Serbia has to offer. There is also the technical sophistication required to produce and market these for the British market. I think there is genuinely something new here, and after what I saw in London last week and what I've seen this week, I would expect that you will see quite a few Serbian food products in our delicatessen shops, health food shops or premium food shops, and probably through e-commerce as well within a year. There are, of course, raspberries, fresh ones. Serbia has been the leading producer of raspberries. But they've been mostly frozen raspberries that have gone onto the international market. Now, there is work put in producing varieties that can stay fresh. This is something which has started slowly and I think it's going to accelerate. I am sure that if you come to London in a year or two, you'll see plenty of Serbian products on the shop shelves.
How can we make greater progress in the relations between the two countries?
— Well, we've talked about infrastructure. British companies can come here and provide their support to infrastructure developments in Serbia. There are a lot of British companies with all sorts of technical capabilities. We will be looking for investment possibilities in some of those projects as well. As for the other way round, I am not sure that Britain has taken enough advantage yet of the IT capabilities and skills in Serbia. There's probably more potential there that we still need to explore and that I need to explore a great deal about. But I think there is potential there too. I genuinely think this can be two way – there are areas where we could look for sectors where Serbia is competitive in the UK and vice versa. One thing is for sure, we're not competing. On the whole, our markets are not competitive, they are complementary.