The key factors of our company growth and positioning are the professional experience of our top managers and very good knowledge of all market aspects.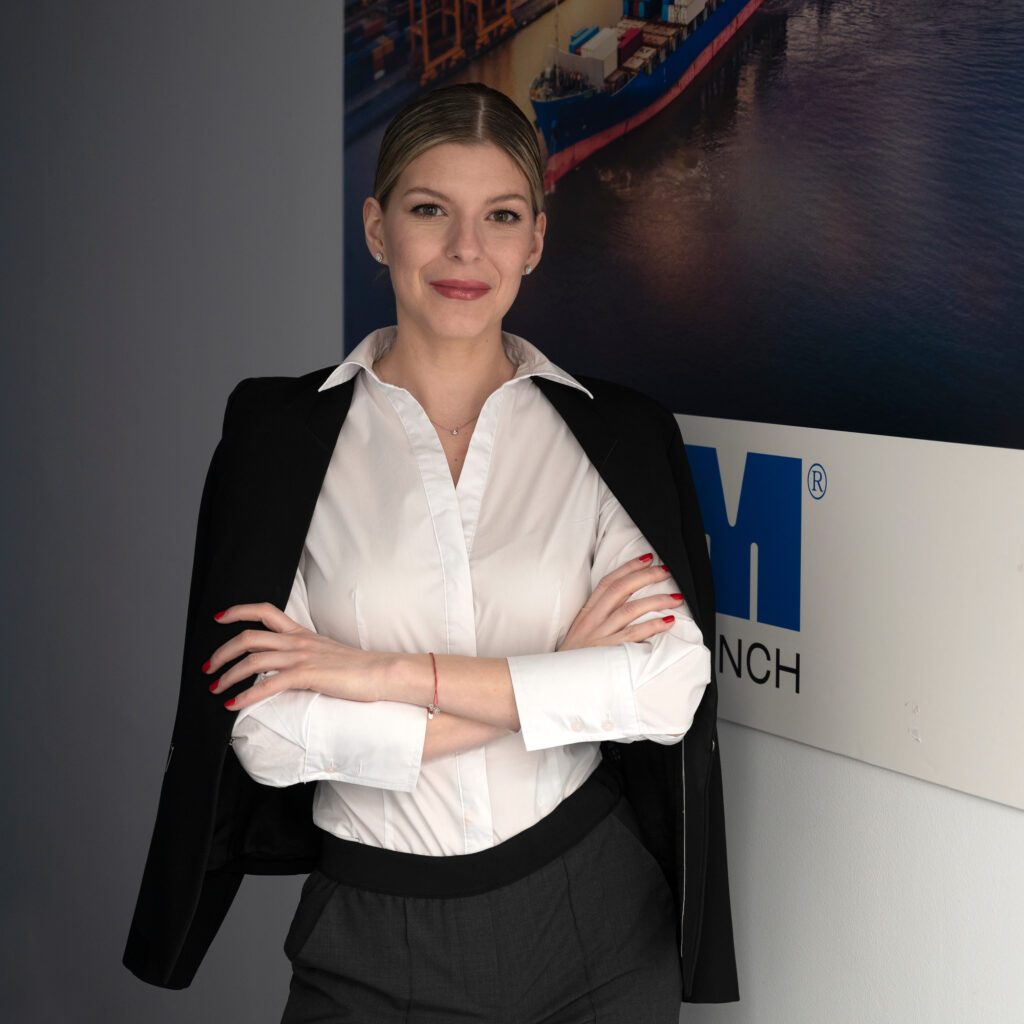 In her interview for this year's edition InFocus Germany, Dragana Simović, Sales&Marketing Manager, M&M Militzer & Münch Serbia, talks about the company which has managed to occupy an excellent position on the Serbian market in a very short time. Ms Simović also told us about her studies abroad, as well as the reasons why she decided to return to Serbia and Belgrade to continue working in the company founded by her father.
We spoke with Ms Simović in the company's modern distribution centre in Dobanovci about the company's plans, goals and projects in 2022, and the excellent results it has accomplished since its inception.
M&M Militzer & Münch Serbia has had the fastest growth in this part of the world. What do you think has contributed to the company occupying an excellent market position in such a short time?
The key factors of our company growth and positioning are the professional experience of our top managers and very good knowledge of all market aspects. Our company has been growing due to our enthusiasm, effective work and energy that we invest every day in improving the internal organization. Of course, I have to mention our experienced colleagues who are working hard and are also teaching and supporting their younger colleagues whose number keeps growing. Also, I would like to point out that our company supports dual education, in which we have been involved since its launch, and that we provide practical education to high school students.
What does your company specialize in and what are its advantages?
Flexibility in cooperation, rapid adaptation to market changes and following the latest trends are our main comparative advantages. In addition to road transport, our core activity, we are now providing Air & Sea services thanks to the company setting up new departments which means that now we can offer a wider range of services to our clients and convince them even more that we are their right transport partner. I must not forget to add that M&M Express, i.e. our courier service, has now officially started operating. We have also been selected as an official courier of the new ANANAS web platform for delivering B2C orders. We believe that, as always, we will demonstrate that we are a reliable partner thanks to our professionalism and dedication.
You have opened logistics centres in the region as well. Bearing in mind initiatives such as Open Balkans (formerly Mini-Schengen), which will contribute to the regionalization of the Western Balkans market, how much will all this affect your industry?
The Open Balkans Cooperation Initiative includes Serbia, Albania and North Macedonia, and envisions free movement for capital, goods, services and people between the three countries. The initiative will have an extremely positive impact on the transport industry, first and foremost, by reducing the difficulties we encounter primarily in road transport (such as long waiting at the borders, etc.), and thus shorten the time of the transport of goods between Serbia and the other two countries. As we plan to open branches in North Macedonia and Albania, in line with the Open Balkan initiative and following the opening of M&M Militzer & Münch branches in Bosnia and Herzegovina and Montenegro, we will further improve the services we provide to our clients.
2022 has been dubbed as the year of recovery. What is the current state of the transport and logistics sector in Serbia, in relation to Europe and the world?
Most economic sectors have suffered great damage and today bear the consequences of the pandemic. The healthcare sector is a sector of heroes and I am personally very grateful to them as an individual. However, looking back, and this probably might sound arrogant to you, I can say that the logistics and transport sector was definitely the sector of silent heroes since it had to deliver all the basic things for normal life and had to deliver them on time. Bearing in mind that the pandemic is not over yet, I would not rush with predictions about 2022 being the year of recovery, although I hope that it really will be. I think that Serbia is lagging too much behind the world in this segment because transport is something that must be adjusted to the conditions and rules of business in all parts of the world, so that goods can be transported to and from them.
---

"Flexibility in cooperation, rapid adaptation to market changes and following the latest trends are our main comparative advantages"

---
What results did you achieve in 2021 and what are M&M Militzer & Münch Serbia's plans for this year?
M&M Militzer & Münch Serbia has been growing exponentially since its inception in Serbia and this year is going well for us. We are continuing to develop and invest in better services and expand our operations in our existing markets. Following our multi-million investment in the construction and automation of the distribution centre near Belgrade, we plan to further develop in this field and, as I mentioned, expand to North Macedonia and Albania, which will round off our regional presence.
You are at the helm of a company that operates in an industry that is considered male-dominated. What is it like to be a woman in a fast-growing logistics company?
Numerous scientific studies have shown that gender diversity not only fosters cooperation by increasing understanding and tolerance but also boosts competitiveness, productivity and corporate social responsibility. I am 'formatted' in such a way that I only experience success as satisfaction. I also perceive success as a solution to serious challenges. I consider my position challenging precisely because of how your question was formulated. Being a woman in the logistics and transport sector is a challenge, and challenges propel me forward.
You had studied abroad and then returned to Serbia. What do you like the most in Belgrade and what is motivating you to live in Serbia, at a time when many young people are leaving the country?
Belgrade is an impressive city. You can see traces of so many cultures in its architecture. History shows that Belgrade was razed to the ground over 20 times, but the city's lifeline has never been destroyed and it continues to pulsate in frequencies that are unique to this part of the world. My career path would have probably been much easier if I stayed abroad, but easy was never my option. My return to Belgrade stems from my love for challenges.
---
About the company
M&M Militzer & Münch Serbia provides road transport services (full loads, reloading, groupage and cold transport chain), customs clearance, warehousing and logistics services on the most favourable terms and conditions. The company is known for its fast, reliable and efficient solutions and optimal price-to-quality ratio with precise transport control. The company's HQ is in Dobanovci and it is proud of its 180 employees who work in 7 locations, as well as its 3000-square-metre office space and 11,000-square-metre warehouse with customs clearance and commercial segments.