Food Experts Discuss Trends, Expectations, and Traditions of the Culinary Landscape.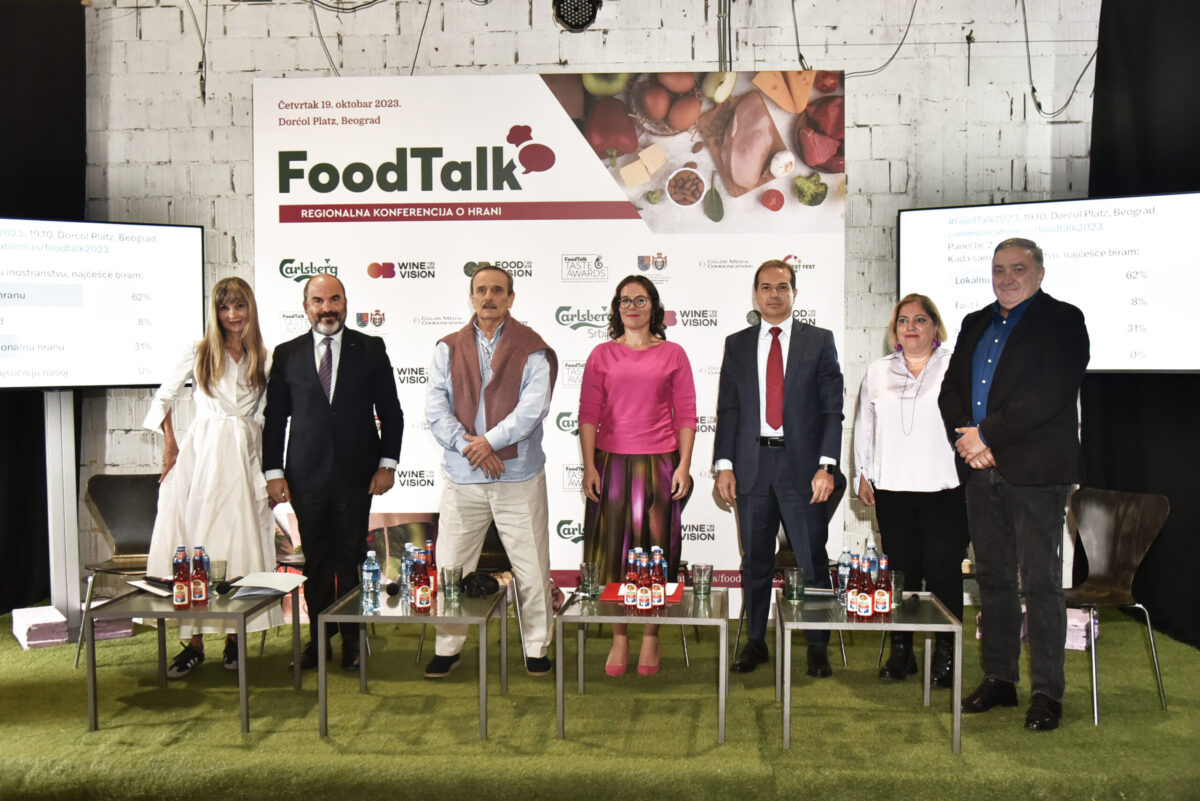 On October 19, in Dorćol Platz, the Regional Conference "Food Talk" was held, organized by the culinary magazines of the Color Press Group. The panels discussed about topics such as the food industry leaders' forecasts for the year 2024, about food as inspiration, great expectations of the "fine dining" restaurant audiences, ambassadors of foreign countries presented their national dishes, and leading regional wine experts spoke about the new wine audiences and our favorite labels and vintages. The most famous names from the world of gastronomy shared their knowledge and experience, as well as regional experts who dictate trends in food and wine production.
This event was supported by the Provincial Secretariat for Economy and Tourism of the Autonomous province of Vojvodina, while the commercial support was given by Carlsberg Serbia and Open Balkan Wine Division.
The conference opened with Ambassadors from Cyprus, Greece, Croatia, Italy and Slovakia discussing about their national dishes and Serbian specialties whose recipes they will take with them when they leave Belgrade.
"My first impression about Serbian food was that it felt almost like home. I think Cyprus and Serbia share some similarities in terms of culinary tradition, food in general, but in appetite as well. " said H. E. Andreas Photiou, the Ambassador of Cyprus in Serbia. He went on to explain how similar Serbian and Cyprus culinary traditions are and how it makes him nostalgic, although he did jokingly mention that you need to be cautious if you're ever eating in Serbia: "I need to be careful here, it is not so easy to maintain normal weight, because the food is excellent. The flavors are quite strong and influenced by the country's tradition and history. I have to specify that Sarma made me feel quite nostalgic of some dishes we have at home."
The Ambassador of Croatia in Serbia, H. E. Hidajet Biščević, talked about his experiences from the past in discovering hidden relations between food, politics and the political history of Europe: "There is this great quote that says: "You feed your guest and I will give you a good agreement". It might sound surprising to most people, if I would go to a shortlist of political events that changed history. Most of them were related to or caused by food. The best example of this is the French revolution, which started because of the shortage of wheat and the price of the famous French baguette. Basically, angry workers attacked Bastille because of the price of the bread. The Boston tea party is another example. This horrible war in Ukraine with Russia, their quarrel started in the mid-30s, also because of food. Most important decisions were made at lunches, dinners, in castles or at meetings."
H. E. Fabricio Kosimi, the economic attaché of the Italian embassy in Serbia, said that Serbian bakeries are what caught his eye the most once he came here. He explained that he's very fond of their products and added: "I love pite, gibanice, burek, all this stuff is very good." He also complimented Belgrade's pizzerias and agreed with the rest of the panelists that Serbian kajmak and meat are its strong points.
On the other hand, Monika Suhajdova, deputy Ambassador of Slovakia, explained that she's lived in the Balkan region for 10 years already and that Serbian food is not that different from other parts of the region. She also talked about the importance of meat in Balkan traditional cuisines and its history: "This country definitely won't make you vegetarian. You can find quite many restaurants that serve Slovak food. The origin of our traditional cuisine goes back to the times when most of the population lived in villages. Most meals were made so they could survive hot summers and cold winters."
Dejan Zagorac, coming from the Institute for the Study of Cultural Development, explained certain Serbian culinary traditions: "Nor is all Serbian food good, nor is it all about ćevapčići, meat and burek. Big portions in Serbian restaurants are a thing because it's still a habit here to go to restaurants to be seen. So I can say the tradition is not necessarily marked with big portions of meat, it's just that Serbian cuisine is more complex and interesting." He also added: "Belgrade is not the best representative for food, you should go south or north to experience real Serbian food."