Interview with Mrs. Safae Sijilmassi Idrissi-Belhaj spouse of the ambassador of The Kingdom of Morocco in Belgrade
Culture and food are building bridges between people
It is hot in Belgrade these days, almost like in Africa. But two ladies, Mrs. Safae Sijilmassi Idrissi-Belhaj and myself, that actually met thanks to the director of the Museum of African art in Belgrade, Mrs. Marija Aleksić during Afro festival 2021, have been stronger than the North African heat. Our July synergy resulted in these interesting lines about the amazing Moroccan gastronomy tradition, food heritage and Moroccan family food tradition. The day of this Food planet interview, which was by the way, the first "live interview" after several interviews done "via email" due to corona, was the day that this lovely, charming, smart and very dedicated lady reserved for Diplomacy and Commerce and the day when my tastebuds went to paradise and back and so will yours when you prepare and taste the star of this Food planet text- "Chicken pastilla with almonds".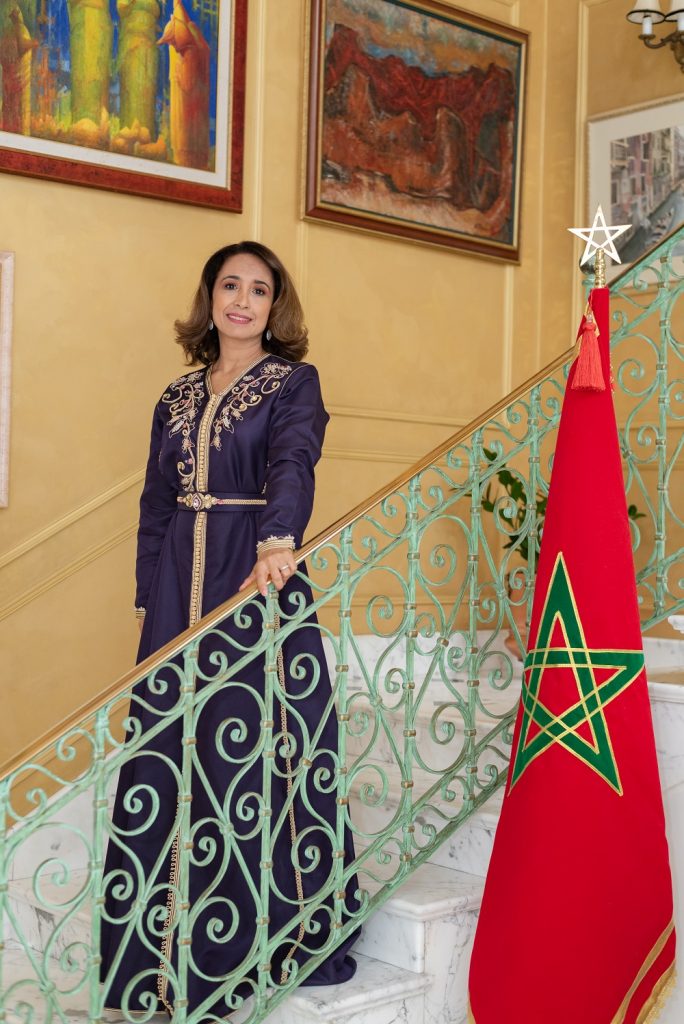 What are the main characteristics of Moroccan cuisine?
Moroccan cuisine is widely known through its varied and unique dishes that highlight the rich cultural heritage of the Kingdom. Moroccan gastronomy encompasses specialities from Amazigh, Arabic, Jewish, Andalusian and African origin. This reflects the Kingdom's coexistence between different civilizations and cultures since ancient times. Certain dishes are prepared for specific occasions or special rituals and differ from one region to another. Therefore, the secret of the marvellous tasty meals lies firstly in their fresh ingredients. Then, on the authentic spices used when cooking using a slow process most of the time with olive oil in a traditional clay pot with a cover called "Tajin". I cannot imagine, for instance, preparing a Moroccan Tajin or another dish without the taste of saffron of Taliween or without ginger, cinnamon, Curcuma or even garlic, fresh parsley or coriander!  For me, Moroccan cuisine is my grandmother's recipes made with passion. It is simply a mouth-watering combination of subtle flavours to charm your taste buds. A real journey full of flavours!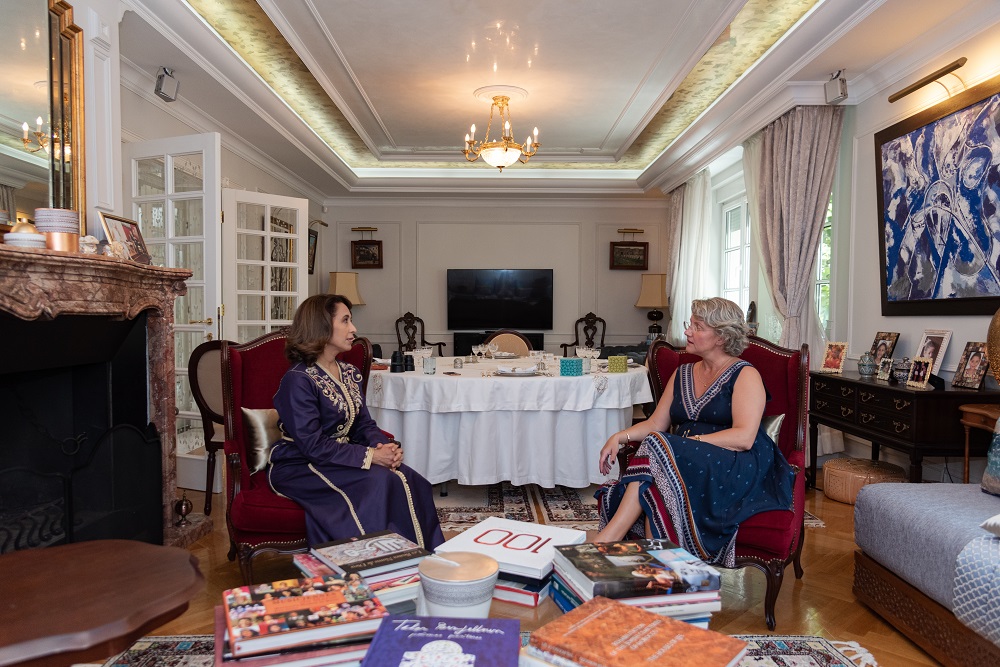 Which part of Morocco do you come from and which are the three most known Moroccan meals and sweets from your region?
I grew up abroad but lived in Rabat for many years. My family comes from the city of Fez that used to be the first capital founded by the first Dynasty of the Kingdom, the "Idrissi's", in the VIII century. It is important to emphasise here that this first imperial Islamic city has known a rich and extraordinary cultural development through its history in terms of architecture, fine arts, trade, education etc. due to many factors. Furthermore, the city has welcomed not only refugees from Al Andalus or Kairouan at that time but also many artisans, musicians, scholars, intellectuals and traders from other parts of the world. Cultural influences are obviously seen in our kitchen. With all such influences or ingredients, I must say, the cuisine of Fez is one of the finest in the country.
---

"Food has always travelled with populations through History and thanks to the silk road, people are connected with beautiful cultural heritage such as popular dishes. This "soft power" with flavour definitely builds bridges"

---
Besides the variety of couscous and tajins, the first thing that strikes you when it comes to specialities in Fez is definitely "Pastilla with chicken" or pigeon. This Pastilla, which is made of a range of sweet and savoury flavours, since almonds are mixed with orange blossom, cinnamon, caramelized onion with chicken, is the most luxurious and finest dish in Moroccan cuisine. Then, "Khliï" is dried meat, usually beef, prepared with specific spices that could be kept for months. It is usually served in a traditional Tajin with poached eggs and homemade bread accompanied with mint tea for breakfast. As for sweets, I would say, "Kaab ghzal" which is the Moroccan pastry "par excellence". It is made of almond paste mixed with Gum Arabic, orange blossom flavour and sugar, all wrapped in a thin layer of fine pastry. The shape of this sweet is like a gazelle horn, which explains its name in Arabic.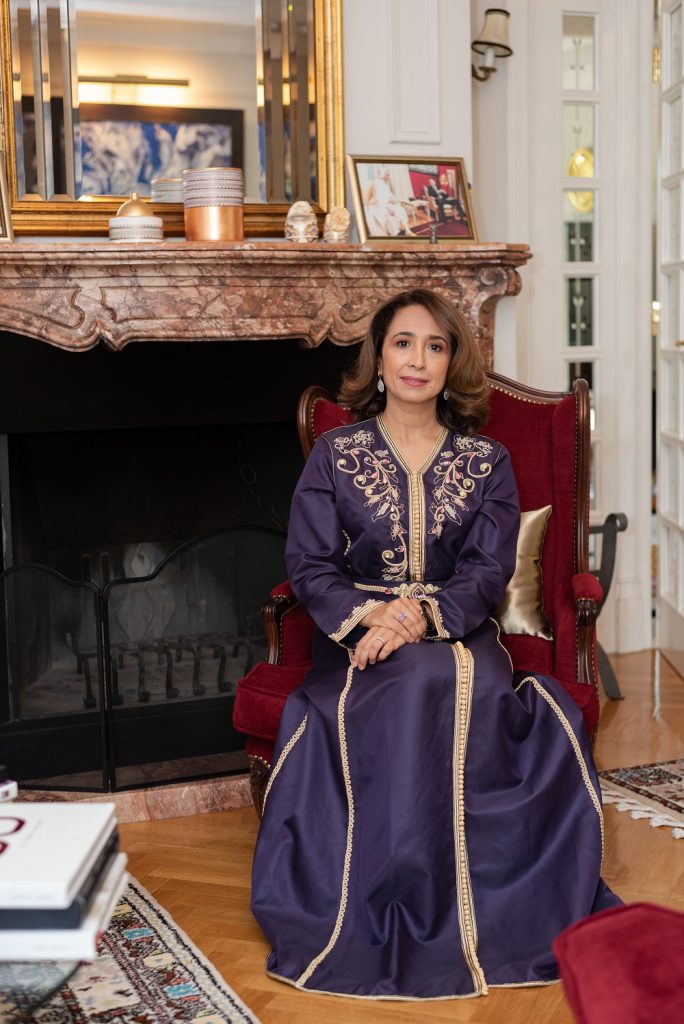 What are the Moroccan meals you and your chef prepare in Serbia? Can you find the ingredients here?
At the residence of the Kingdom of Morocco in Belgrade, we are always pleased to prepare Moroccan dishes for our guests. Our gastronomy is one of the top three best in the world according to different studies, institutions and specialized blogs – CNN, Govoyages, WorldSIM, Tripadvisor, etc. Moroccan gastronomy first represents centuries of culture and history. We are not only speaking about food but also about a "way of living", customs, "art de la table", crafts and specific ceramics from different regions, fine embroidery from Rabat or Fez and so on.
---

"Moroccan mint tea, our "national drink", served with homemade fine pastries is always a "must" after a meal"

---
Then comes the dishes. We are always keen on serving the "essentials" such as Royal Couscous, Chicken Tajin with olives and preserved lemon, veal Tajin with seasonal vegetables but also seafood pastilla as well as the sweet and savoury chicken variety. In addition, some starters and typical salads like zaaluk – eggplant purée with tomato, garlic, spices and coriander, taktuka, a popular ancient Jewish Moroccan recipe and many more other specialities are on the menu most of the time. Moreover, Moroccan mint tea, our "national drink", served with homemade fine pastries is always a "must" after a meal. Regarding the ingredients and spices not available in Serbia, I usually bring them from Morocco when needed. For instance, good quality saffron, Gum Arabic, orange blossom, fresh cinnamon sticks, organic oils -olive and argan are must-haves in our kitchen.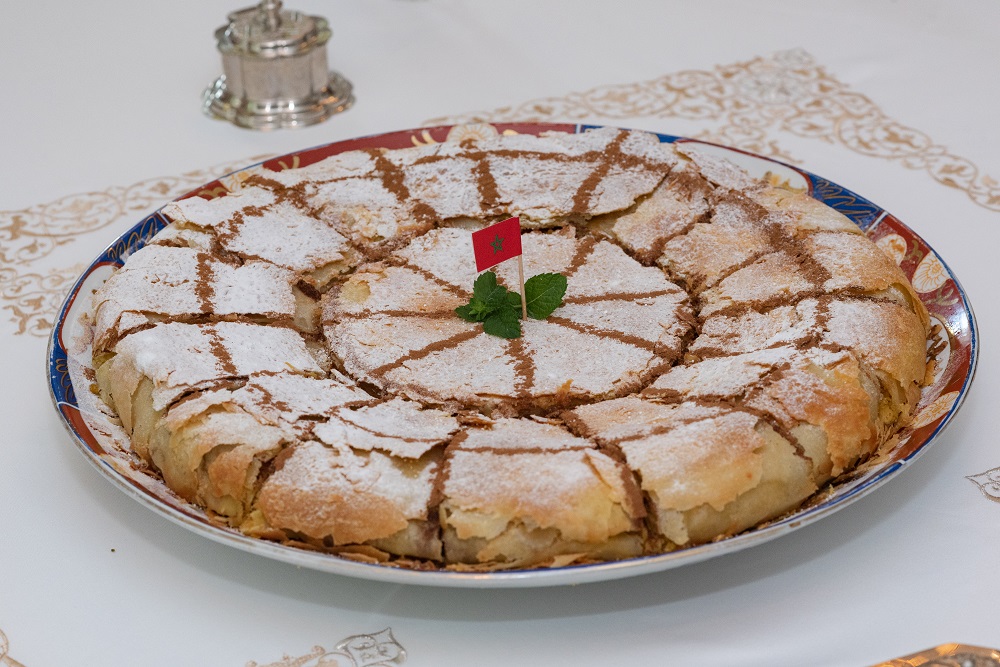 Chicken pastilla with almonds
Ingredients:
1 whole (skinless) chicken split into 4 parts
4.4 Ib finely chopped onion
1 parsley head finely chopped
1/2 head coriander diced
3 cinnamon sticks
10 saffron petals
2 tbsp. coffee ginger
1 C. pepper
1 C. of ghee or clarified butter
8 cl of oil
Salt
1 cup honey
4 eggs
For almonds:
650 g of blanched almonds
100 g icing sugar (or according to taste)
1 C. cinnamon powder
For the Dough:
Use phyllo sheets
or 400 g of pastilla leaves
80 g of butter
Oil for cooking
1 egg yolk
For the Garnish:
Powdered sugar
Cinnamon powder
Preparation:
In a cast-iron skillet or heavy-bottomed pot, insert chicken, onion, butter, oil, and herbs
Cook over low heat. The onion needs to melt into the chicken and with the spices. Remove chicken once it is thoroughly cooked and discard the bones.
On low heat add honey to the sauce, stir until the onion takes the consistency of a jam.
Separate oil from "jam" and reserve for the pastilla or (phyllo) leaves.
Add boneless chicken into the onion sauce.
Add eggs.
Cook the filling on low heat for 2 to 3 minutes. Set aside.
Fry or grill the blanched almonds until they turn a golden sunset yellow.
Finely chop the almonds and mix with powdered sugar and cinnamon.
Mix the reserved oil with the melted butter. Coat the phyllo or pastilla sheets.
Insert the stuffing in order to have two layers then put back the pastilla sheets to cover the stuffing (as a pie).
In a cast-iron pan, brown the pastilla in a preheat oven to 200°c-240°c.
Decorate the pastilla in a lattice pattern with the cinnamon-sugar mixture.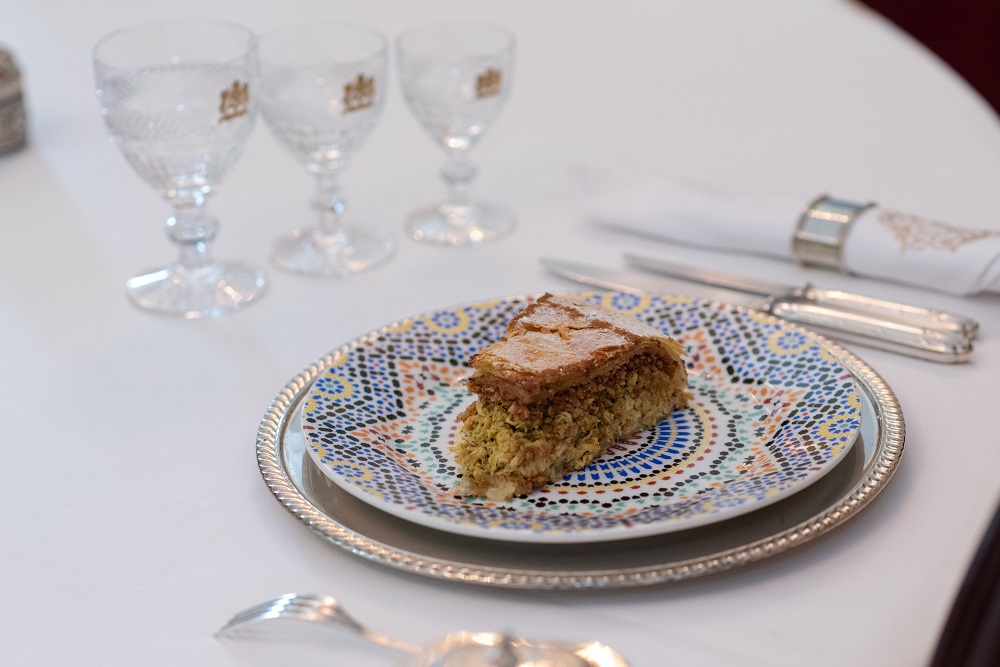 What is your favourite Serbian dish and why?
I would definitely say Ajvar! It is really interesting to see cultural influences and connexions through food. This Serbian speciality reminds me of "taktuka" which is, as mentioned earlier, a popular ancient Moroccan recipe made from pepper and tomato with garlic and spices. I also like Punjene paprike, especially the delicious recipe with local cheese. Food has always travelled with populations through History and thanks to the silk road, people are connected with beautiful cultural heritage such as popular dishes. This Soft power with flavour definitely builds bridges.
How do you like living in Belgrade? Which region/cities have you visited and which is the one you would recommend to your expat friends and why? 
I really enjoy living in Belgrade and I like to feel its vibes when I'm walking through Vračar or Dorćol. I like the old buildings and the small cafés with nice terraces in Knez Mihailova. I also like the Kalemegdan fortress, which is definitely the landmark of the city. In addition, one of the most beautiful regions in Serbia is Vojvodina with its multicultural and ethnic diversity. Orthodox Monasteries in Fruška Gora are wonderful places to visit and the capital city of this autonomous region, Novi Sad, has an incredible combination of unique history and architecture. I would also recommend in the North-Eastern part of Serbia, Golubac with its 14th century medieval fortress, and the National Park of Đerdap, where you can enjoy an amazing hike in the middle of stunning nature. There are of course so many other places to visit in beautiful Serbia and I am happy to live with my family here and experience the Balkan's rich cultures from within Belgrade.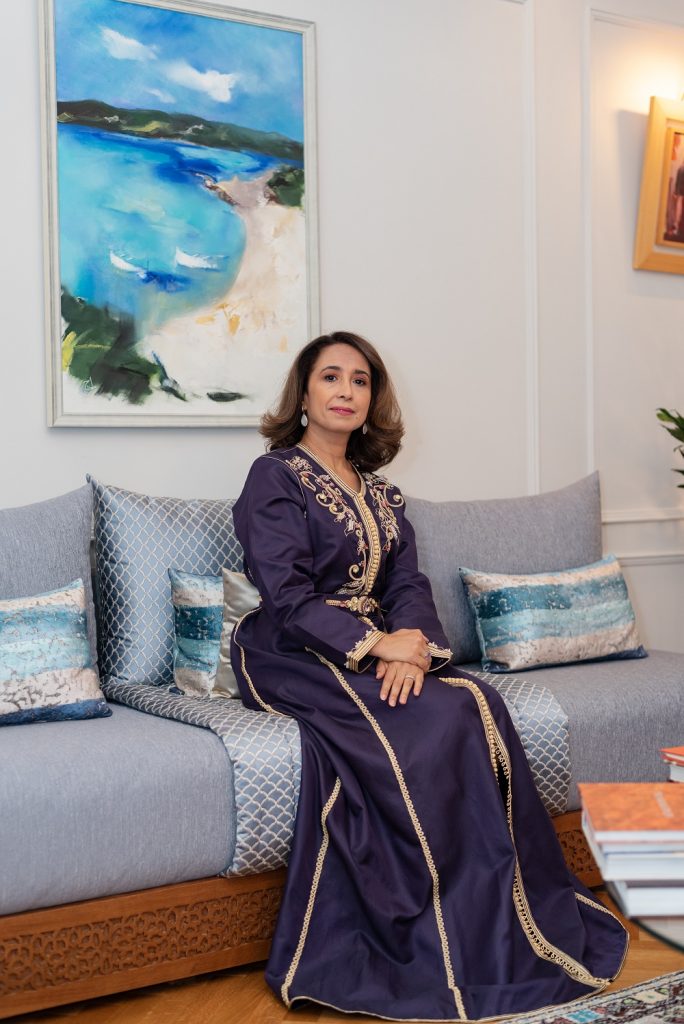 Follow the Embassy of Morocco in Serbia and Montenegro
Facebook: https://m.facebook.com/MoroccoInSerbia/
Twitter @MoroccoInSerbia: http://twitter.com/moroccoinserbia?s=11
Food planet August 2021; interview by Vanja Kovačev