The Foreign Investors Council presented the White Book 2020 to the highest Government officials and marked its 18th anniversery.
Respecting epidemiological regulations, the presentation of this year's edition was followed via online platform by numerous representatives of state bodies, embassies, as well as the stakeholder community. The White Book, written by FIC members, is the major product by which, for almost two decades, FIC gives recommendations aimed at supporting economic growth and better living standard of Serbian citizens. The online conference was opened with introductory address by FIC President and Telenor CEO Mike Michel, followed by insight into the White Book 2020 by Editor-in-Chief Miroljub Labus, as well as addresses by Head of EU Delegation in Serbia Sem Fabrizi and Prime Minister Ana Brnabić.
In his introductory speech FIC President and Telenor CEO Mike Michel noted that he was pleased that the new Government and the FIC shared the same priorities: people's safety and health, the fight against COVID-19, economic recovery, the rule of law and further digitalization. "It is something we must all focus on across all areas of business. Although we are fully aware of the challenges the Government of the Republic of Serbia is facing, our expectation remains the same: further acceleration of reforms, ie. continuing and accelerating membership negotiations with the EU, work on sustainable fiscal consolidation and improvement in implementing laws. This year's analysis is structured around the areas that we see as priorities: taxes, labour, inspections and food safety, infrastructure and real estate, health, bankruptcy and Forex, with digitalization and e-commerce as this year's top priorities", concluded Michel.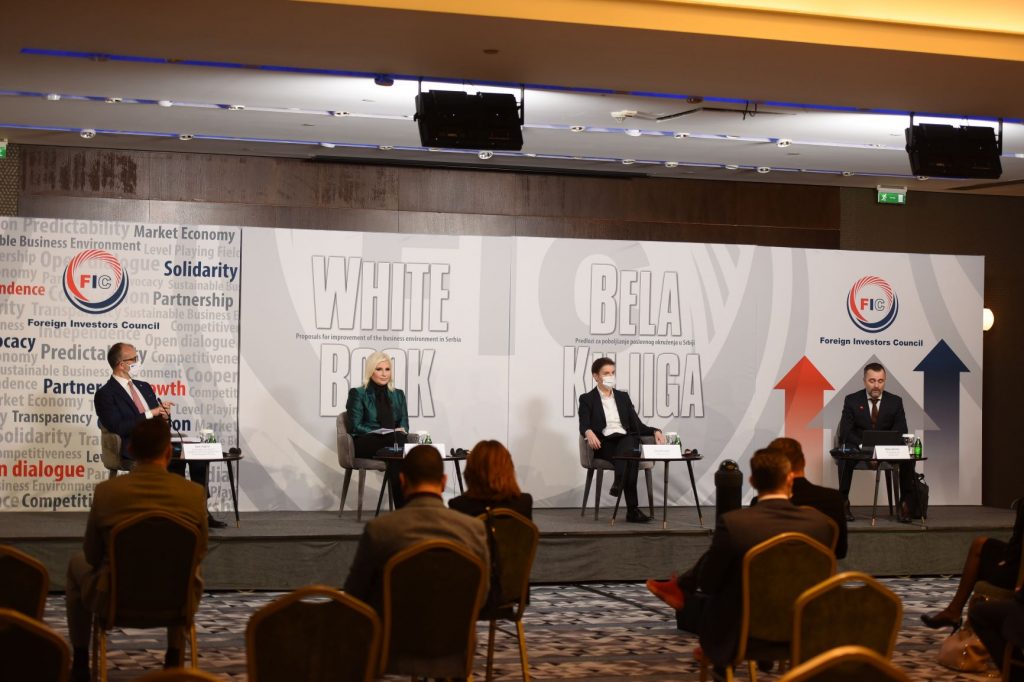 Three years after the introduction of new methodology and ranking based on implementation of recommendations from the previous White Book edition, so-called "FIC Index", this year there is no ranking, but we will continue publishing it in 2021. The reason for that is that the Government had to change its priorities and focus on providing support to businesses and citizens in order to mitigate the negative consequences of the crisis. On the other hand, a new part "COVID-19" was introduced in each text, in order to describe the influence of extraordinary state to sectors and challenges businesses are facing, as well as the state's response to them. Given that the further improvement of the business environment is a long-term necessity, in this year's White Book edition the FIC has ranked the recommendations according to the priority of changing. Thus, for FIC members, the most urgent changes are necessary in the following areas: personal data protection, trade, central records of beneficial owners, mortgages and public procurement.
In the active panel discussion on ways to improve the business environment in Serbia, hosted by the FIC President and CEO of Telenor Mike Michel, opinions were exchanged among Prime Minister Ana Brnabić, Deputy Prime Minister and Minister of Mining and Energy Zorana Mihajlović and Head of EU Delegation in Serbia Sem Fabrizi.
In order to fully embrace the era of digitalization, but also to be environment-friendly, FIC again opted against printing the White Book publication which is available for free download on the FIC website (www.fic.org.rs)