In the garden of the residence of the Swiss Embassy in Senjak, artist Marta Jovanović performed her performance "Love". Political and historical aspect, as well as personal love story of the artist, which survives from love to hate, is central to this performance, which calls for reflection on the binaries in our lives.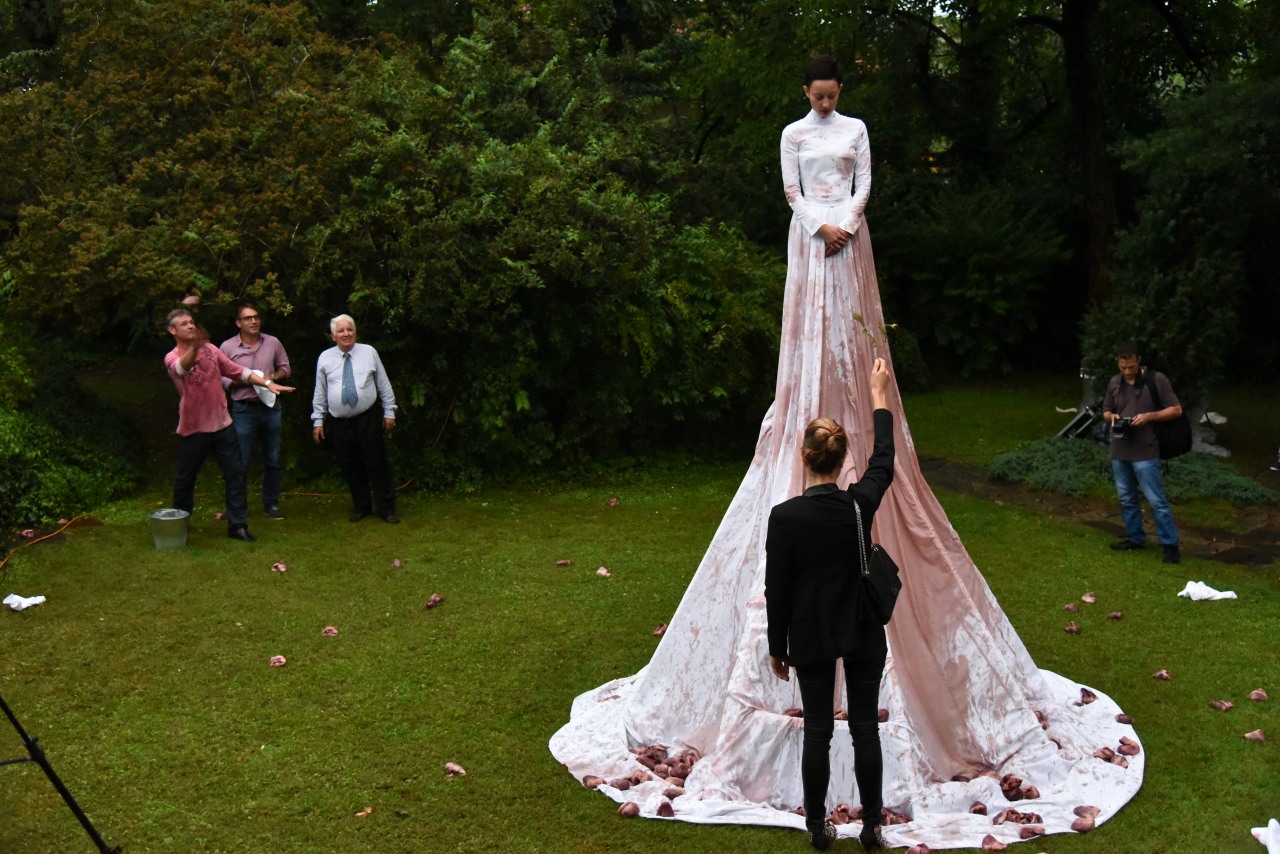 – H E Ambassador Jean-Daniel Ruch and his team organised the exhibition and wanted to showcase my work. The garden was created as a legacy of beauty and contrast of the war that was happening here, and I'm asking the question of what is war in relation to peace. I experienced a tremendous U-turn of my greatest love which turned into the greatest hatred, and this personal story will receive tonight its universal sense – says Marta Jovanović who studied art in New Orleans, New York and Florence. She lived in Rome, and last year with our gallery "12 Hub" launched an educational platform in the field of performance in the apartment of the hotel "Radisson blu", which was called" Room ". There she held a workshop for a dozen young artists, a twice monthly she brings foreigners.
Before the start of performances there was a heavy rain , and Ambassador Ruch explained to the guests under umbrellas  what would happen a few minutes later in the garden of the residence. Benoit Junod, who was Swiss Ambassador in the early nineties and who has now specially arrived in Belgrade due to performance : "When I became an ambassador, the garden was in terrible shape and I was able to make of it what we have today! To make it happen, I owe a lot to a gardener named Hajdini from Kosovo. That year, in 1993 in Serbia there was a hyperinflation and hunger and over the residence every night there were helicopters flying carrying the wounded from the Bosnian battlefield to the VMA Hospital!"
Benoit Junod is the son of the famous Swiss doctor and aid worker Marcel Junod  who, during the 2nd World War, saved a large number of Jews from the Nazi camps and furthermore, immediately after the atomic bombing, he was the first foreign doctor who came to Hiroshima.
Performance, among others, was attended by the ambassadors of Italy and Germany their wives, who also threw pig hearts in the direction of artist Marta Jovanović. The performance was, from slightly larger distance watched by the Ombudsman Saša Janković and his wife and when the performance ended, we heard the painter Biljana Cincarević crying out from the crowd exclaiming: "Bravo! This is love!"