The VELIKI restaurant is located in the eponymous hotel in the Pasiceva Street in Novi Sad. VELIKI is an unusual amalgamation of traditional and modern, both in terms of interior and food that is served here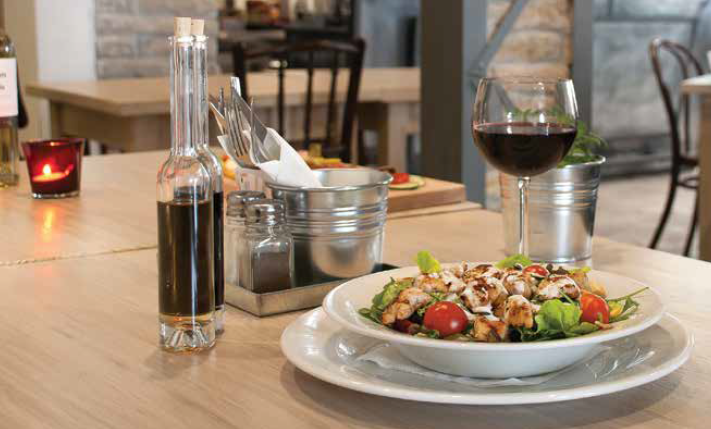 Our mission is to resurrect the forgotten urban Vojvodina and its cuisine. Usually, when one thinks of Vojvodina and its hospitality, the first images that come to mind are granges and tables with checkered tablecloths, while Vojvodinians are symbolized by a chubby, well-meaning man with moustache in wide white linen trousers and black vest. The civil history of Vojvodina is almost forgotten. People from all sides have been coming to live in Vojvodina. In 1820, Novi Sad had the population of 20,000, and was the biggest Serbian town in the region (the current biggest town – Belgrade – reached the population of 20,000 only in 1853). Despite being under the Austro-Hungarian rule, Novi Sad was the centre of cultural and political life of the Serbian people which is why it was also affectionately called 'the Serbian Athens'. Many people have left their trace in Vojvodina, and this is very noticeable in the food of this area. Our menu reflects this diversity the best. It is our wish to offer Vojvodinian, and by Vojvodinian we mean Austro-Hungarian-Slovakian-Serbian food concept. We are preparing dishes based on our grandmothers' recipes but presented in a modern way, along with good wine and pleasant ambiance. Combination of meat and sweet sauces is a very frequent one in Vojvodina, and we have various variations of that dish like chicken stuffed with apricots and prunes, or turkey in sour cherry sauce. We are very proud of our Debreziner and Slovakian sausages which are widely popular here, in Vojvodina. Also, pork is the main ingredient of everyday dishes in Vojvodina, and Veliki serves it in many different ways, like, for instance, with button mushroom sauce and mustard.
Our signature dish – Hortobágy meat in sauce – already has its cult following. Somlói Galuska is very in-demand dessert in Veliki. The legend says that this cake originated from a part of Hungary called Somló where one cake-maker made this utterly delicious dessert for his loved one. Our favourite dessert is made from the original recipe. Also, we have to mention our authentic copy of the popular Sachertorte. Our guests say that we could stand proud if our Sachertorte were served in Vienna. Of course, we are keeping up with modern trends while respecting other cultures and customs. Veliki serves a variety of vegetarian and vegan dishes, as well as special food to suit religious customs. In order to closely portray the wave of migrations into our city and its multi-culturality, our restaurant has a 200-year-old travel trunk that is a part of our décor. We presume that the owner of the trunk moved to this area many years ago and simply stayed here, and that the trunk is evidence of their journey. It is possible that the descendants of the trunk's owner are our neighbours now.
The VELIKI restaurant is all about warmth and hospitality. Here, you might read and hear something about history, see grandparents and grandchildren coming in for cakes, young people having business lunches, try our tasty coffee, and enjoy in good food, good wine, soft music and unique ambiance. Visiting, socializing, good food and welcoming guests are all main features of the typical Vojvodinian household. So, come in and experience it to the fullest!