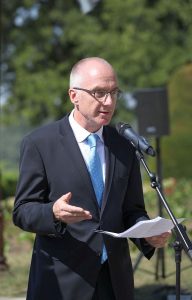 According to the ambassador, political debates should be held in parliament, adding that it's important for the opposition to have the conditions to operate. He recalled the European Union progress report which said that the conditions in parliament are not good and should be changed.
"The opposition has indicated that it will boycott the elections (next spring) because it feels that the conditions for fair elections have not been met and now an effort has been made to get things moving within the dialogue (between the opposition and authorities)", Schieb said adding that Berlin supports that dialogue in principle because it sees it as an important process.
Speaking about the Kosovo situation, the ambassador said that everyone is trying to convince Pristina to revoke the 100 percent tariffs on Serbian goods. He recalled that the Quint ambassadors called both sides to abandon any activities which could have a negative effect on the Belgrade-Pristina dialogue, including Belgrade's campaign to convince other countries to withdraw their recognition of Kosovo.
He voiced optimism that Pristina would agree to revoke the tariffs.   "As long as the talks are not underway, a solution is hard to find. As long as there is no dialogue the situation could deteriorate," he warned.